Altria (NYSE:MO) is a stock that has the technical characteristics of a sell, but fundamentally I believe the stock can still be bought at these levels. Over the last couple of months, Altria has been making a slow climb upward from the high $28's to its current level of $32.48. I have been bullish on the cigarette industry for a long time and since the last time I wrote about Altria, the stock has been up $2.72, or a little over 8%.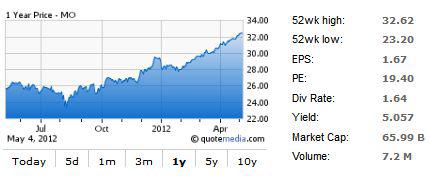 An 8% gain is still a decent gain for those that are shareholders. But for those that enjoy trading options, Altria has been able to provide bigger percentage gains using an option strategy known as the deep in the money call strategy. For investors who are considering investing in Altria, but want to risk less to make more, the deep in the money option strategy may be for you. The deep in the money option strategy can be viewed as a simple option strategy (if executed correctly) that allows investors to purchase calls or puts that are in the money and only need a small breakeven to profit off of. By buying an in the money call or put option, investors can be obligated to purchase shares of that strike price by expiration.
One of the main reasons I enjoy using deep in the money calls is for a stock replacement strategy. Altria is currently going for $32.40. Rather than pulling out $3,240 per 100 shares, investors could buy the September $29 strike for $3.50 (3.50 x 100 = $350). The $3.50 represents about 10.5% of $3,240 and can be profitable off a 0.10 cent move upward in Altria. As with any option strategy, there are always pros and cons and for some more information please click here and here.
With the Dow Jones and the S&P 500 reaching levels that have not been seen for a while, some investors may fear the market may be ready for a cooling off period. Generally, I am still bullish on the markets overall, but realize there will be some bumps and bruises along the way. Despite the recent small and up and down swings the market has had lately, some stocks are still continuing to outperform as the market continues to digest economic data and earnings.
Tobacco companies are classified in the consumer goods sector and the tobacco sector over the last three months has seen been up 16.43% second to home construction up 21.78% While the tobacco sector can be seen as non-exciting and boring, this is one of the few sectors that has shown to constantly perform in a variety of bullish or bearish market conditions. One of my favorite tobacco companies to invest/trade options on is Altria. Altria has been outperforming the S&P 500 in the last three months with a 12.83% gain compared to the S&P 500's gain of 3.53% Over the last year, Altria has outperformed the S&P 500 by over 17%
Despite Altria looking like a sell based on the technicals, I believe Altria will continue to slowly move higher for the following reasons:
Altria has a strong corporate management team with executives that have over 15 years of experience with Altria/Phillip Morris (NYSE:PM). At times, I believe investors overlook Altria's strong management team that has constantly delivered positive results.

Cigarette consumption may be flat in the United States, but Altria over the years has made investments in other non-essential consumer goods that have helped diversify Altria beyond cigarettes. Some of Altria's other holdings include smokeless products, cigars, wine, financial services and direct finance leases.

Altria can continue to grow as a holding company and investors should pay attention for Altria to increase earnings through pricing and acquisitions with the free cash flow it generates.

Cost reduction program on track in the smokeable product segment to provide savings to the decline in cigarettes.

From 2011 to 2012, Altria's retail share increased in smokeless products, cigarettes and cigars.

Long-term, Altria's debt outlook is stable.

I enjoy companies that continue to invest in themselves. Altria's share repurchase program has been paying off and Altria's average price paid per share at the quarter ending was $29.65.

Altria's current share price minus their average price paid for share represents to a $2.90 gain or 9.8% gain. A nice dividend of $1.64 or 5.10%
In my opinion, Altria is one of the few companies out there that can be viewed as resistant to the effects of economic downturns with the diversification and brand loyalty to their products. One of the biggest obstacles that Altria will continue to face is legal challenges. While the number of lawsuits has gone down slightly, there will most likely be many more lawsuits/class action lawsuits for some time to come. For more information on litigation and other relevant information about Altria, please check out its 10-Q here.
Trading recommendation for Altria: Buy September 2012 $29 Deep In The Money Calls
Cost of September $29 calls = $3.65 ($3.65 x 100 = $365)
Breakeven = (29 + 3.65 = 32.65) ($32.65 - $32.55 = 0.10 cent move to breakeven)
Delta = 0.87
Days Till Expiration = 142
In conclusion, Altria's low beta and ability to weather a variety of market conditions still makes deep in the money calls attractive. In the trade idea mentioned above, I would wait for a small pullback in Altria to get a better option price. Often at times when I discuss Altria, Phillip Morris gets brought up and I am bullish on Phillip Morris. I prefer Altria to Phillip Morris, though I believe both are winners. Altria may be a slow moving stock, but when the markets get volatile, high dividend paying stocks can always be looked at as a solid defensive play.
Disclosure: I am long MO.
Additional disclosure: Long September 29 calls