Though some wild up and down moves are still occurring on an intraday basis, gold remains range-bound between $1,630 and $1,680 an ounce. The silver price charts a course steadily lower, now hovering over the $30 an ounce mark after the first test of that level since January, as both metals look for some sort of a catalyst to push prices one way or the other.
With the passing of the one-year anniversary of silver's 2011 peak near $50 an ounce and with gold now in its ninth month of correction following last summer's high at over $1,920 an ounce, more and more investors seem to be losing interest in precious metals, but at the same time, there remains solid demand for physical metal at lower prices.
Friday's rebound in gold and silver prices as the U.S. dollar strengthened and other risk assets faltered was an encouraging sign, but absent new money printing announcements from the Federal Reserve or other central banks, metals prices may be headed lower over the short-term.
For the week, the gold price fell 1.2 percent, from $1,662.80 an ounce to $1,642.10, and the silver price dropped 3.0 percent, from $31.27 an ounce to $30.34. Gold is now 4.8 percent higher on the year, down 14.6 percent from its 2011 peak, and silver has pared its 2012 gain to 8.9 percent, now down 38.7 percent from its high just over a year ago.
Another "fat finger" type of trading event occurred last Monday when the gold price plunged $15 an ounce within a matter of minutes while silver dropped an even larger amount (on a percentage basis) and, again, markets were left to wonder who would submit such huge sell orders that would cause prices to plunge. As was the case back on February 29th when the gold price plunged nearly $100 over a period of about an hour after one or two massive sell orders were entered, the COMEX reported an unusually large sell order of 7,500 futures contracts (worth nearly $1.25 billion and requiring $76 million in collateral) early in the morning and, as has happened many times before, this took out a swath of bids and stop loss orders.
Prices rebounded later in the day, but again, this smacks of market rigging since anyone wanting to unload that many futures contracts would likely want to get the best price possible for all of their contracts rather than placing such a huge sell order with full knowledge that the size of the order would quickly fill all open bids and then start triggering stop-loss orders pushing prices sharply lower. The more this happens, the more it seems like blatant manipulation.
Elsewhere at the COMEX, speculative long positions in gold futures fell to the lowest level in two-and-a -half years as traders pared their bullish bets. While this can easily be interpreted as waning interest, it can also be viewed as a very bullish sign as market bottoms are often seen when long open interest falls, as was the case a few years ago.
As shown below via the SPDR website, there has been little change to the holdings of the SPDR Gold Shares ETF (NYSEARCA:GLD) but they did see outflows of 10.2 tonnes last week following a reduction of 2.3 tonnes the week before.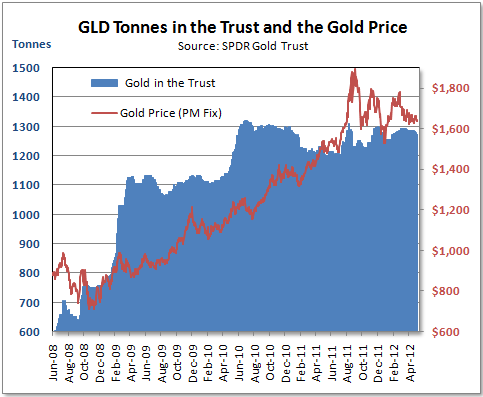 Clearly, this ETF is being held by "strong hands" who are convinced that the secular gold bull market has much further to go and, remarkably, there are about 40 tonnes more gold in this ETF now than when the gold price briefly topped $1,900 last year in late-August and again in early-September.
But, it is central banks that have been the most important source of demand in recent months as, after the hefty 58 tonne addition in March discussed here a week ago, official sector gold purchases are now on pace for a total haul of nearly 600 tonnes this year, up from 437 tonnes last year.
U.S. mint sales are a concern though as American Eagle gold coin sales dropped 81 percent last month from a year ago to the lowest level since 2008 and American Eagle silver coin sales tumbled 46 percent.
Meanwhile, in India, gold prices reached record highs in terms of the local currency, the rupee, that has weakened 15 percent against the dollar over the last seven months. After India's gold imports fell to 31 tonnes in April, a full 30 percent below the same month last year, the Bombay Bullion Association said demand is expected to slide further in the months ahead as prices continue to rise.
Higher prices and higher import duties are combining to make this a terrible year for Indian gold imports. After gold demand soared to over 900 tonnes in 2011, this year a more modest 600 tonnes in imports is expected, however, the most interesting Indian gold import story last week was that a petition was filed with the Bombay High Court requesting that the Reserve Bank of India bring back its 265 tonnes of gold currently held for them by the Bank of England.
The central bank is required to hold 85 percent of its gold bullion domestically, but they are in clear violation of that law, and this may prompt another repatriation of gold reserves similar to what Venezuela did with its 300 tonnes of gold months ago as other countries ponder taking the same step.
Disclosure: I am long GLD, SLV.
Additional disclosure: I also own gold and silver coins and bars.