The performance of iShares S&P Global Consumer Staples Sector Index Fund (NYSEARCA:KXI) sharply diverged with broad market indices in recent weeks as investors responded to gloomy economic news by shifting assets to relatively safe and steady sectors of the equity markets. KXI, which holds stocks of many of the world's largest consumer staples firms, gained 4% for the month ending November 30, while the S&P 500 slipped nearly 2%. The broad-market bogey in November hit lows it hadn't seen since May, even as KXI reached all-time highs.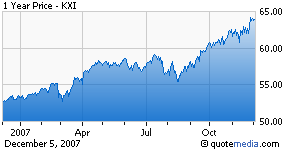 KXI ranked number 12 on our Sector Momentum Table last week, up from 19 three weeks earlier. The fund, which was launched in September of 2006, has never been higher on the Table. If KXI is destined to achieve a position in the very upper reaches of the table—and possibly in our ETF Momentum Tracker Portfolio—the coming weeks might be a ripe time for the jump. Investors in recent years have favored sectors with the potential to deliver soaring returns, such as energy and technology, but have paid less attention to options in the stalwart, but unexciting, consumer staples sector. Thanks to that neglect, this sector may be more likely than others to feature attractively valued stocks. KXI's momentum also might get a boost from the current holiday shopping season, which could lift many of the retail stocks in which the fund invests. Moreover, the weak U.S. dollar is a boon to companies exporting goods from the U.S., as many of KXI's holdings do.
Since its inception, KXI has fared well against its peers. Its 23.4% one-year return ranks in the top percentile among world-stock funds, according to Morningstar. What's more, its more than 20% 2007 return through November beats that of the S&P 500's consumer staples sector by about seven percentage points.
KXI has outpaced domestic indices largely thanks to its global breadth. The fund recently devoted nearly half its assets to foreign stocks. That international weighting makes a big difference, especially at a time when foreign firms are benefiting disproportionately from fast growth in emerging markets' consumer populations and the falling dollar is lifting foreign stock prices for U.S. investors.
Consider recent number eight holding Unilever (NYSE:UL), the European producer of packaged food, household and personal hygiene products. The stock gained more than 31% year to date through November 30. The firm derives a third of its profits from emerging markets, particularly China and India, where many of Unilever's brands have long held a steady lead over their competition. Strength in such markets has helped the company more than make up for its weakness in America and Europe.
Investors applauded a recent announcement by CEO Patrick Cescau, who called for a major restructuring of the firm that could lead to the closure of factories, the elimination of up to 20,000 jobs and a shedding of less-profitable assets. Shareholders seem to think the measures could bolster Unilever's success in innovation and marketing, areas in which the firm has trailed its competitors in recent years.
Another key foreign player in KXI's portfolio is recent number two holding Nestlé the largest food and beverage firm in the world. The 140-year-old Swiss company's strength lies in a broad array of market-leading brands that are seared onto consumer's minds: Nescafé, Gerber, Friskies cat food, Stouffer's and Kit Kat, to name but a few. The stock gained 39% year to date through November 30 on the back of robust sales.
Nestlé has been less successful than Unilever in Asia and other emerging regions, partly due to its slightly higher-end and more costly products. Growth opportunities appear scarce in the mature Western markets where Nestlé dominates, so the firm is trying hard to ride the waves of the latest consumer trends. The firm recently bought up a handful of health-oriented brands, including Jenny Craig and Novartis Medical Nutrition, as part of a rebranding effort emphasizing health and wellness.
Bottled water has become a major profit driver for many consumer staples companies over the last decade and is another area in which Nestlé is trying to eke out growth. Nestlé's bottled water unit, which includes Poland Spring, is expanding, but KXI top holdings Coca-Cola (NYSE:KO) and PepsiCo (NYSE:PEP) present stiff competition. PepsiCo and Coca-Cola's stocks each gained more than 23% year to date through November 30. But like Nestlé, in order to maintain growth, the firms will need to stake out larger positions in developing markets and take advantage of consumer trends favoring more health-conscious consumption.
If dark clouds continue to gather on the U.S. economy's horizon, the time may come to boost investments in global firms that make bottled water, cigarettes, canned food, alcohol, soft drinks and other products that consumers will continue buying during a recession. But there are substantial risks here too, including the soaring costs of commodities that are eroding the profit margins of KXI's holdings. It's been a long time since consumer staples stocks led the market, but today's turbulent financial world may help them rise to the top.