I recently wrote a Seeking Alpha article comparing grocery-anchored REITs to Maslow's hierarchy of needs. As I detailed in that article, REITs that include grocery-anchored tenants are distinguished by risk-averse income characteristics that enhance the overall total return makeup of these fixed-income alternatives.
Since food is considered a necessity-based product, the grocery store chains are more likely to perform and provide landlords (and investors) with long-term sustainable income. Because of the increased frequency in shopping patterns, grocery-anchored REITs enjoy some of the highest levels of occupancy ratios in the REIT industry. Conversely, the grocery chains enjoy the highest average number of visits as compared to the peer retail sector: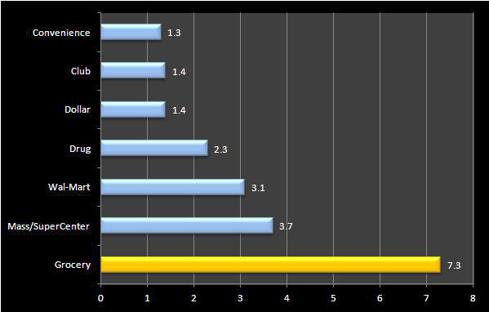 Shopping for Retail REIT
When shopping for a REIT, an investor should consider the overall value proposition and the desired differentiation strategy (of the proposed REIT). Within the REIT sector there are 29 REIT constituents that includes 17 shopping center REITs (source: FTSE ™ NAREIT ®). The combined shopping center REIT sector has a market capitalization of $37.895 billion and the average dividend yield is 3.69 percent (source: NAREIT as of April 31, 2012).
With so many choices, shopping for a retail REIT can be as confusing as shopping for a name-brand cereal at your neighborhood grocery store. Most supermarkets stock over 100 different cereal brands and consumers get frustrated when selecting new brands that compete with shelf space of the broader well publicized peer brands.
Alternatively, selecting a shopping center REIT can be equally demanding as the 17 choices (publicly- traded REITs) are all competing for institutional and retail shelf space. There are the well known brands like Kimco Realty (NYSE:KIM) - the largest shopping center REIT or Regency Centers (NYSE:REG) - the largest grocery-anchored REIT. And there is Excel Trust (NYSE:EXL) - a relatively new choice that delivers an eye popping 5.7 percent dividend or there is the "Kellogg of REITs", Federal Realty (NYSE:FRT) - with a 50-year history and track record of paying 44 years of consistent and increased dividends.
Most REITs have a value proposition or a differentiated strategy of providing risk control. These REIT brands seek to demonstrate their value in controlling risk and their ability to generate sound returns. Like cereal brands, the REITs also attempt to demonstrate the attributes that distinguish the "best from the rest."
Sometimes finding a smaller REIT can be challenging since the bigger and better-known brands are controlling most of the shelf space. The newer and smaller REITs sometimes have to get noticed by demonstrating value and delivering several quarters of performance.
The Sharp Shooter Does It Again
Retail Opportunity Investment Trust (NASDAQ:ROIC) is a relatively new REIT (transformed from a SPAC in late 2008); however since incorporation the necessity-based shopping center REIT has acquired over $690 million in retail assets. With 35 shopping centers (and 3.9 million square feet) in three states, ROIC has built up an impressive portfolio of necessity-based retail properties, anchored by national and regional supermarkets.
ROIC is continuing to build shelf space as the experienced management team -led by veteran CEO Stuart Tanz - is gaining broad recognition for delivering shareholder value. Tanz is accustom to building shelf space as his previous company, Pan Pacific Retail Properties, Inc., grew from $447 million to over $4 billion while achieving total returns to shareholders of over 500 percent since the IPO. Tanz was former Chairman and CEO at PPRP where he was responsible for acquiring around $2 billion of retail assets (18 million square feet) from 1997 - 2006.
ROIC's value proposition is to acquire unique (not widely marketed) opportunities from distressed or under-capitalized shopping center owners. This focused strategy has enabled ROIC to capitalize on its extensive network of relationships with retailers, brokers, institutional owners, banks, private owners, and other real estate operators.
The ROIC value proposition is especially well-timed as there is over $1.0 trillion of CRE debt maturities coming due between 2012 - 2017. These market conditions should continue to create opportunities so the REIT can acquire quality assets from distressed owners.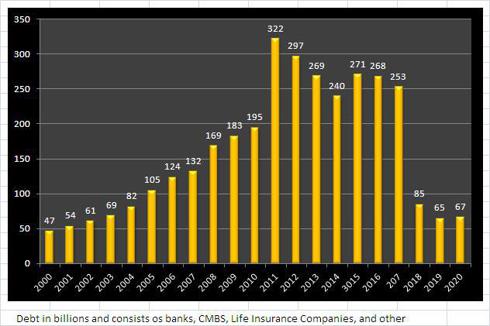 ROIC is currently focusing its acquisitions on the west coast (Washington, Oregon, Northern California, and Southern California) and the company has targeted (but not yet entered) East Coast markets such as New York Metro, New Jersey, Pennsylvania, and Washington DC.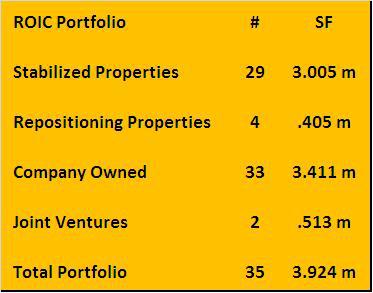 ROIC is considered somewhat of a "local sharp-shooter" as the REIT seeks to acquire shopping centers with lower occupancy rates and then reposition them to provide more overall yield enhancement. Currently ROIC has two repositioned assets and the "value add" portfolio has achieved a current occupancy of 76 percent.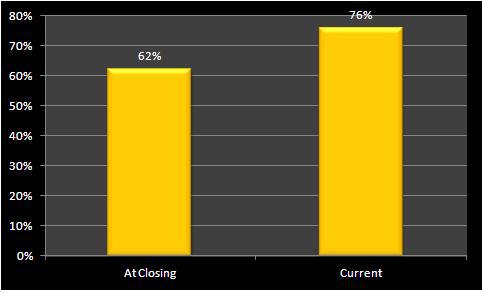 The overall portfolio continues to provide consistent occupancy driven by many of the leading grocery market brands. As of Q1-12, ROIC has an overall occupancy of 94.5 percent.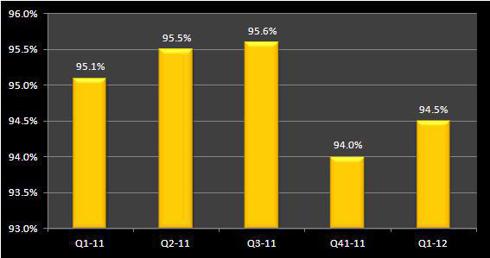 This durable occupancy metric is distinguished by the significant composition of many "best in class" retailers. In addition, as the portfolio continues to grow, ROIC will broaden its base to provide continued geographic and income diversification.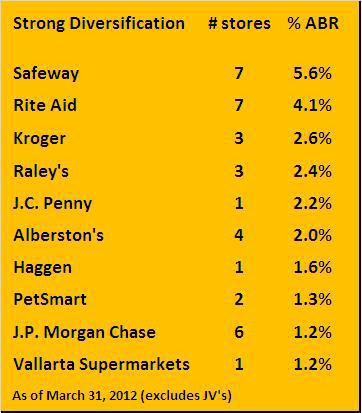 ROIC's peer grocery-anchored average is around 33.4 percent and ROIC maintains a leading grocery credit mix with 93.2 percent of the portfolio anchored by grocery tenants. This highly-concentrated tenancy provides ROIC with a strong credit-driven revenue stream that correlates into a highly sustainable dividend platform.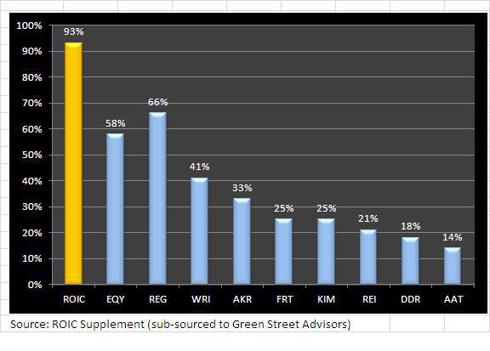 Another leading ingredient for the ROIC brand is the conservative and flexible capital structure. ROIC primarily utilizes unsecured debt to maintain liquidity and the REIT maintains a large, diversified pool of unencumbered assets (87.6 percent). This translates into an industry low leverage ratio of 28.3 percent (peer average is 45.5 percent).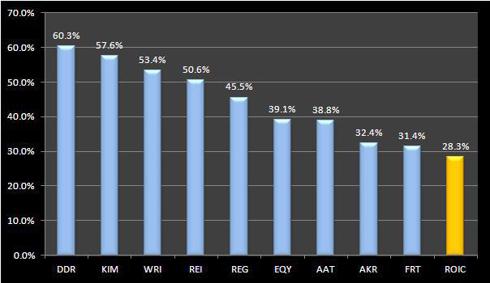 Also ROIC has an industry low Net Debt / NTM EBITDA ratio of 3.6x - almost 50 percent less than the peer average ratio of 6.3x.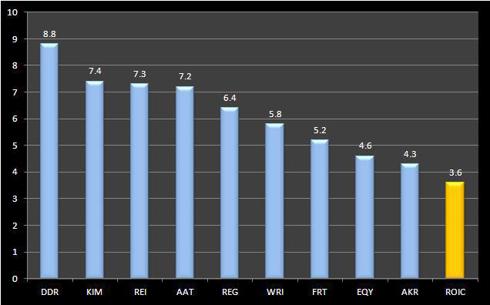 The Latest Bulls-eye for the Sharp Shooter
Last week ROIC announced its first quarter results and the "sharp shooter" hit the bulls-eye with precise aim. Net income was $1.1 million ($0.02 per diluted share) and Funds From Operations (FFO) was $8.4 million ($0.17 per diluted share). ROIC announced a 10 percent increase in same-center cash net operating income (vs. Q1-11) and a quarterly cash dividend of $0.13 per share of common stock declared (an 8.3 percent increase).
Stuart Tanz, President and CEO stated,
"We are off to a great start in 2012, as we continue to broaden our portfolio through acquiring quality, grocery-anchored shopping centers and enhancing value through our proactive management and leasing programs. We have over $75 million of shopping center investments committed to thus far in 2012. Additionally, in terms of property operations, we posted solid results during the first quarter, including increasing same-center net operating income by 10 percent, leasing 172,000 square feet and increasing occupancy by 100 basis points to 92.3 percent."
ROIC closed last at $12.50 per share (just under the 52-week high of $12.52) and the current dividend yield is 3.8 percent. The price is continuing to climb as the well-capitalized REIT gains more scale and begins to provide accretive income to its conservative capital composition.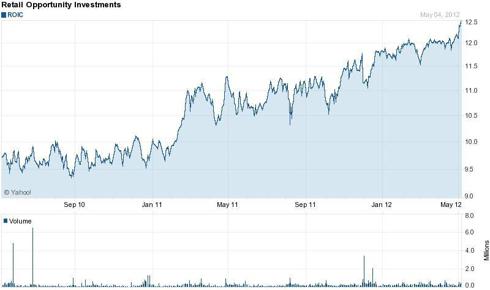 ROIC - Stock Your Portfolio with the Breakfast of Champions
Without a doubt, ROIC is becoming an attractive shopping center REIT. The appeal is driven by the skilled leadership (of Stuart Tanz) and the success of the acquisitions to date. These ingredients are core to the "sharp shooting" brand and the continued successes should propel the platform recognized for consistent income and durability. Although not yet a dominating brand, ROIC should move up quickly by gaining more shelf space - and being called a "breakfast of champions".
Stocks included in this article: (NYSE:DDR), (NYSE:AAT), (NYSE:WRI), (NYSE:EQY), (NYSE:AKR).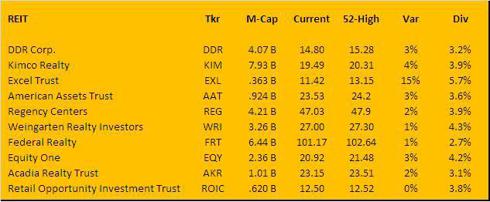 Disclosure: I have no positions in any stocks mentioned, and no plans to initiate any positions within the next 72 hours.