Physical gold ETF products finished the week in the red, with the largest gold ETFs - GLD and IAU - losing just over 1% of their value. With mixed economic data in the United States and concerns about election results in Europe, gold investors escaped the week with limited pain. Here's the performance grid from GoldETFs.biz showing all U.S. listed physical gold ETFs.

The iShares COMEX Gold Trust continues to lead the peer group in year to date performance, besting the much larger SPDR Gold Trust . The expense ratio advantage IAU (25bps) has versus GLD (40bps) is magnified during lower return environments. The third largest gold ETF, the Swiss Gold Trust (NYSEARCA:SGOL) from ETF Securities, has exactly matched GLD's performance year to date despite a slightly lower expense ratio.
Slide, Bounce and Stall...Repeat
Gold, as represented by GLD, has been a less than stellar performer since late February of this year. Hope of a QE3 evaporated on FOMC comments at that time and gold slid until a bounce at the beginning of April. Since then it has made a run upward at its 150 day moving average twice, only to stall both times. Here's an annotated chart produced on stockcharts.com highlighting the recent high and lows of GLD.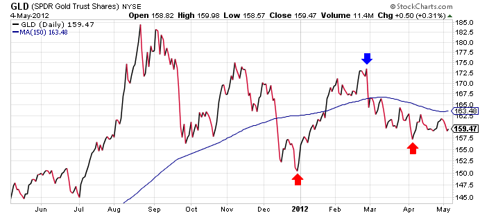 Gold VIX Yawns...
As concerns over weakening demand from leading gold consumers India and China mount and the EU crisis flares up again, one would think that the gold VIX would be at meaningful levels. In fact, gold ETF volatility as measured by the CBOE Gold ETF Volatility Index (GVZ), is at its lowest point in the last six months. Here's the chart from the CBOE.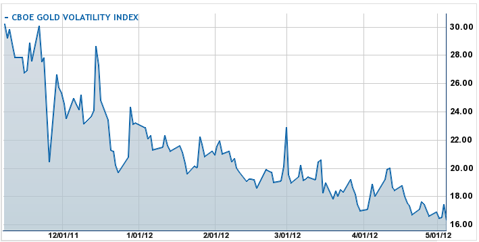 Drama Continues
With French and Greek election results indicating a mandate against austerity, all eyes will be on Germany this week to gauge its response. Some speculate Germany may actually leave the EU. Others believe renewed efforts from German officials will take place to save this more fragile union. Either way, that unfolding drama should weaken the Euro and strengthen the U.S. Dollar. That dynamic would be a negative for gold in the short term, as gold is primarily priced in U.S. Dollars. However over the long term, a weaker Euro - or a full blown Euro currency crisis - could force assets into harder stores of value than the U.S. Dollar. That move may provide the demand to push gold to its much prognosticated $2000 price point in 2012.
For now, gold ETF investors should tread lightly as political intrigue will likely loom large over the next few weeks pushing the value of currencies and hard assets back and forth. For investors with a longer term time horizon however, attractive price points are likely to emerge during this latest EU flare up.
Disclosure: I have no positions in any stocks mentioned, and no plans to initiate any positions within the next 72 hours.
Additional disclosure: Christian Magoon publishes GoldETFs.biz.