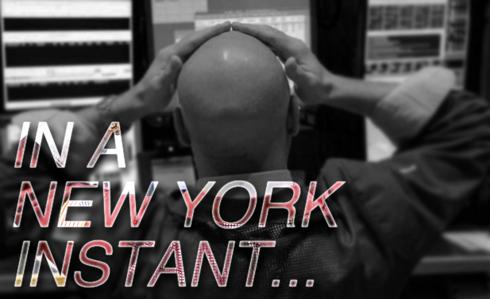 Click to enlargeThe global contraction has reached U.S. markets. The week in U.S. markets was going to be difficult and challenging with employment and ISM data dominating combined with earnings. Overall, things were okay given the heavy dose of data until Thursday afternoon when investors began to bail from markets. The ADP Employment report Wednesday wasn't inspiring but the ISM Mfg Index was better than expected. Jobless Claims Thursday were also better than expected but the ISM Services data was a big miss leading to selling. Eurozone unemployment Thursday was reported at 10.9% and Friday the eurozone reported the PMI was 46.9 vs 49.2 confirming a likely recession. Friday's U.S. Non-Farm Payrolls Report showed only 115K new jobs with over 500K workers leaving the employment rolls. Further, it's reported that over 700K people will lose their unemployment benefits in June.
The previously bullish increase in stocks came undone in a New York minute. The dollar rallied sharply (repatriation no doubt) which was bearish for most commodities (energy, base metals, etc.) while gold rallied some in a risk-off environment. Investors rushed to the safety (even with negative yields) of bonds.
The challenge now falls with the Fed to implement more stimulus which it has indicated previously would be divisive. But Bernanke also stated all tools were on the table.
Volume increased on selling with few wanting a part of the action heading into the close. Breadth was quite negative per the WSJ.
click to enlarge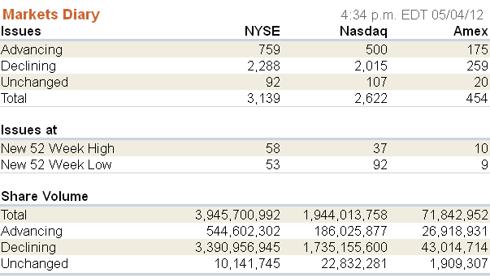 Click to enlarge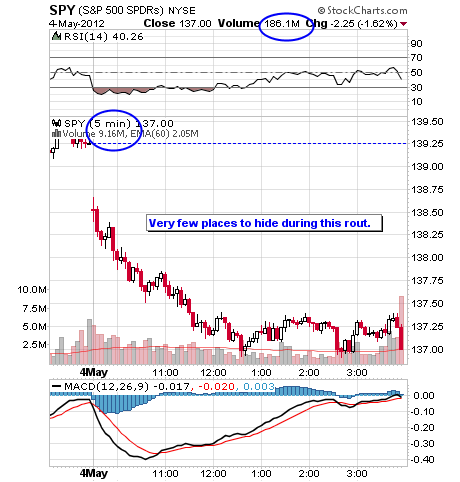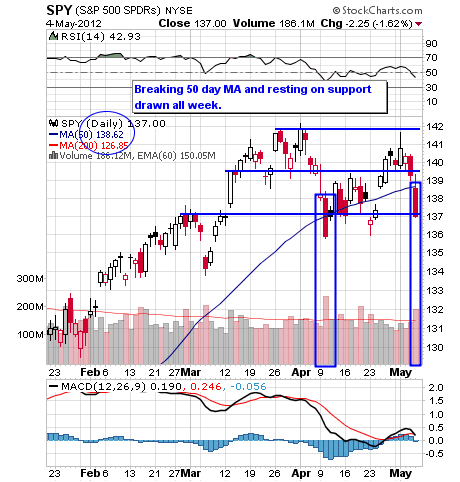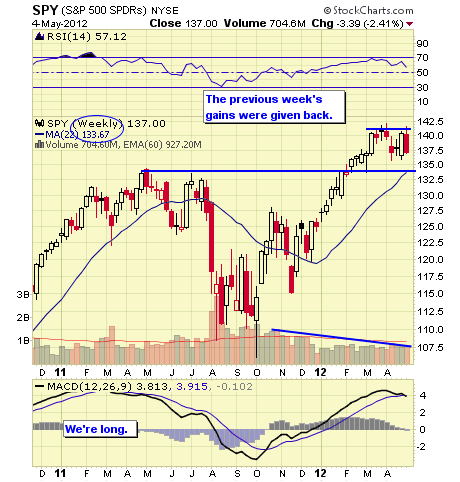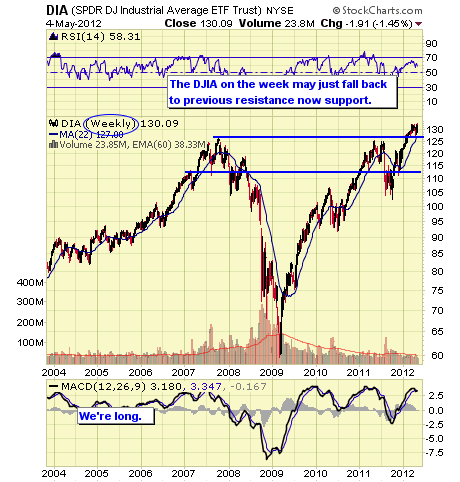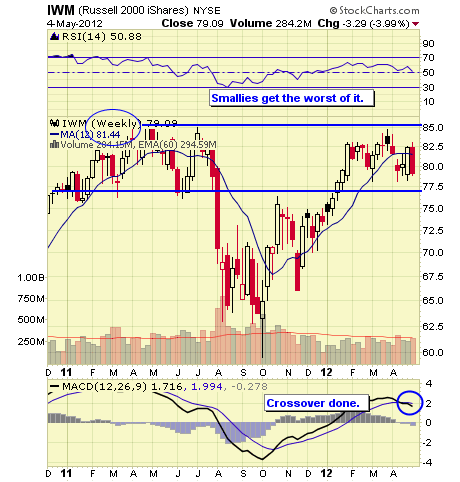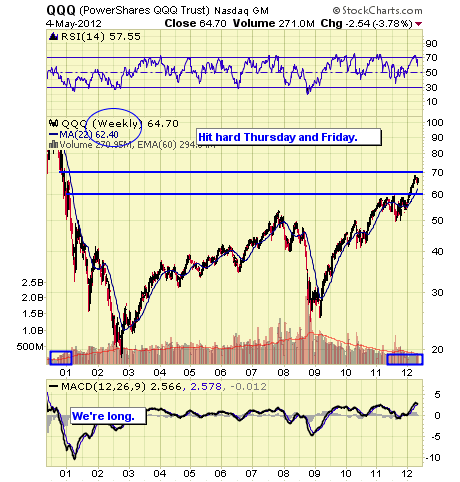 U.S. Sector, Stocks & Bond ETFs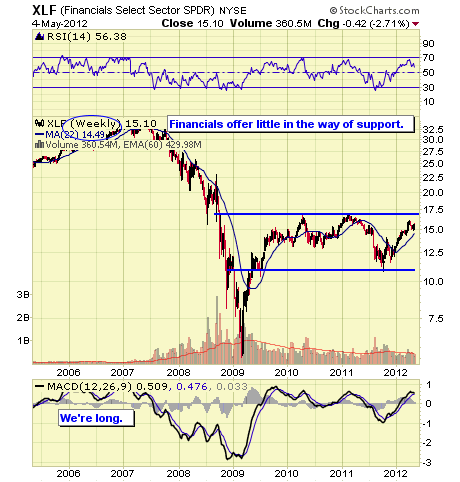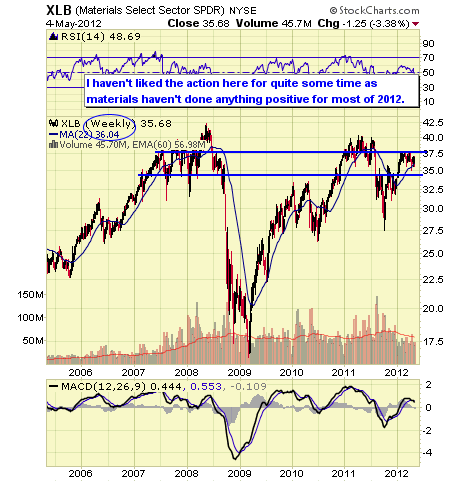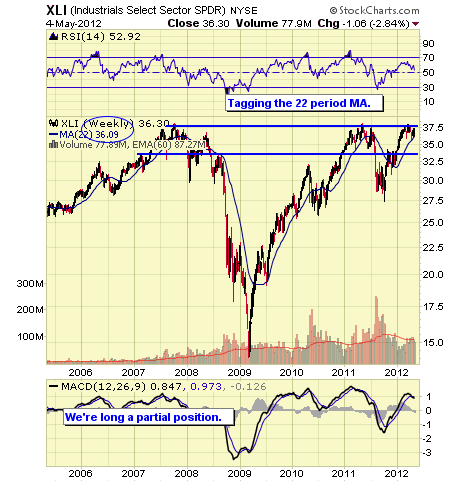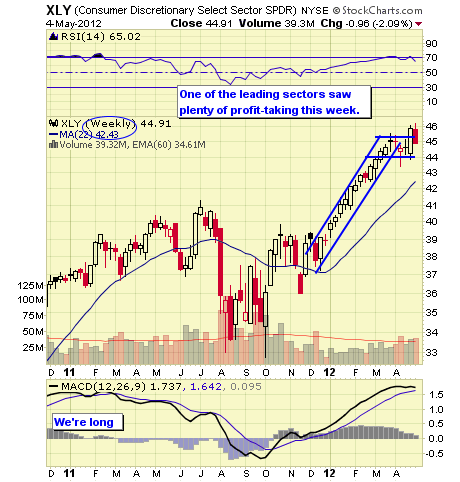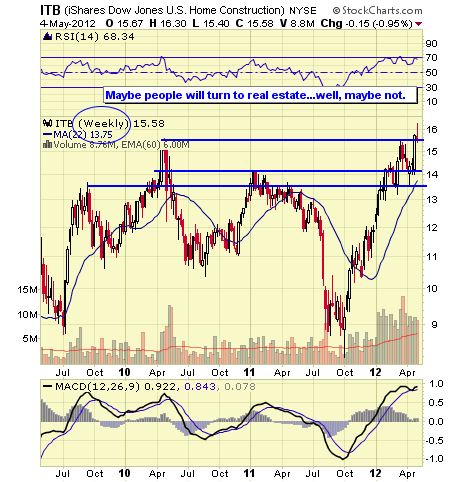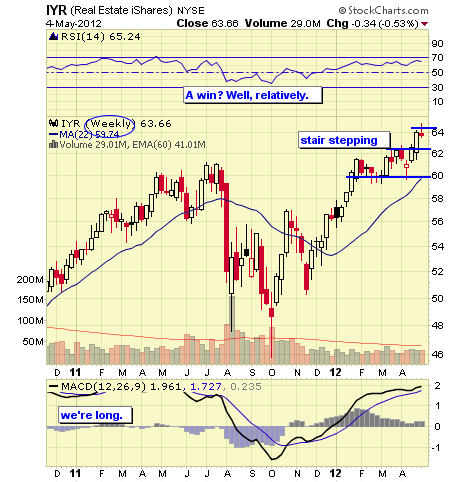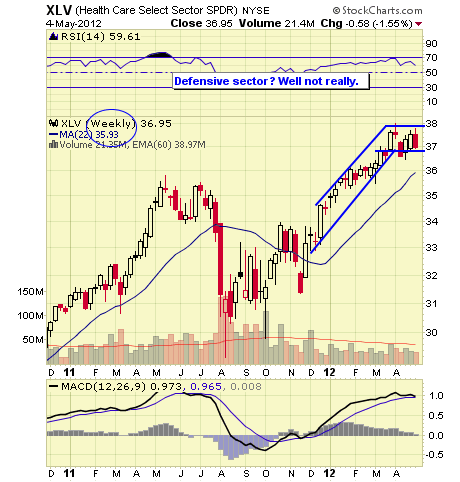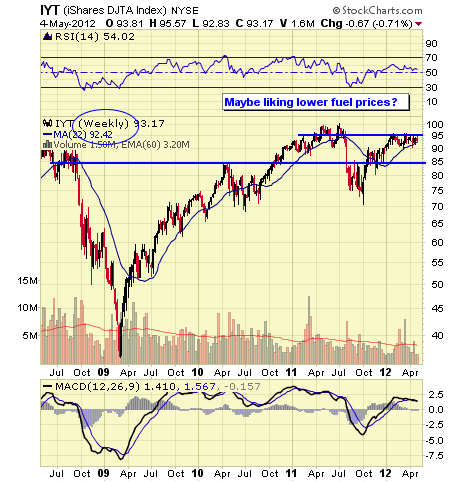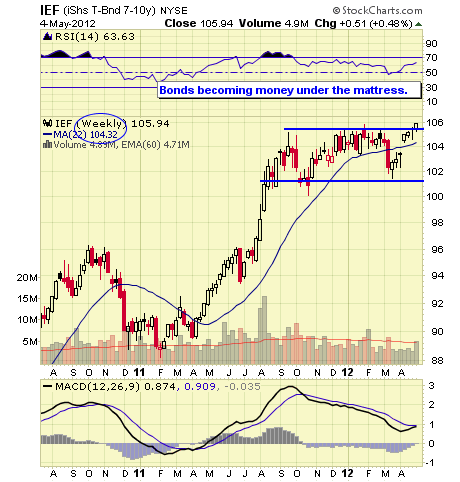 Currency & Commodity Market ETFs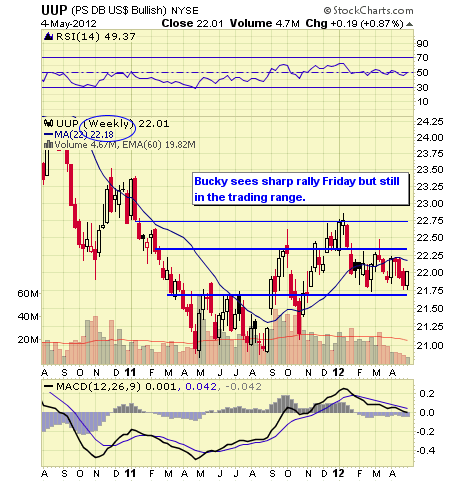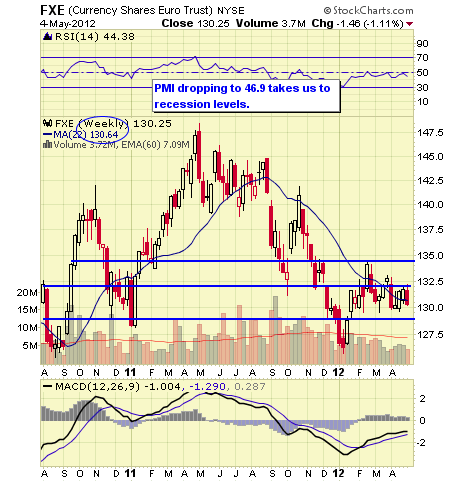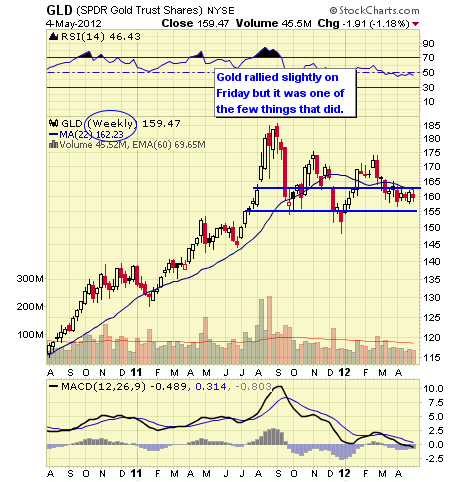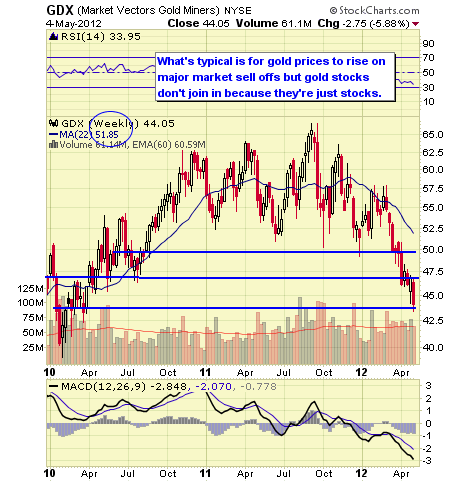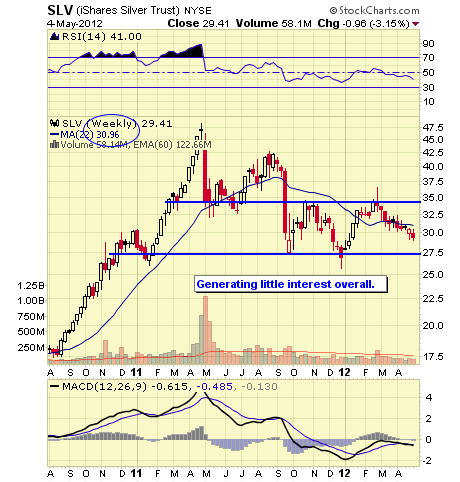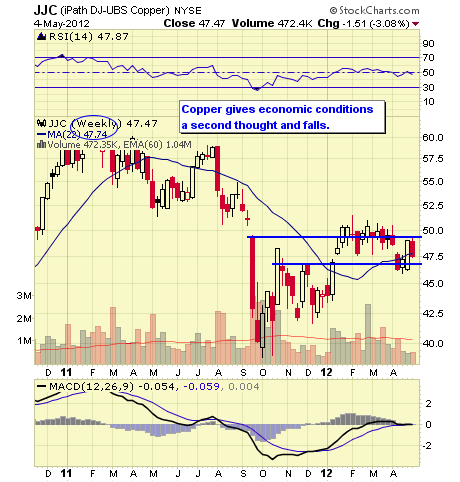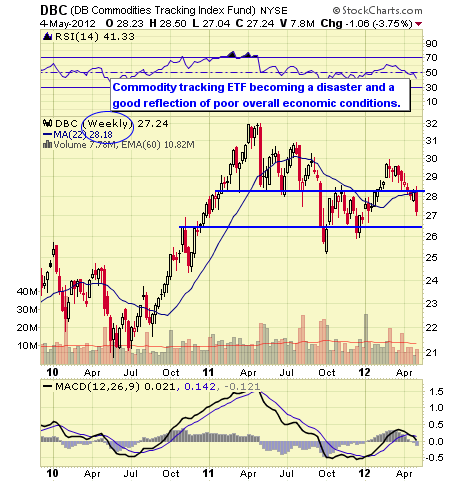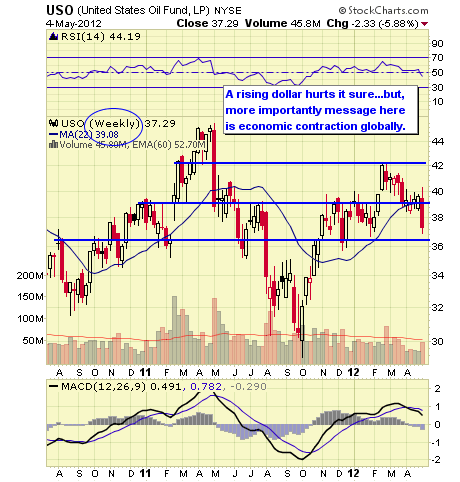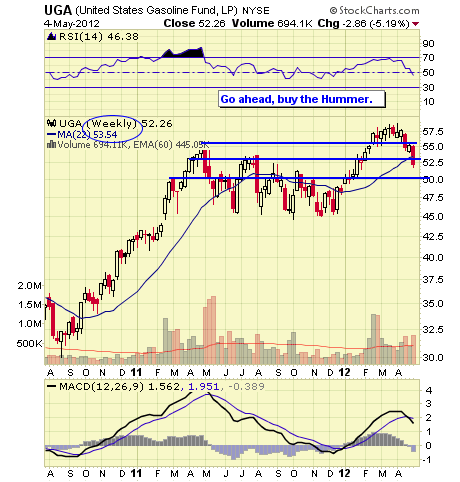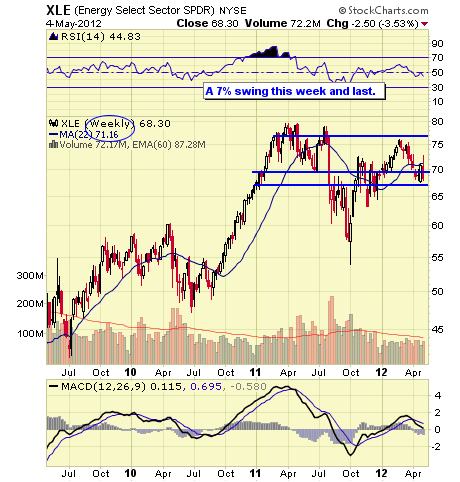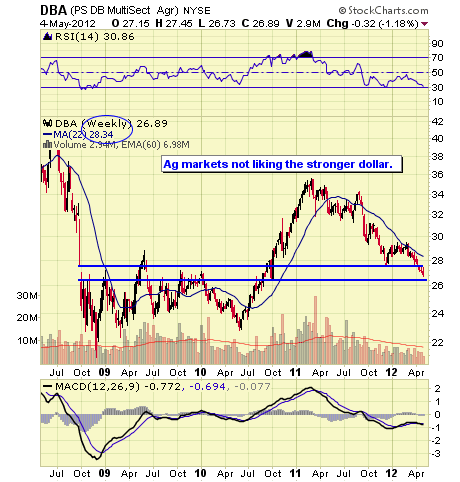 Continue to Overseas Sectors & ETFs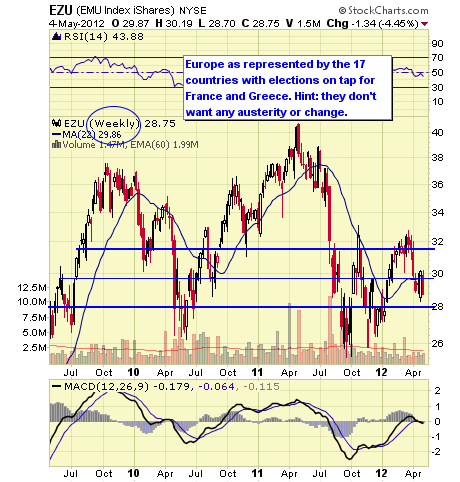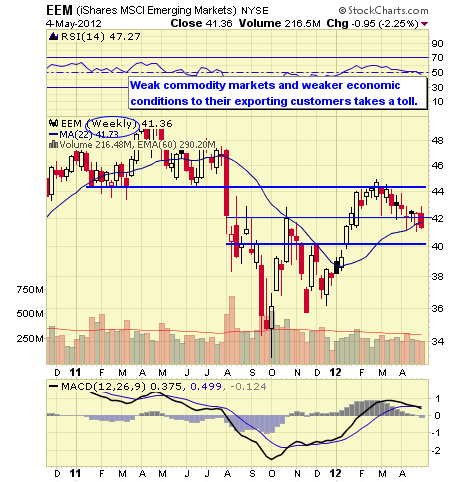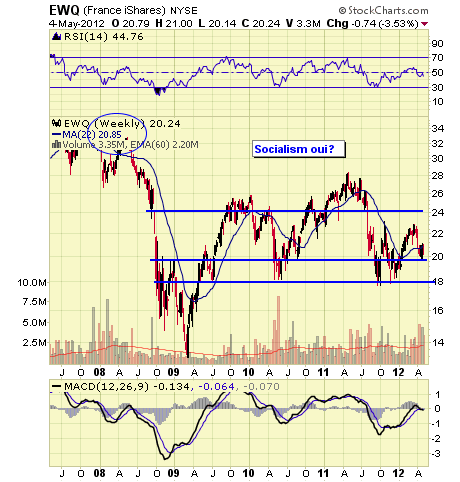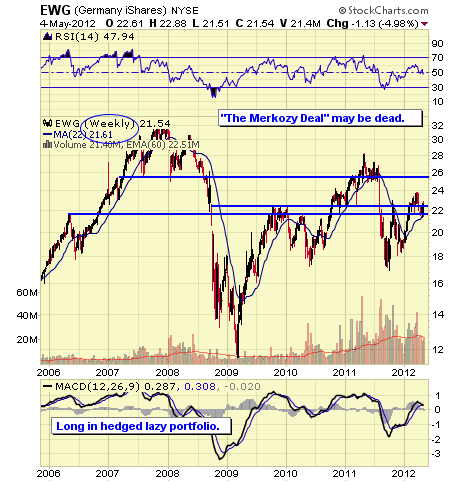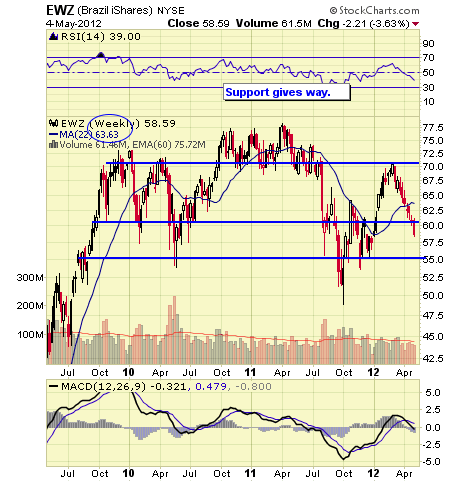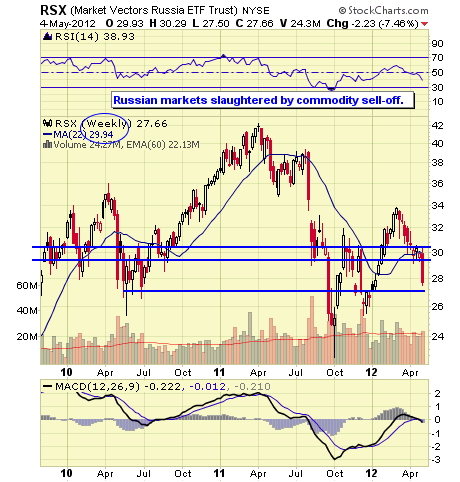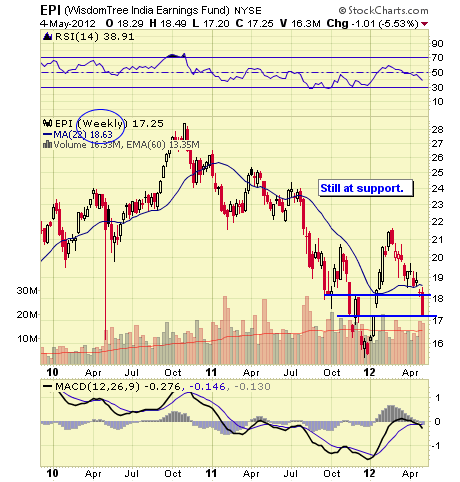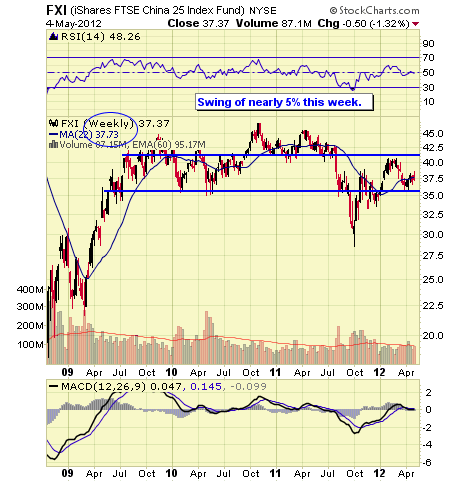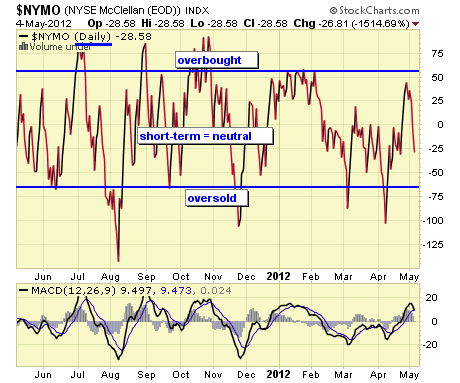 The NYMO is a market breadth indicator that is based on the difference between the number of advancing and declining issues on the NYSE. When readings are +60/-60 markets are extended short-term.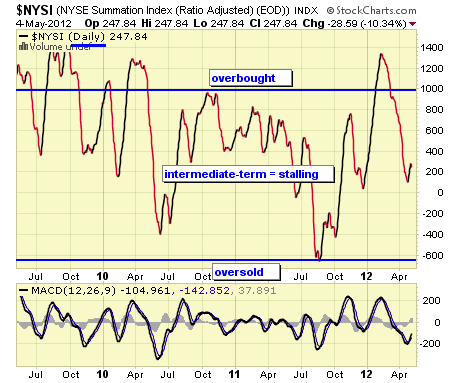 The McClellan Summation Index is a long-term version of the McClellan Oscillator. It is a market breadth indicator, and interpretation is similar to that of the McClellan Oscillator, except that it is more suited to major trends. I believe readings of +1000/-1000 reveal markets as much extended.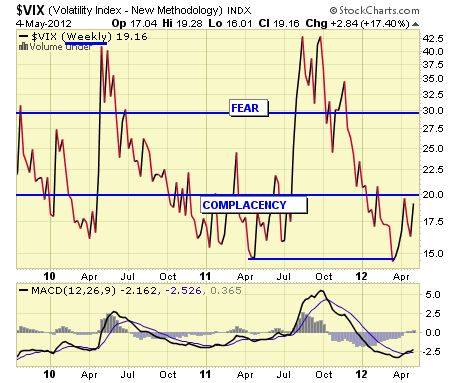 The VIX is a widely used measure of market risk and is often referred to as the "investor fear gauge". Our own interpretation is highlighted in the chart above. The VIX measures the level of put option activity over a 30-day period. Greater buying of put options (protection) causes the index to rise.
Concluding Remarks
Okay, so reality bites as the global economic contagion hits U.S. markets. There will be plenty of folks hollering for more QE and the Fed may just oblige them. But the Fed has gone out of its way to depict things as better than they are.
The markets have hit a wall and may churn sideways from here if we're lucky. If not, then shorting opportunities may present themselves soon enough.
France and Greece have had their elections and it seems certain that austerity will be off the table and the eurozone deals will have to be rewritten. It won't be pretty.
Let's see what happens.
Disclaimer: The ETF Digest maintains active ETF trading portfolio and a wide selection of ETFs away from portfolios in an independent listing. Current positions if any are embedded within charts: Lazy & Hedged Lazy Portfolios maintain the follow positions: VT, MGV, BND, BSV, VGT, VWO, VNO, IAU, DJCI, DJP, VMBS, VIG, ILF, EWA, IEV, EWC, EWJ, EWG, & EWU.
The charts and comments are only the author's view of market activity and aren't recommendations to buy or sell any security. Market sectors and related ETFs are selected based on his opinion as to their importance in providing the viewer a comprehensive summary of market conditions for the featured period. Chart annotations aren't predictive of any future market action rather they only demonstrate the author's opinion as to a range of possibilities going forward. More detailed information, including actionable alerts, are available to subscribers at www.etfdigest.com.
Disclosure: I am long MGV, BND, BSV, VGT, VWO, VNO, IAU, DJCI, DJP, VMBS, VIG, ILF, EWA, IEV, EWC, EWJ, EWG, EWU.