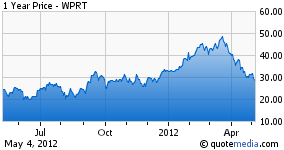 I have discussed Westport Innovations (NASDAQ:WPRT) at length in my article "Bullish Case For Westport Innovations" and the macroeconomics behind natural gas as a primary fuel source within "The Case for Natural Gas Related Stocks".
Based on the number of times those articles have been read - there is quite a bit of interest relative to WPRT within the Seeking Alpha community.
So, I took it upon myself to dive a bit further into three important areas within WPRT's business model in a three part series. Part one, is below, and will detail their "Strategic and Business Alliances", part two, will focus on their "Capital Efficient Business Model" and part three will be about "Intellectual Property".
Part 1 - "The Valuable Strategic and Business Alliances"
First, I should mention that almost everyone who manufactures an engine is involved with or wants to be involved with Westport on one level or another. From tiny fork lift engines to the largest marine engines just about every manufacturer on the planet is either, talking with WPRT or has signed a more formalized agreement. The finalized contracts range from evaluation and feasibility projects to formal joint venture partnerships where parties are contractually bound together to perform. One thing is for sure - Westport is a first-mover in the area and everyone wants to be involved with the market leader.
The large joint ventures
Cummins Westport Inc.
Little more than 10 years ago Cummins Inc. (NYSE:CMI) and Westport formed a 50:50 JV called Cummins Westport Inc. (CWI). This partnership was created at a time when diesel prices were a better value in the market. That long ago and with no economic incentive to design, build and sell natural gas-powered products, Westport was probably not in a position to negotiate the best "terms" of a JV. They most likely would have been begging for a partner to help fund their losses and further their product development. At the time the primary driver was for environmental compliance due to regulations. Since the original agreement the price of natural gas has fallen substantially and has created a true economic demand for natural gas-powered vehicles.
In February 2012, the Cummins JV was clarified and extended for another 10 years and includes 5.9-liter to 12-liter engines. The updated JV serves to clarify (WPRT management's word, not mine) the relationship between the parties. The new JV will focus future research and development on the North American market and has an "incremental bonus" calculation feature whereby WPRT will earn a 75% bonus on the income (as defined in the JV) above a base-line annual plan. WPRT management explained that within this new JV, Cummins was given the right to market engines outside North America in markets where they do not compete with CWI. Currently, WPRT is handling the final stages of the manufacturing process for the CWI engines. Cummins has agreed to take on all assembly once a unit volume (approximately 1500) threshold level has been reached. This is excellent news as it increases efficiency thereby lowering cost per unit and increasing margins
The natural gas engines from CWI are offered to OEMs for products such as transit buses, conventional trucks, tractors, refuse collection trucks and street sweepers. Cummins is responsible for most of the manufacturing and allows WPRT to utilize its supply chain, distribution and sale networks.
There is some "angst" in the market about their new JV relationship relative to the 15-liter market for long haul trucks. This "angst" needs to be worked out before WPRT can go to new highs on the chart. The better situation would have been for WPI to incorporate Westport's "high-pressure direct-injection" technology (HPDI) technology into the JV. For some reason, however, the JV chose to differentiate at the 15-liter engine. Perhaps WPRT wanted a larger profit percentage for using their HPDI technology, or maybe Cummins thought they could do the 15-liter engine "in-house" cheaper by themselves. The real story will come out in time.
During a WPRT conference call about the new agreement, WPRT management used the phrase "adjusted economics" in terms of the new JV. This phrase implies to most people that some changes in the cost structure of the JV have occurred. Interestingly though, when asked whether the "financial models" Wall Street was working on needed to be changed, management specifically said "You shouldn't see any changes." Unfortunately, for competitive reasons, not all information can be disclosed all the time so we have to draw some intelligent assumptions. Why would management state specifically not to change the financial model? Having been in these situations in my professional career, I would suggest that management has found ways to make up for the "adjusted economics" of the new JV - perhaps though cost reductions or higher volumes which make the specific changes irrelevant. Just a guess, but a very logical one, though only time will tell if my assumption is correct.
Weichai Westport
Weichai Westport Inc. (WWI) was officially formed in July 2010 and is a JV between Weichai (OTCPK:WEICF), Westport and Peterson Equipment. WPRT has a 35% interest in the JV. The JV focuses on the Chinese market and develops, manufactures and sells alternative fuel engines and parts for use in cars, buses, heavy-duty trucks, power generation and marine applications. WWI is utilizing WPRT proprietary HPDI, which provides the environmental and cost benefits of a natural gas engine while delivering comparable benefits of diesel engines over the speed and torque operating range, along with exceptional reliability.
Here is why the "Cummins angst" may not matter - China
Recently the Chairman of Weichai said their goal for this year is 15,000 units. If achieved, this would represent a large increase over the 9,000 produced in 2011 and the 3,800 produced in 2010.
According to Weichai Power's most recent Annual Report, Weichai holds approximately 40 percent of the heavy duty truck engine market for trucks over 14 tons (HD category). According to Weichai's August 2011 Interim Report, they sold over 200,000 heavy-duty engines for the six months ending June 30, 2011. In 2010, heavy-duty truck sales in China exceeded 1 million units.
Please keep in mind a couple of things; one, this only represents the truck market over 14 tons, and secondly, the pricing differential of natural gas to diesel is not as favorable in China. The decision to move to alternative fuel is based more on the political policies surrounding environmental goals. However, recent articles have suggested the possibility of enormous, shale-based, natural gas supplies in China that are yet to be fully developed. So it is plausible that someday a truly economic reason may exist.
This WWI is currently utilizing HPDI technology in their 12-liter engine.
Other relationships
WPRT has many other relationships with global brands. Some relationships are more formalized than others but they include such companies as; Volvo (VOLAF,PK), Delphi (NYSE:DFG), Freightliner, Paccar (NASDAQ:PCAR), Kenworth, Daimler Group (OTCPK:DDAIF), Beijing Auto, Tata (NYSE:TTM), Weichai, Caterpillar (NYSE:CAT), EDM, Rolls-Royce (OTC:RRCEF), Komatsu (OTCPK:KMTUF) and Peterbilt to name a few. The point I am trying to make is that Westport is involved all over the world with all the major players. The partners are all leveraging WPRT technology and allowing WPRT to use their fixed cost base. This is called a capital-efficient business model and Wall Street LOVES capital-efficient business.
Next week -
Part 2 - Capital Efficient Business
Disclosure: I am long WPRT.
Disclaimer: This work is based on public filings, public events, interviews, corporate press releases, and what I have learned as financial journalists. It may contain errors and you shouldn't make any investment decision based solely on what you read here. It's your money and your responsibility.