By: Brendan Gilmartin
Walt Disney (DIS) is scheduled to report 2Q 2012 earnings after the closing bell on Tuesday, May 8. The release will be followed with a conference call at 5:00 p.m. EST. The media and entertainment giant is also a member of the Dow Jones Industrial Average and could therefore influence direction of the index futures and other broad market gauges.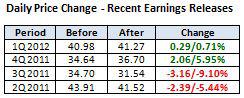 Outliers & Strategy
Walt Disney is expected to earn $0.55 per share (range is $0.51 to $0.60), up from $0.49 a year ago, while revenues are forecast to come in at $9.56 billion, up 5.4% from the prior year. (Source: Yahoo! Finance)
Rival Viacom (VIA) reported earnings on May 3, delivering solid results thanks in part to higher cable fees - a development expected to support Disney's entertainment division. Meanwhile, CBS Corp. (CBS) reported 1Q results benefited from underlying advertising growth, along with content licensing and distribution revenues. Furthermore, the entertainment and cable segments saw revenue growth of 16% and 15%, respectively.
After the 16.8% YTD run-up, Disney shares are now trading at 16.6x trailing earnings, a premium to the 5-year average of 15.1x.
Recent News
05/07: Deutsche Bank reiterated its Buy rating and increased the price target on Walt Disney to $56, according to Benzinga.com.
04/11: According to a report on Barrons.com, traffic data from Orlando Airport showed an improvement in y/y domestic traffic for February and a strong pickup in international flights, suggesting greater visitation at Walt Disney theme parks.
03/30: According to a post on Barrons.com, Lazard Capital upgraded Walt Disney to a Buy rating, thanks in part to strength in television networks Disney Channel and ESPN. The firm also cited Disney's excess cash reserves.
04/09: Deutsche Bank raised its price target on Walt Disney from $48 to $51, according to a post on Benzinga.com. The positive outlook was based on strength in the cable networks, competitive position, global branding, valuation and a quality portfolio.
03/20: Wunderlich Securities raised its price target on Walt Disney to $46, according to Benzinga.com.
03/19: Walt Disney said it planned to book a loss of $200 mln on the movie "John Carter" due to poor ticket sales.
Technical Review
Walt Disney shares have rallied about 17% YTD and are just off the 52-week high of $44.50 established on March 27. The shares are currently sitting on support near $43.00 - coinciding with the 50-Day SMA and an important level going back to early March. Should earnings disappoint, there is support below this level at $41.00, followed by $40.00. Resistance is at the 52-week high. (Chart courtesy of StockCharts.com)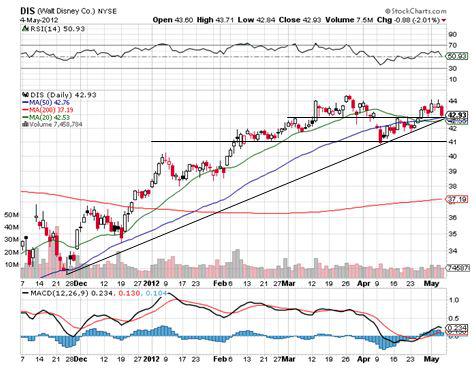 Summary
Walt Disney shares are just off the 52-week high established in late March, but up significantly YTD, thanks to in improving macroeconomic backdrop, particularly in North America, resulting in improved traffic at its theme parks. Solid advertising trends also bode well for the entertainment and cable divisions, with brands such as ESPN and the Disney Channel expected to reap the benefits. In addition to the quality portfolio, Walt Disney shares fetch a reasonable 12.6x forward earnings, while the balance sheet remains solid with nearly $3.77 bln in cash and more than $7.6 bln in operating cash flow. Against this positive backdrop, the market is looking for solid earnings and revenues. Anything less may therefore be seen as a disappointment.
Disclaimer: By using this report, you acknowledge that Selerity, Inc. is in no way liable for losses or gains arising out of commentary, analysis, and or data in this report. Your investment decisions and recommendations are made entirely at your discretion. Selerity does not own securities in companies that they write about, is not an investment adviser, and the content contained herein is not an endorsement to buy or sell any securities. No content published as part of this report constitutes a recommendation that any particular investment, security, portfolio of securities, transaction or investment strategy is suitable for any specific person.