We are leading a charge for more financial transparency from Groupon (NASDAQ:GRPN). Now a public company, they have an obligation to provide investors with enough information to make an informed decision about investing in the company's stock. Sadly, the company did not provide sufficient metrics on their first quarterly report to gauge the underlying health of the business . We demand better stewardship from a company sporting a $13 billion market cap and a self-proclaimed market leader in the burgeoning Daily Deals industry.
Providing a contrast between Groupon and a true a Best-of-Breed company, LinkedIn (NYSE:LNKD), highlights Groupon's failings in financial transparency. Below is a summary of the key information that Groupon and LinkedIn provide on a quarterly basis: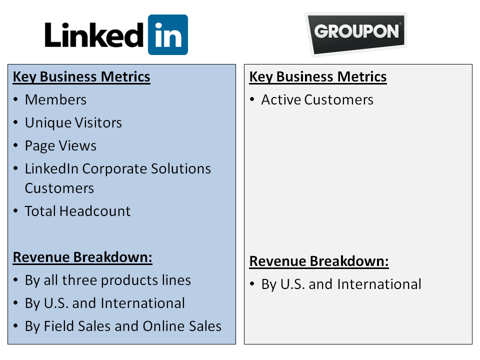 The amount of financial information a company provides can be a great indication of their confidence in the company's competitive advantage and growth prospects. They are proud of the business model they have built and are happy to share information. LinkedIn is a great example (Key Metrics & Financials 4Q 2011 and 4Q 2011 Earnings Presentation). Another great example is Rackspace (NYSE:RAX). Take a look at all the awesome Profitability, Return on Capital, Utilization, and Segment information they provide in their quarterly press release). Companies that are less confident in the future or have something to hide do not provide as much financial information. They prefer to keep investors in the dark and hope that people don't ask hard questions.
Here is another visual that illustrates the lack of information from Groupon. The first slide shows what they were forced to report in their IPO filing by the SEC, the second slide shows you what they reported when left to their own desires:
We are not sure why Groupon is being so coy with the metrics. It may be for competitive purposes, but management should at least tell us this is their reasoning on the conference call. Regardless, the lack of information they have provided makes it very hard to properly assess the health of the business, which is concerning since Groupon is a very immature business model that loses money, yet has a $13 billion market cap. We think it's important for investors to ask for the information and then let management tell us why they won't give it to us.

Disclosure: We have no positions in any stocks mentioned, and no plans to initiate any positions within the next 72 hours. We have a negative bias towards Groupon because we don't believe in the longevity of the business model, are worried about the quality of management and their technology infrastructure, and think the stock is wildly over-valued.