I have previously discussed why US coal is bullish and why the US coal sector always rebalances promptly to boost coal price. I have written other SA articles showing with EIA data that the rebalancing is significant.
In the earnings conference call of James River Coal Company (JRCC) last week, the CEO discussed US coal production curtailments and cited specific numbers. He made a good point that the curtailments are more than enough to compensate for weaker coal demand, yet it escaped attention of analysts, as those production cuts were not explicitly announced by the companies.
He said an estimated 100M tons of production cut was needed. So far the curtailments have reached 140M to 200M level. If that is true, coal prices and for coal mining stocks are very bullish just on the production curtailment factor alone, not to mention demand is returning to normal and there is strong demand growth overseas.
I pulled out EIA's weekly coal production data and see how much is the coal production curtailment so far. Here is what I get: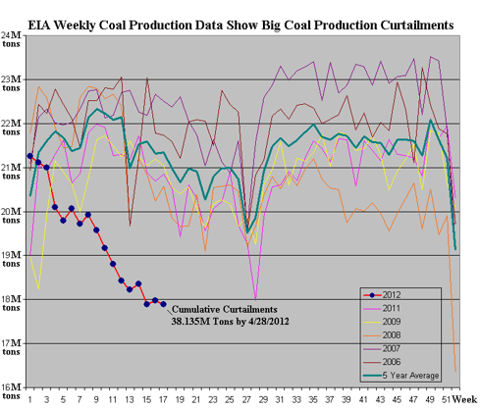 Click to enlarge
The chart shows the weekly US coal production for the last 5 years and for 2012, in million tons. The thick curve is the 5 year average.
It shows that production has dropped to an unprecedented low. By week 17, or April 28, of 2012, coal production cut reached a total of 38.135M tons. The curtailment in the last week was 3.454M tons. If we maintain this weekly cut for the remaining 35 weeks, there will be another 120.890M tons of curtailment, bring the year's total expected production cut to 159M tons.
The US coal sector is extremely bullish. It's more so as the ongoing production cut must lead to a coal price rebound and coal mining stock rally, but people do not know these numbers yet. Last week's plummet in coal stocks thus provides another excellent buying chance.
The strong rally in natural gas price and movements in related ETFs is another indicator that a rebound is imminent. Check out United States Natural Gas (NYSEARCA:UNG), ProShares UltraShort DJ-UBS Natural Gas (NYSEARCA:KOLD) and ProShares Ultra DJ-UBS Natural Gas (NYSEARCA:BOIL).
I recommend buying these US coal stocks:
James River

Patriot Coal (PCX)

Arch Coal (ACI)

Alpha Natural Resources Inc. (ANR)

Peabody Energy Corp. (BTU)

Alliance Resource Partners LP (NASDAQ:ARLP)

Cloud Peak Energy Inc. (NYSE:CLD)

Cliffs Natural Resources Inc. (NYSE:CLF)

Consol Energy Corp. (NYSE:CNX)

Natural Resource Partners (NYSE:NRP)

Penn Virginia Resource Partners LP (NYSE:PVR) and last but not least,

Walter Energy Inc. (NYSE:WLT)
I have another article coming out comparing the relative values of different coal stocks. Stay tuned.
Disclosure: I am long JRCC, PCX, ACI, ANR, BTU.