As highlighted in previous articles, we are generally still very bullish on agency mortgage REITs. Despite stagnant employment growth and a weak housing market, agency mREITs should continue to offer retirees (and other income investors) compelling risk-adjusted returns for the foreseeable future.
One agency mREIT in particular, American Capital Agency (NASDAQ:AGNC), has really separated itself from the pack over the past few years and we believe that it should be a core holding in your retirement portfolio. This is not just a blind recommendation either...AGNC has been our largest mREIT holding for well over a year now.
We have written many articles highlighting AGNC as an investment opportunity and a common question that we often get from readers (through comments and emails) is "what makes AGNC different from other agency mREITs?" That said, we decided to write a series of articles that will help answer that question.
Part 1 (below) will give you a brief overview of the company and discuss how AGNC's management team has consistently created value for shareholders;
Part 2 will highlight how AGNC's asset selection has lead to stable prepayment rates across their portfolio; and
Part 3 will discuss the current interest rate environment and some of the strategies the company uses to manage/hedge interest rate risk.
American Capital Agency Overview
AGNC is a mortgage REIT that invests in agency mortgage-backed securities ("MBS") for which the principal and interest payments are guaranteed by a U.S. Government agency or a U.S. Government-sponsored entity.
AGNC's principal goals are to preserve book value and to generate income for distribution to its stockholders from the interest rate spread on its MBS portfolio (i.e., the spread between the interest income received on its MBS and the cost of borrowing to finance its acquisition of MBS). Like most mortgage REITs, AGNC utilizes leverage to finance the purchase of MBS to boost shareholder returns.
As of 3/31/12, AGNC's mortgage portfolio was $81 billion with quarter-end leverage of 8.4x.
Consistent Shareholder Value Creation
AGNC has a top-notch management team, led by Chief Investment Officer Gary Kain, that has consistently created value for shareholders since inception of the fund in 2008.
An mREIT creates value for shareholders in two primary ways: (1) growing book value and (2) generating consistent income for distributions.
As shown in the chart below, AGNC has consistently grown book value per share over the past 3 years, with a compound annual growth rate of almost 15%.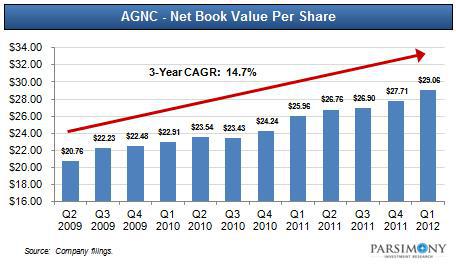 In addition, despite the current ultra-low interest rate environment, the company has been able to maintain fairly consistent dividend distributions. Many agency mREITs, like Annaly Capital Management (NYSE:NLY), Hatteras Financial Corp. (NYSE:HTS), and Capstead Mortgage Corp. (NYSE:CMO) have had to cut distributions several times over the past year or so. Although AGNC cut its dividend slightly in Q1 2012, the company had paid a $1.40 quarterly distribution for 10 straight quarters prior to that (see chart below). Note: AGNC's annual dividend yield has averaged 20.4% over the past 3 years.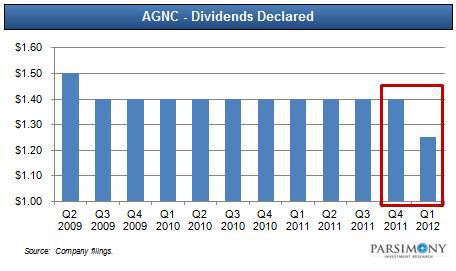 Compelling Risk-Reward Profile
This combination of book value growth and consistent dividend distributions has resulted in a total return of 208.8% for shareholders over the past 3 years, which is almost 4 times the 3-year total return of the S&P 500 (57.9%).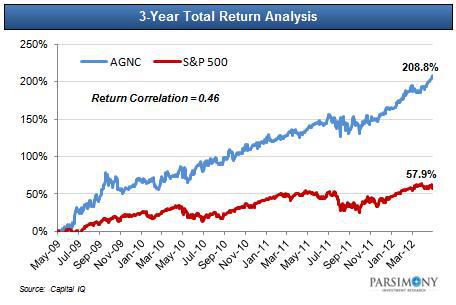 Now everyone likes high returns, but its important to understand how much risk you are really taking to achieve these returns. One metric that we like to look at to compare investments across the risk spectrum is the Calmar Ratio.
Calmar Ratio = (Compound Annual Return) / (Maximum Drawdown)
Generally speaking, the higher the Calmar ratio, the better. Some investments have high annual returns, but they also have extremely high drawdown risk (i.e., the maximum peak-to-trough decline in the value of the investment). This ratio helps determine return on a downside risk-adjusted basis.
Below is a comparison of the Calmar Ratios for AGNC and the S&P 500:
American Capital Agency
3-year Compound Annual Return: 45.6%
Maximum Drawdown: 30.0%
Calmar Ratio: 1.52
S&P 500
3-year Compound Annual Return: 16.5%
Maximum Drawdown: 28.7%
Calmar Ratio: 0.57
Clearly, AGNC offers investors a superior risk-adjusted return compared with the S&P 500 (according to the Calmar Ratio). Both investments have experienced roughly the same drawdown risk, however, AGNC's 3-year compound annual return is almost 3 times that of the S&P 500.
Now that we have highlighted AGNC's consistent value creation for shareholders and debunked the "risky" stereotype of the investment, parts 2 and 3 of this series will focus specifically on prepayment rate and interest rate risks as well as the strategies the company uses to manage these risks. Stay tuned.