As highlighted in previous articles, we are generally still very bullish on agency mortgage REITs. Despite stagnant employment growth and a weak housing market, agency mREITs should continue to offer retirees (and other income investors) compelling risk-adjusted returns for the foreseeable future.
One agency mREIT in particular, American Capital Agency (NASDAQ:AGNC), has really separated itself from the pack over the past few years and we believe that it should be a core holding in your retirement portfolio. This is not just a blind recommendation either...AGNC has been our largest mREIT holding for well over a year now.
We have written many articles highlighting AGNC as an investment opportunity and a common question that we often get from readers (through comments and emails) is "what makes AGNC different from other agency mREITs?" That said, we decided to write a series of articles that will help answer that question.
In Part 1, we gave you a brief overview of the company and discussed how AGNC's management team has consistently created value for shareholders;
Part 2 (below) will highlight how AGNC's asset selection has lead to stable prepayment rates across their portfolio; and
Part 3 will discuss the current interest rate environment and some of the strategies the company uses to manage/hedge interest rate risk.
Investment Strategy and Targeted Investments
As we discussed in Part 1, the agency securities in which AGNC invests are guaranteed by a U.S. Government agency or a U.S. Government-sponsored entity, which implies limited credit risk from the underlying borrowers. The company's investment strategy is to build an investment portfolio consisting of agency securities that seeks to generate attractive risk-adjusted returns by capitalizing on discrepancies in the relative valuations in the agency securities market.
These securities consist primarily of residential pass-through certificates and collateralized mortgage obligations ("CMOs"), which are collateralized by pools of fixed−rate mortgage loans ("FRMs"), adjustable−rate mortgage loans ("ARMs") or hybrid ARMs. Hybrid ARMs are mortgage loans that have interest rates that are fixed for an initial period (typically three, five, seven or 10 years) and, thereafter, reset at regular intervals subject to interest rate caps. Allocation of investments among securities collateralized by FRMs, ARMs or hybrid ARMs depends on AGNC's assessment of the relative value of the securities, which is based on numerous factors including, expected future prepayment trends, supply and demand, costs of financing, costs of hedging, expected future interest rate volatility and the overall shape of the U.S. Treasury and interest rate swap yield curves.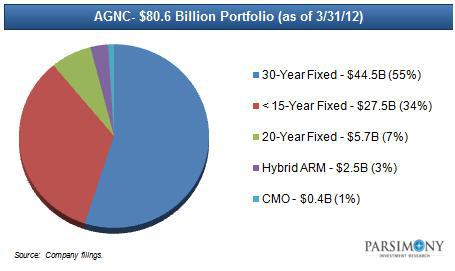 Agency securities differ from other forms of traditional debt securities, which normally provide for periodic payments of interest in fixed amounts with principal payments at maturity or on specified call dates. Instead, agency securities provide for a monthly payment, which may consist of both interest and principal. In effect, these payments are a "pass-through" of the monthly interest and scheduled and unscheduled principal payments (referred to as "prepayments") made by the individual borrower on the mortgage loans, net of any fees paid to the issuer, servicer or guarantor of the securities.
As part of its investment strategy, AGNC borrows against its investment portfolio using repurchase agreements. AGNC's borrowings generally have maturities that range from 30 to 90 days, but may have maturities up to 364 days. The company expects that its leverage will range between five to 10 times its stockholder's equity.
Asset Selection and Prepayment Risk
As President and Chief Investment Officer, Gary Kain, highlighted in the Q1 2012 earnings release, asset selection has been critical to book value growth:
We are extremely pleased with the performance of our investment strategies during the quarter. In particular, AGNC's focus on lower loan balance mortgages and loans originated under the U.S. Government sponsored Home Affordable Refinance Program (or 'HARP') was a key driver of our continued book value growth and our strong earnings. In addition to paying the dividend of $1.25 per share, our book value increased during the quarter by $1.35 per share resulting in total economic value creation of $2.60 per share or a 38% annualized return. Equally important, we believe our portfolio remains well positioned to generate attractive returns over a relatively wide range of economic conditions.
Asset selection has also played a critical role in managing prepayment risk. Prepayment risk is the risk associated with the early unscheduled return of principal, which could force AGNC to reinvest capital at lower rates and unfavorable spreads (reducing income available for distributions).
AGNC's portfolio has emphasized MBS backed by loans with favorable prepayment characteristics (e.g., lower loan balance and ARM securities). While constant prepayment rates ("CPR") for the broader Fannie Mae (OTCQB:FNMA) and Freddie Mac (OTCQB:FMCC) universe increased throughout the second half of 2011, AGNC's prepayment rates remained relatively stable (see chart below). In addition, AGNC's recent prepayment rate range of 8%-12% is well below the broader MBS universe average of around 20%.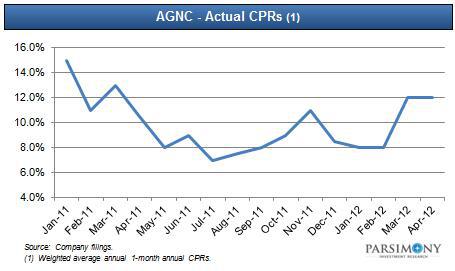 By way of comparison, below are the current CPRs for some of AGNC's agency-focused peers:
AGNC appears to be doing a better job of managing prepayment risk (through superior asset selection) than its peers. Since return on equity ("ROE") is very sensitive to prepayments given current market prices and record low interest rates, it's critical for investors to follow CPRs very closely.
Part 3 of this series will focus on the interest rate environment and use of leverage.