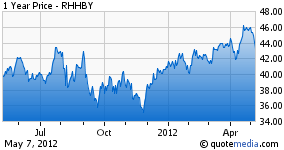 Swiss drug giant Roche (OTCQX:RHHBY) hasn't had the best run of luck lately. Having moved past significant issues with the Avastin franchise in 2011, the company failed in its efforts to acquire Illumina (NASDAQ:ILMN) and now investors have to digest the surprising Phase 3 failure of its cholesterol drug dalcetrapib. Not only does this clinical failure remove a fair bit of the wind from Roche's sails, but it should also improve the outlook for Merck (NYSE:MRK) and Lilly (NYSE:LLY).
A (Mostly) Surprising Failure
Dalcetrapib was the late-stage drug that had garnered the most attention and optimism for Roche, but that's now all for naught. The Data and Safety Monitoring Board took a second interim look at the dal-OUTCOMES Phase III study and recommended terminating the study for lack of meaningful efficacy. Unlike so many two-bit biotechs, Roche didn't try to spin the data or stoke investors hopes - for all intents and purposes, this drug is mostly likely finished.
While Roche's drug had appeared to be inferior to Merck's anacetrapib based on early-stage studies, analysts were nevertheless hopeful that a repeat of early data would be sufficient not only for approval, but significant sales measured in the billions of dollars. Moreover, with a meaningful clinical lead on Merck, Roche was going to have years to establish itself in the market.
Now, no experienced investor or analyst was giving 100% odds to dalcetrapib approval, but losing even just a 10% chance of a $5 billion drug takes a lot of steam out of the long-range revenue and profit forecasts. All things considered, then, the market reaction in Europe (Roche's stock was down between 3% and 4%) seems pretty restrained.
Is It Category, Or Is It Compound?
This is the second major failure in the CETP inhibitor class. A while back Pfizer (NYSE:PFE) halted the development of torcetrapib due to excessive mortality rates in Phase 3 studies (tied to hypertension). This has led to widespread worries about the safety of this drug class, though no other compound has yet shown that same problem.
It's important to remember, though, that each one of these drugs is different. In the case of Merck's anacetrapib, it looks to be a much more potent compound than Roche's based on earlier studies. Likewise, Lilly's evacetrapib has shown substantially better efficacy than dalcetrapib in early studies. With Roche now out of the picture, the addressable market opportunity for both Merck and Lilly would seem to be meaningfully larger and absent any surprising negative safety data, these could be legitimate blockbusters in the making.
What Now For Roche?
This was really the biggest near-term catalyst for Roche shares and it obviously went the wrong way. Now investors have relatively little to look forward to, with the expected approval of pertuzumab in a month or so and upcoming HERA data on Herceptin. After that, it's a long wait until 2013 and data from Glyt-1 and GA101.
This doesn't change the near-term financial realities for Roche, but it does impact sentiment. Absent this positive data, investors and analysts are far more likely to dwell on what can go wrong at Roche rather than what's going right. To wit, it now makes Roche's weak positioning in hepatitis C (relative to Gilead (NASDAQ:GILD), Abbott Labs (NYSE:ABT), and Bristol-Myers (NYSE:BMY) and recent failures in diabetes more relevant, and may once again stoke worries about management's ability to move products from lab to market.
Along similar lines, it may well fuel rumors and worries as to whether Roche will use the money it didn't spend on Illumina to buy other biopharma companies and boost its late-stage pipeline.
The Bottom Line
I'm not in a rush to sell Roche today, as I still believe it is a quality company that not only pays a healthy dividend, but is also undervalued. By the same token, I don't think it would be the first stock I'd recommend for investors looking to add a stock in the biopharma sector. Sanofi (NYSE:SNY), Merck, and Pfizer all offer solid discounts to fair value today and could be good additions to a portfolio.
Disclosure: I am long OTCQX:RHHBY.