On December 4, Sohu.com Inc. (NASDAQ:SOHU) improved its Q4 EPS guidance to 36-38c per share on revenue of $55.5M - $57.5M, an improvement from the earlier EPS guidance of 33c - 35c on revenue of $53.5M-$55.5M. The new guidance has come well above the Street expectations of 29c EPS on a revenue of $54.7M. The improved guidance indicate that the company has the potential to continue with its strong growth. The stock has made a gain of almost 175% in value since early April (Sohu.com Q3 2007 Earnings Call Transcript).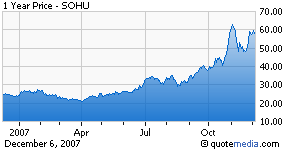 Prior to the Q3 results, there were concerns about SOHU's high valuations. The blow-out quarter for Q3 and the new growth initiatives subdued these concerns. The company reported record total revenue as well as record revenue in each of its categories. Advertising revenues went up 32% YOY to touch $31.5M while non-advertising revenues went up 74% YOY to touch $20M. The total revenue of $51.5M was up 46% from last year. With continued migration of advertisers from offline to online in the rapidly growing Chinese economy, SOHU's brand advertising business has shown robust results with a 42% YOY increase to $29.8M. While the topline continues to improve, the company has also shown improvement in its gross margin (67% in Q3 '07, 61% in Q2 '07, and 64% Q3 '06).
The improved guidance has been primarily due to an improvement in the non advertising revenue – due to the stronger than expected performance of the online game Tian Long Ba Bu [TLBB]. While the game can mature in first quarter of 2008, the fact that guidance improvement was not driven by a revenue surge from a flagship segment is a brownie for SOHU. The company also plans to launch "The Duke of Mount Deer" by the end of 2008. With China's online game market expected to grow 11% CAGR through 2017 (source: Credit Suisse), we believe the company is poised for incremental growth in the online game segment.
We believe that SOHU is well positioned to maintain its robust growth in core business, with the Olympics drawing closer (SOHU is the only Chinese online media company to have exclusive content access to the 2008 Beijing Olympics. In addition to operating the official website, it is also the exclusive Internet Content Partner for Team China). The Olympics theme can provide momentum to the stock, at least for the coming two quarters. In addition, despite the strong growth in internet penetration in China – an 18% growth between Jan '07 and Jun '07 – the internet penetration remains at an abysmal low of 12.3%. This indicates strong potential for market growth. From being a provider of wireless services, SOHU has come a long way forward by gaining strength in a diversified portfolio.
Disclosure: None.