Fluor Corp. (NYSE:FLR) is a $9.62 billion Irving, Texas-based mid-cap engineering and construction company in the industrial goods sector. The company has existed for 100 years. It operates in the following segments: Energy and Chemicals (aka Oil and Gas), Industrial and Infrastructure, Government, Global Services, and Power. Some of its projects include the Oak Grove generating station, the Ivanhoe Mines copper mine, the Newmont Power project, the Bay Bridge project, the Hanford project, and the Petrochemical Complex.
Click to enlarge image.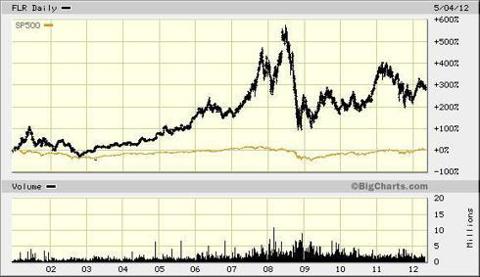 Click to enlarge
The company's total backlog for Q1 2012 is a record $42.5 billion, which is a 14% increase over Q1 2011. This backlog is distributed throughout the world with 21% from the U.S., 29% from the Americas (excluding the U.S.), 27% from the Asia Pacific region, and 23% from Europe, Africa, and the Middle East.
The Energy and Chemicals segment has been awarded contracts from TCO in Kazakhstan, Reliance Industries (RELIANCE.NS) in India, Pemex in Mexico, for oil sands and offshore projects in Canada, and agreements with Dow Chemical (NYSE:DOW) and BASF (OTCQX:BASFY).
The Industrial and Infrastructure segment has been awarded contracts for an iron ore project in Western Australia, copper mine extraction in Peru, and two copper projects in the U.S. The Government segment has a contract for LOGCAP IV task order to support the U.S. army in Africa.
The first quarter of 2012 has been good for Fluor as compared to Q1 2011. Revenue increased 24% to $6.29 billion. Earnings per share increased 16.7% to 0.91. New awards increased 36% to $8.39 billion. General and administrative expenses increased 11.8%, which is less of a percentage increase than that of revenue and earnings growth.
Fluor is undervalued with a forward P/E ratio of 13, a PEG ratio of 1.3, and a price-to-book ratio of 2.7. The company's earnings tend to grow at a slightly faster rate than the stock price over time, creating this undervaluation.
The company has $2.23 billion in total cash and only $533 million in total debt. It has 1.58 times more current assets than current liabilities. Operating cash flow is strong at $472.16 million as is free cash flow of $93.99 million.
Fluor has 16 upward earnings revisions for 2012 and 20 upward earnings revisions for 2013. The company beat earnings estimates in three out of its last four quarters. In the past five years, Fluor has grown earnings annually at 11.02% and it is expected to grow earnings annually at 11.64% for the next five years. The company also pays a dividend of 1.1%. If dividends are reinvested, a $1,000 investment in Fluor should be worth about $1800 in five years for a total gain of 80%.
I like the consistency and diversity of this company. Fluor's earnings consistency shows that it can grow earnings at 11% annually. Earnings consistency equals stock growth consistency. That is something that investors need in the current market. The company's diversity among its various segments is also a strong point for Fluor. All of its segments will continue to be in demand in the future to allow Fluor to reward shareholders for the long term.
Disclosure: I have no positions in any stocks mentioned, and no plans to initiate any positions within the next 72 hours.