It was another big sell-off this past week in gold stocks, which is another cue for me to load up on stocks that I've got on my watchlist. Admittedly I have personally been loading up on stocks I plan to hold for years a good bit over the past few weeks, and I'm probably coming close to my appetite for stocks overall. As such, I'm hoping we're close to the bottom now, and indeed I believe we are.
My two largest stock purchases this week were Goldcorp (NYSE:GG) and Franco Nevada (NYSE:FNV). Goldcorp I previously wrote up about this past week. Basically the story is that the company had some production delays due to unfavorable weather, and the market reacted with an especially strong sell-off. Goldcorp was down over 4% on multiple days this past week. It is still my most favorite major producer to own, the one that I think has the most promising opportunities in its portfolio with a track record of low marginal cost per ounce, and so loading up here was a no-brainer.
On the other hand, Franco Nevada was a bit of a tougher purchase, and one that forced me to admit how I had not bought the stock earlier like I should have. Franco Nevada has shown more stability than many other gold stocks over the past few weeks, so it has not sold off quite a bit yet. I'd like to see a drop to $41 and will likely by more if it does fall there, though I wanted to get an initial position in now in the event that it does not.
(Click to enlarge)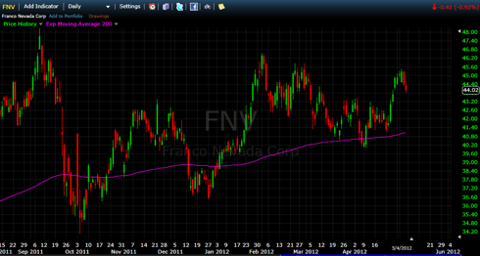 Franco Nevada's stability is something I find a testament to the quality of the company and the nature of today's gold market. Because one of the biggest differences in our global economy today versus the one that operated during gold's bull market in the 70s is that today's economy is far more financialized. In other words, banking, lending and securitization is a part of everything from homes to cars to insurance to education to deals on appliances and more. This is one of the reasons I'm such a fan of the royalty business model, in which a firm acts akin to a venture capital firm in that they invest capital, connections and expertise rather than hard assets to amass a portfolio of many mines. It is part of how gold production and distribution is being "financialized," a trend I believe will continue.
Franco Nevada is the top dog when it comes to the royalty model. The company currently has 43 producing mines, 25 projects in development, and $1 billion in cash to invest more. The numbers here are simple and straightforward, and the diversity in production helps greatly in managing political risk and mine-specific risk. It is for such reasons that royalty stocks are my most favorite to accumulate, and are the cornerstone of my stock portfolio, as I previously noted. Other royalty stocks that I favor are Silver Wheaton (NYSE:SLW) and Eurasian Minerals (NYSEMKT:EMXX); Eurasian is another one I picked up in bulk this week, while Silver Wheaton is being audited by Canada's CRA so I think there may be more time to acquire it at a lower price.
Ultimately, gold stocks are simply a way to own gold in the ground. Quality royalty firms like Franco Nevada with a large portfolio of projects and ample cash, and quality gold miners like Goldcorp with promising projects in development and exploration and a track record of successful low-cost production, are my preferred ways to get gold in the ground and thus are stocks I'll be returning to frequently when there are wide sell-offs across the gold sector.