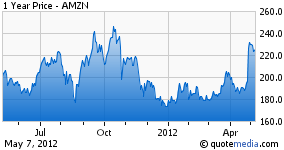 These last few weeks have been quite surreal (and intense) for the world's largest Internet retailer. Amazon.com (NASDAQ:AMZN) was leading the way in the retail industry on Wall Street with net sales reaching $13.18 billion for the first three months of 2012, an impressive 34% increase from $9.86 billion this time last year.
There's no point in trying to explain or assume the direction Amazon is going to take next - or how far it's going to reach by next quarter, even - but one thing for certain is that there is no stopping this Internet giant any time soon as it promises to continue blowing away analysts' expectations, with shares blasting off last week like they were on fire, with a 15.75% increase since last quarter and ending the week at $226.85. At this rate, I think I can safely predict Amazon to become the first retailer to net in more than $50 billion by the end of 2012. Apart from revenue, analysts were also pleased by the 1.2% point-jump in gross margins, which reached 24% and became Amazon's largest margin gain in the last 10 years.
Short sellers who had at one point doubted Amazon are no doubt hanging their heads in shame while Amazon's earnings the past couple of weeks was nowhere near the figure financial experts had predicted, and this is largely thanks to the sale of the Kindle Fire, which as far as clichés go, is selling like hot cakes since its release last Fall. I like to compare Amazon's management strategy with that of Apple's and Google's. All three companies are a bit crazy, all three companies tend to make decisions that leave investors uncertain and analysts shaking their heads and yet, all three companies manage to pull through and see their ideas turn into billions of dollars. The companies are risk takers, and in a fast evolving world like the one we live in today, it's the movers and shakers who are making the news, becoming top headlines and top earners on Wall Street.
Let's talk a bit more about the Kindle, which Amazon owes most of its success to today. There's been a shift in how people buy books, magazines and even newspapers and Amazon as the first to meet this shift in trend has been enjoying great rewards. The outcome? Most authors are offering Kindle sales alongside physical copies of their books. That's not all though, as out of Amazon's top 100 bestselling books, 16 of those titles are exclusive for the Kindle store and can't be found anywhere else. Sounds a bit like a monopoly, doesn't it? Have other companies tried to take a piece of the pie? For sure, but just like there have been replicas of Apple's iPod and iPad created (and still being created), Kindle replicas will go nowhere, in fact they will flop even more since Amazon has literally thousands of titles released exclusively for Amazon and the Kindle (and if I wanted to get specific, that's 130,000 to be exact). What author wants to take a chance on a new-and-upcoming company when they have guaranteed sales on Amazon?
It's like people have been brainwashed - who doesn't want a Kindle who doesn't already have a Kindle - which since last year is available in over 175 countries? Having hundreds of thousands of books at your instant disposal isn't even the most tempting part of the package. Carrying around hundreds of books at one time isn't even the most tempting part of the package. But Amazon decided to offer even more incentive for people to order its Kindle by giving Prime members the opportunity to borrow any title from the Kindle Owner's Lending Library for free. It's practically handing customers a Kindle device on a silver platter. And I'll bet you a hundred bucks that the company will come out with a few more new reasons why people need a Kindle before the year's up.
Amazon didn't want to lose on customers who went with the iPad, either, and offered a free app of the Kindle for iPad users to download. It became the No. 5 best selling iPad app ever released and No. 1 in the free books apps, with millions of downloads.
Let's look at some more figures that back up these claims. What was the No. 1 best-selling, most gifted and most wish-listed product on Amazon.com? You guessed it: The Kindle Fire. And do you know what nine out of 10 of the best selling items on Amazon all have in common? They're all digital products - from the Kindle to Kindle books, to the new downloadable movies featuring Amazon offers via the Amazon Instant Video app (which allows users to stream movies through the Kindle Fire, their PS3s, PCs, Macs), music and various apps. Digital is in, and Amazon was the first online retailer to realize that we are living in the digital-times, and has since captured the largest part of this market.
That is not stopping other companies from trying to capture a piece of the market, though, with Microsoft (NASDAQ:MSFT) partnering up with Barnes & Noble (NYSE:BKS) recently, with a $605 million investment in the company's Nook division-what is currently competing for third place in the tablet or e-reader market, with an approximately 20% share of the market-and claiming a 17.6% stake. Barnes and Noble's e-reader business is currently valued at $1.7 billion after the investment, and the company hopes to sell its product outside of the U.S. for the first time in an effort to better compete with Amazon's Kindle and Apple's (NASDAQ:AAPL) iPad. What sort of impact will this have on the Kindle? Looking at things strategically, Nook has been less about selling e-readers than e-books, so it's safe to assume that Kindle competitors will never really have a shot at dethroning it from its No. 1 spot, or make much money from it either.
And this takes me back to why Amazon has become such a success and been able to maintain its place as the No. 1 online seller: It all goes back to its ability stay innovative and think ahead of everyone else. There's a reason why its ahead of top rival eBay (NASDAQ:EBAY) which only net $3.3 billion in the first quarter (a 29% increase but still nowhere near reaching Amazon's level of success, even with PayPal). CEO Bezos has always been a strong believer in the saying "build it well and they will come to you," and his philosophy has certainly paid off, whether it's starting a billion-dollar-trend of e-readers, building new warehouses or starting cloud-computing data centers, Bozos is not one to shy away from heavy spending in order to maintain the loyal customers he has accumulated over the years and sustain company growth.
With new ventures like the Kindle and cloud-computing operation, Amazon Web Services (or AWS), increased profitability is just an expected outcome. In the last three months, Amazon has employed over 10,000 new people, bringing the total number of employees up to 65,600. Rewind to a year ago and it was only employing 37,900. It's almost doubled its employees in one single year. It's expanding in the U.S. too, with 13 new fulfillment centers being built around the nation this year, which will help it not only accelerate delivery, but also support its fast-growing grocery-delivery business.
As a result, brokerages all around the country are upgrading their recommendations and valuations. Currently, Amazon shares are trading at approximately 90 times its 2013 earnings projections. Let's compare that to Apple and Google (NASDAQ:GOOG), another two "big" players in the Internet industry that are doing well these days, which are trading at 11 times and 12 times the companies' 2013 projections, respectively. With North American and Canadian sales accumulating $7.43 billion (a 36% increase from last year), international sales accumulating $5.57 billion (a 31% increase from last year), does anyone still think buying into Amazon is a bad idea? Any way you look at it, you simply can't go wrong.
Disclosure: I have no positions in any stocks mentioned, and no plans to initiate any positions within the next 72 hours.