A company's earnings announcement can be very challenging to navigate. Many traders consider the action before, during, and after earnings to be nothing more than a coin flip. If you approach earnings unarmed with past results and future probabilities, the results will appear random. However, by studying past earnings, you can gain insight and assign probabilities to various outcomes.
My analysis consists of analyzing up to 10 years of quarterly earnings announcements looking for:
Probability of beating, matching, or missing analysts estimates
Price action before, during, and after the announcement
Relative fair value of the stock at the time of the announcement
1. Tenet Healthcare (NYSE:THC)
Sector: Healthcare
Industry: Hospitals
Market Cap: 2.062B
Book Value: 2.624
Earnings: May 8
Tenet Healthcare historically beats estimates 60% of the time. However, the real action is what happens next. There is an 85% chance THC will be lower three days after earnings. The after earnings drop averages -9% over the last 23 quarterly reports.
To make matters worse, the current quarterly EPS estimate is only $.08 vs earning $.16 one year ago. Besides possessing negative (year over year) growth, THC currently has a PE ratio of 42.63 vs 12.94 for the industry.
With such a high relative PE, combined with the fact that THC historically drops after earnings, I will be looking to open a short position.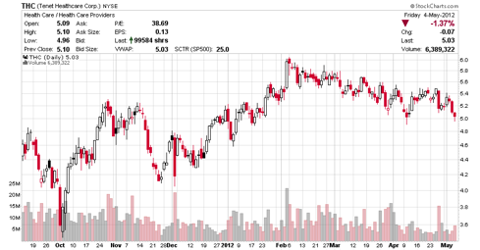 2. DIRECTV (DTV)
Sector: Services
Industry: CATV Systems
Market Cap: 32.610B
Book Value: -4.494
Earnings: May 8
Over the last 23 quarters, Directv has only had a 50-50 shot at beating earnings. However, within 3 days of the earnings announcement, DTV ends higher 65% of the time. With an average 3-day gain of 1.5%.
Coming into earnings this quarter, DTV is expected to post a profit of $1.06 vs $.85 last year. That represents a 25% (year over year) gain. Current PE is 13.90 vs 14.97 for the industry. DTV is also almost 10% from its 52-week high.
With projected 25% (yoy) growth and historically rising 65% of the time after earnings, I believe DTV may be worth going long into the earnings announcement.
If looking for a hedge, I would short Charter Communications Inc. (NASDAQ:CHTR), which is a competitor. DTV is a company with improving financials while CHTR is deteriorating. Charter is expected to post a loss of -$.59 this quarter, which is wider than the -$.38 loss reported last year.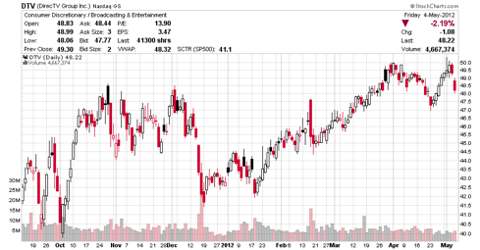 Disclosure: I have no positions in any stocks mentioned, but may initiate a long position in DTV, THC over the next 72 hours.