Given depressed natural gas prices, one cannot help but wonder if the window of opportunity for buying into natural gas stocks is opening. The current natural gas price is at around $2.5 per thousand cubic feet, which is about the lowest point in 10 years, largely due to the oversupply caused by the success of hydraulic fracturing. A subsequent upward price cycle may provide substantial profits in the future for those who buy into natural gas stocks now.
Chesapeake Energy Corporation (NYSE:CHK), one of the largest natural gas companies in the U.S., is a natural bet for those who want to gain exposure to natural gas. However, the news that Aubrey McClendon, the CEO of Chesapeake, runs a hedge fund betting on the same commodity Chesapeake is selling does not exactly inspire investors' confidence in the corporate governance of the company. The lack of confidence in the management's commitment to the best interests of Chesapeake's shareholders makes the risks of investing in CHK particularly uncertain.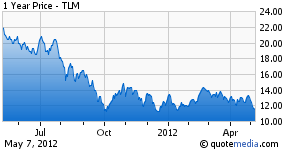 For those who are interested in establishing a position in natural gas stocks, but uncomfortable with CHK, Talisman Energy, Inc. (NYSE:TLM) is worth a look. TLM at $11.2 is 96% down from its 52 week high of $22.6. Its forward PE ratio 10.8 is among the lowest in the company's history. Its PB ratio 1.29 is also among the lowest in its history, and compared favorably to many of its peers. The company's trailing-twelve-month operating margin, profit margin, and ROA (33%, 17%, and 7.3%, respectively) all beat those of CHK. In addition, it pays dividends currently at a yield of 2.3%. TLM might just be the preferable alternative to CHK.
Upon a closer look, TLM's current price seems to be justified by comparing to its peers. While TLM's forward PE ratio 10.8 is higher than CHK's 8.3, besides the corporate governance issue, TLM's higher valuation might be justified by TLM's much higher concentration of production in oil and natural gas liquids than CHK. Comparing to Exxon Mobile Corporation (NYSE:XOM), which also has substantial exposures to both natural gas and oil, TLM's forward PE ratio 10.8 is in line with XOM's 9.5. It appears that TLM, compared to CHK and XOM, is priced justifiably at this moment.
Going forward, things might get worse before they get better for TLM. One thesis for investing in TLM now is to purchase a share of its oil and gas reserves in taking advantage of its low price-to-book ratio, and wait for the upswing cycle of the natural gas price in the long run. However, in the short term, TLM will be under the pressure to sell some of its assets to meet its cash flow requirements. Given the weak natural gas price, there is a good chance that TLM will have to sell some of the assets at a loss. This happened in 2011. If this happens in 2012, with everything else being equal, its balance sheet will deteriorate, making it less attractive at the current price.
TLM seems to be reasonably priced compared to its peers at this moment, might experience some headwinds due to the weak natural gas price and the unfavorable environment of asset disposal in the near term, and might return substantial profits in the long run to inventors who establish a position in the next several quarters, if the natural gas price moves up significantly in next several years.
Disclosure: I have no positions in any stocks mentioned, but may initiate a long position in TLM over the next 72 hours.