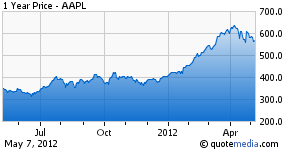 Apple (NASDAQ:AAPL) has plummeted, going lower in 16 of the last 19 trading sessions.
"Ouch."
Is it a correction to 2012's earlier supercharged three-month-rally? Or fear that competitors and governments will together take the Cupertino, Calif., company on with lawsuits and new products and keep it down? Or does the move foretell the end of Apple's innovative juices?
Could it be the flash crash of March - forever to be called "Rosenman's bear sign" - presaged April and May's dire stock action? (Hey, the evil technical I coined worked. Whether phony-baloney, it sounded the alarm, didn't it? "Rosenman's bear" correctly signaled the market's nervousness.)
No, no, no, and no. (Although, remember to sell Apple the next time "Rosenman's bear sign" flashes its miserable self.)
The reason for the totally-miserable-horrible stock action: It's simply the start of the Apple doldrums.
Doldrums?
Happens just about every year. Each and every frigging year. Happened in 2006, 2007, 2008, 2009, 2010 and 2011. Scary, upsetting and quite costly to the uninformed. In fact, it often starts right about now. April and May, the perfect Apple doldrums start.
Yes, the miserable doldrums, when Apple's stock price goes down or does nothing for endless months. We're so mesmerized by Apple's share price appreciation over the last 10 years, it's easy to forget these awful periods do occur and do so each year.
Recall some of the very bad action Apple stock has seen in the past.
Here are a few: (You can pick your least favorite time. It helps to keep everything in perspective. Mine was 2008.)
From October 20, 2009 until February 25, 2010 Apple plateaued, with miserable action in-between - it was worth $198 on both the first and last days of this period.
From April 21, 2010 until September 17, 2010, Apple languished five months - you could have owned the stock at $258 on the first and last days of the period, as well as many days in between. Shareholders who held on were amply rewarded.
From February 14, 2011 until June 20, 2011, investors struggled through five months of weakness.
From January 17, 2006 until July 17, 2006, Apple dropped 42%, falling to levels that produced a tremendous buying opportunity.
The ultimate in pain was September 29, 2008, until April 19, 2009. You could have owned the stock at $118 on the first and last days of the period. However, you had to keep your cool through some hairy moments when Apple hit $80. Those who held on are now up 700% (and undoubtedly will tell the story over and over again to their grandchildren).
In my experience, the longer and more strongly Apple was overbought, the longer-lasting the doldrums.
Gentlemen and ladies, we just entered the summer Apple doldrums. If history is any guide, those who don't abandon ship will be amply rewarded, although the time spent in perdition will seem unduly arduous. When you think you've had enough, dust off the old Apple charts. Pick the worst one. Maybe, that evil September 2008 to April 2009 doozy. It'll help you get through it. The nice thing about Apple doldrums is they do end.
Disclosure: I am long AAPL.
Disclaimer: The opinions in this document are for informational and educational purposes only and should not be construed as a recommendation to buy or sell the stocks mentioned. Past performance of the companies discussed may not continue and the companies may not achieve the earnings growth as predicted. The information in this document is believed to be accurate, but under no circumstances should a person act upon the information contained within. We do not recommend that anyone act upon any investment information without first consulting an investment advisor as to the suitability of such investments for his specific situation.