Canadian Natural Resources (NYSE:CNQ) is a $34.83 billion large-cap producer of oil, natural gas liquids (NGL), and natural gas. Although it operates primarily in North America (92%), it also has operations in the United Kingdom portion of the North Sea (4%), and offshore of the western coast of Africa (4%).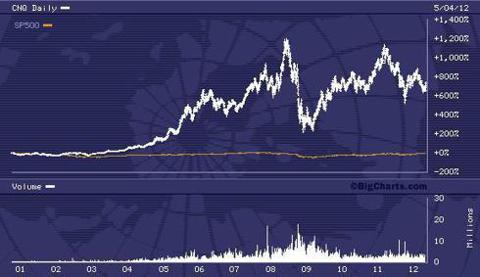 Click to enlarge
The company has huge oil sands potential with 14 billion barrels in Grand Rapids, 45 billion barrels in McMurray, 10 billion barrels in Clearwater, and 9 billion barrels in Wabiskaw.
CNQ is the largest heavy oil producer in Canada. Heavy oil generates the highest return on capital for CNQ and the company produces 120,000 barrels a day. Heavy oil production is expected to grow by 19% in 2012.
The company's light medium oil production in Canada averages 40,000 barrels per day. Production of natural gas liquids averages 25,000 barrels per day.
Canadian Natural is well undervalued with a trailing PE ratio of 11.39, a forward PE ratio of 8.74, a PEG ratio of 0.89, and a price-to-book ratio of 1.55.
The company has high double-digit profitability with a profit margin of 21.05% and an operating margin of 29.89%. It has an operating cash flow of $6.49 billion and free cash flow of -$522.51 million. Operating cash flow is expected to rise to $7.6 billion - $8 billion and free cash flow is expected to rise to $0.7 million - $1.1 billion for 2012.
Dividends have increased for 12 consecutive years. CNQ pays a dividend of 42 cents per share for a 1.3% annual yield.
CNQ is expected to grow earnings annually at 12.95% for the next five years. This should allow the stock to continue to outperform the S&P 500 (NYSEARCA:SPY). A $1000 investment should grow to about $1940 for a total gain of 94% in five years if dividends are reinvested.
The company is looking to maintain existing base assets and to transition to more sustainable assets. Natural gas prices are expected to remain low for 5 - 10 years and the company has the flexibility to lower production in this area and to ramp production in oil. CNQ will also be looking for opportunistic acquisitions to grow future revenue and earnings.
Canadian Natural Resources seems to have its finger on the pulse of the energy sector. It has the ability to quickly adapt to the dynamic energy landscape for optimal earnings growth. This is an international stock that should continue to outperform the market.
Disclosure: Although I don't own CNQ individually, I do own it as part of a fund in my retirement account.