For the past two months - since around mid-March - the gold/silver ratio has been in an uptrend. The chart below, plotting the current six month history of the gold/silver ratio, offers a clear illustration.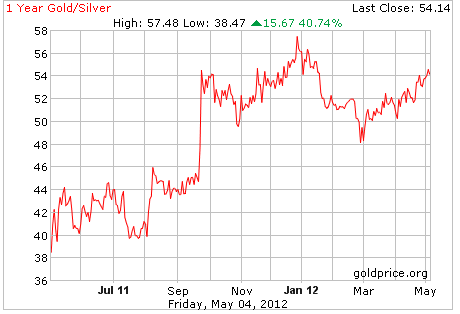 Will this continue? If so, what are the implications?
I consider it reasonably probable that the recent highs of the ratio at around 57 will be re-visited. I may accumulate more silver at those levels.
If we enter a pronounced bear market, meaning if there is a sharp sell-off that could send the Dow or S&P down by over 20%, I think it is quite possible the gold/silver ratio could widen significantly in the process. I remain bullish on equities, commodities and precious metals, and frequently emphasize how U.S. money supply continues to rise. So long as money supply is rising, there will be inflationary pressure. Moreover, deficit and national debt continue to grow, and so there is growing pressure to go out of bonds and into something else. These fundamentals are supportive of a bull market.
For those who are not in silver at all yet, I recommend getting in now. For those who are in, I recommend adding below $31, with a preference for entering when the gold/silver ratio hits 57. For those who are "trapped" - meaning they bought near the top of the mini-bubble, I think the unfortunate situation is that you are best off being patient if you can afford not liquidating your position. Silver is taking longer to get going, but once it does, I expect the move to be something to behold.
But while I do remain very bullish on silver, I must also admit that for the first time I can envision a scenario in which silver does not reach $100. If equities remain soft - if monetary stimulus from the Fed is not aggressive enough to do more than keep equities at their current level, and if the Fed and the big banks keep the bond market propped up while also canceling some debt, I can see the gold/silver ratio widening while gold peaks at around $6,000; as my previous post on the Dow/gold ratio elaborates. Under this scenario, I can see silver struggling to stay beyond $60. Even still, though, that is nearly 2x from where we currently are.
I find that scenario to be unlikely, but more possible than I previously considered it. The most probable scenario, in my opinion, is that gold goes into five figures - so beyond $10,000 - while the gold/silver ratio spends most of its time over 40, but with some significant spikes into the 30s and perhaps even 20s. Peter Brandt has a great summary of the case for a higher gold/silver ratio. If gold goes to $10,000 and the ratio stays at 57, we are still looking at a silver price of $175 - more than 5.5X our current price. While my bullishness on silver has waned greatly since it had two collapses after its parabolic run up in the first half of 2011, I still believe it is a great buying opportunity with much higher prices, doubly so for the astute trader who times it reasonably well.
I favor trading the ratio on a long-term basis (once every few months at most) through vault storage services that provide allocated bullion, though ETFs are likely to be favored by many for their convenience. (NYSEARCA:GLD) and (NYSEARCA:SLV) can be coupled to create the gold/silver ratio in one's portfolio.
Disclosure: I have no positions in any stocks mentioned, and no plans to initiate any positions within the next 72 hours.
Additional disclosure: I am long physical gold, physical silver, and silver derivative contracts.