Since it debuted as the first water-focused ETF in December 2005, PowerShares Water Resources Portfolio (NASDAQ:PHO) has posted impressive returns and grown wildly popular.
As PHO approaches its second anniversary, its 36.4% return is more than 20 percentage points better than that of the S&P 500, during a time when utility stocks—the fund includes a slice of the sector—and small- to mid-cap stocks have enjoyed a long run-up.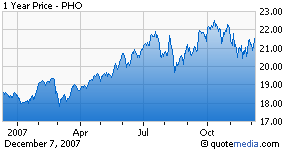 Investors flocked to PHO, which boasts $2.14 billion in assets, up from $1.3 billion at the end of 2006, a year in which it posted a NAV return of 22.3%, reaching the top quartile of natural resources funds tracked by Morningstar.
We added PHO to the PowerShares Momentum Tracker portfolio on Nov. 29, after the fund slipped back into the top 10 on the Sector Momentum Table.
The fund, which focuses on the stocks of companies involved in the production, treatment and distribution of water, sits in a sweet spot today, combining the current interest in utilities and green investing. But it's a longer-term concept that has investors excited: the idea that the world does not, and will not, have enough water to support a growing population and that infrastructure spending in the space is poised to explode. The American Society of Engineers estimates that nearly $1 trillion should be spent to meet U.S. water needs over the next 20 years, and global estimates run to $5 trillion or more.
Water bulls cite any number of trends of statistics: Less than 15% of the Chinese population has access to clean drinking water; China's government will spend $128 billion on water infrastructure in the next five years; the EPA says that 25% of U.S. water pipes are in poor shape, a number that will jump to 45% by 2020; more and more municipal water systems will be turned over to private firms in the coming years, which may lead to stronger profits and a wave of acquisitions.
PHO invests in the stocks that stand to benefit from those trends, with a recent boost from news coverage of many water issues, such as climate change and droughts in the American West and Southeast.
"Water is the one commodity where demand is not subject to the pressures of macroeconomics," William Brennan of Aqua Terra Asset Management, a specialist in the water infrastructure sector, told BusinessWeek recently. "Water cannot be duplicated and has no substitute. Water is virtually inelastic—as prices rise, consumption does not decrease."
PHO holds 35 stocks, topped by French water distribution giant Veolia Environnement (VE), with a market cap of nearly $38 billion. Two other giant-caps— Germany-based Siemens AG (SI) [$138 billion] and Emerson Electric (NYSE:EMR) [$45 billion]—are also in the top 10 holdings, but the fund carries an average market cap of just $3.5 billion.
That's actually up from $2.7 billion last spring, but the fund still has a small-stock bent, with nearly 40% of assets in small- and micro-cap names. Possibly due in part to the fund's success, that percentage is shrinking too: It was 50% last spring, when eight of the fund's top 10 holdings had market caps under $2 billion. At the end of November, only three had caps that small.
The fund's biggest and smallest stocks have been the top performers in 2007. Siemens shares are up 53.2% year to date, Emerson 32.2%, and Veolia 25.6%.
Meanwhile No. 2 holding Layne Christensen (NASDAQ:LAYN), a drilling and construction firm that earns nearly three-quarters of its revenues from water and wastewater infrastructure projects, has posted impressive gains.
Shares of Layne Christensen, which fell nearly 10% in the last week (through Dec. 3) on a weak fourth-quarter outlook, are up nearly 60% year to date.
Ameron International (NYSE:AMN-OLD), the No. 10 holding, with a market cap of $970 million, has seen shares jump 39.1% in 2007. The company manufactures water transmission lines and has enjoyed the increasing popularity of its fiberglass-composite pipes.
Those smaller firms and start-ups add risk to PHO, especially in an industry full of new technologies that could prove ineffective or unprofitable. That risk is only enhanced by the flood of money into the sector, which has led some analysts to see it as overvalued. Indeed, PHO's NAV is down 4.9% (through Dec. 3) since it hit a record high on Oct. 12.
While PHO's past returns and long-term potential may be attractive, investors here should be aware of that risk and the fact that many analysts have expected this red-hot sector to slow. PHO probably isn't fit to be a core holding in a portfolio, though as a niche holding, it does offer exposure to a sector with a chance to keep outdoing broader markets.