The makers of the iPhone and Galaxy 2 must be pleased: Their cell phones are money makers. Samsung (OTC:SSNLF) and Apple (NASDAQ:AAPL) generate 99% of the profits in the cell phone industry, leaving HTC, Nokia (NYSE:NOK), RIM (RIMM) and Sony (NYSE:SNE) begging for crumbs.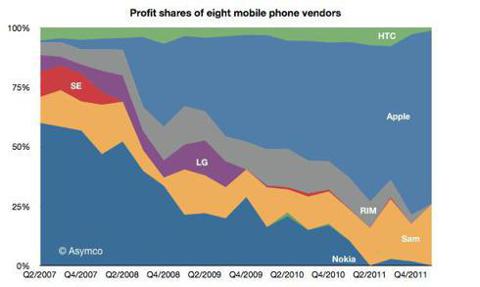 (Courtesy of Asymco.)
The two have been picking up worldwide smartphone market share: Over the last year, Samsung has increased its share to 29% while Apple share has climbed to 24%.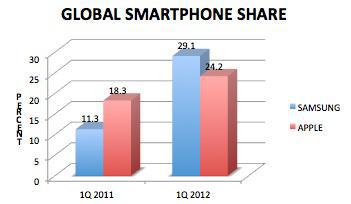 (Data from IDC.)
That leaves the two dominant smartphone players, Samsung and Apple, converging on a collision course.
From customer to rivals
It wasn't always this way. Once, Apple and Samsung had a symbiotic relationship: Apple bought Sammy's chips and everybody was as happy as happy can be. That was a simpler world: Apple sold iPods and MacBooks; Samsung supplied the parts and made TVs and cell phones. That gentler world ended as Apple and Samsung moved into each other's turf. Apple's iPod led to the iPhone and iPad. Samsung's dumb phones morphed into smart phones and tablets. Now, the two are locked in dozens of lawsuits around the globe as Apple and Samsung vie for world cell phone domination.
As for peace any time in the future? Doubtful, the cellular bus has become that important to these former friends. This quarter, mobile brought in 73% of Samsung profits. Mobile dominates Samsung's bottom line. Only 2 years ago, cells represented 25% of the company's earnings. As for Apple's business, that represents only a smidgen of Samsung's earnings now that its smart phones have taken off. Samsung's once-dominating chip and display divisions have fallen off, bringing only a 24% contribution to the bottom line.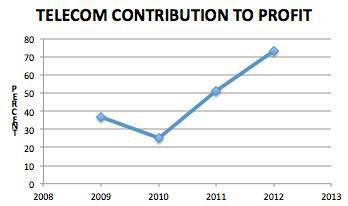 (Ratio of Samsung telecom/total operating income: years 2009-2011, latest quarter 2012.)
Sammy's last quarter numbers were eye-popping (see below.), so eye-popping I had to read the numbers a couple of times over to believe what I was seeing. The company's mobile sales really did grow 86% y-on-y, operating profits did grow 550% for consumer electronics and 193% for mobile.
The company did have some lackluster divisions: display and semiconductor. Yet, in the end, mobile overcame the dross, lifting operating profits 98%. We're talking 22.6% operating margins in their smartphone division. The Galaxy Note and Galaxy S II are the drivers behind this fabulous growth.
(What other mega cap tech could show us this kind of growth? Hmmm. Rather Apple-like, don't you think.)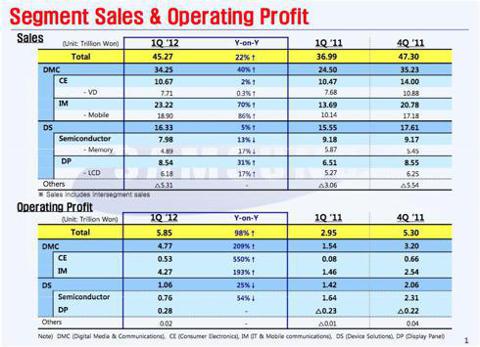 At this point, Apple may need Samsung more than Samsung needs Apple. For instance, Samsung makes 40% of the internal components of the new iPad. The total break will come when Apple jettisons Samsung as its supplier.
The smartphone is Samsung's future. Remarkable how quickly friends can become enemies in the world of business. The two aren't even frenemies anymore: That's how fast this relationship is changing.
Disclosure: I am long AAPL.
Additional disclosure: Disclaimer: The opinions in this document are for informational and educational purposes only and should not be construed as a recommendation to buy or sell the stocks mentioned. Past performance of the companies discussed may not continue and the companies may not achieve the earnings growth as predicted. The information in this document is believed to be accurate, but under no circumstances should a person act upon the information contained within. We do not recommend that anyone act upon any investment information without first consulting an investment advisor as to the suitability of such investments for his specific situation.