As the Facebook (NASDAQ:FB) IPO approaches, traders searching for a way to capitalize on the hype should consider Global X Social Media Index ETF (NASDAQ:SOCL). SOCL is up just over 15% so far in 2012.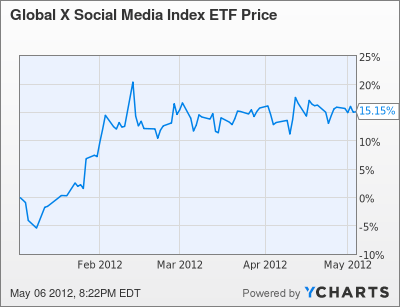 SOCL is a good way to play the Facebook IPO because it reduces the risk involved with investing in social media stocks. The social media sector, among the newest, is filled a variety of new companies. While investors can attempt to play the Facebook IPO with stocks such as LinkedIN (NYSE:LNKD), Zynga (NASDAQ:ZNGA), Yandex (NASDAQ:YNDX), or Renren (NYSE:RENN), the risk is substantial with each of these companies. At the same time, reward is also greater if company does well. However, I believe investors simply looking to trade the Facebook IPO should buy SOCL instead of an individual social media stock.
SOCL Top Holdings
LinkedIn Corp : 13.31%
Tencent Holdings Ltd: 13.06%
SINA Corporation (NASDAQ:SINA): 8.68%
DeNA Co., Ltd.: 8.32%
Gree Inc.: 6.89%
NEXON Co Ltd: 6.32%
Mail.ru Group Ltd. GDR: 5.45%
NetEase Inc ADR (NASDAQ:NTES): 5.43%
Yandex NV : 5.15%
Google Inc (NASDAQ:GOOG): 4.98%
While companies such as LNKD, YNDX, ZNGA, or RENN may be good investments, they should not be looked at as trading vehicles for Facebook when superior vehicles exist such as SOCL. Buying SOCL gives investors exposure to the idea that the Facebook IPO will increase valuations across the sector.
Conclusion
SOCL is the most direct play on the lead-up to the upcoming Facebook IPO.
Disclosure: I am long RENN.