Market Recap: The market was pretty flat on Monday to start the week on the back of a bleak backdrop. French elections put socialist Hollande into power, which seems to suggest a want for change in France. The move is definitely a sign that the current types of economic austerity packages and policy is not what the French people want. The euro dropped on the news and caused the dollar to spike, which weighed on equities and commodities. Further, the market had to deal with a hangover from the jobs number on Friday that was a miss. Without much of a catalyst, the market was probably lucky to be neutral overall.
Overall, we think this market continues to suggest a neutral bias. Upside is there in some stocks but downside is there in many others. It's a mixed market, and we like buying strong stocks on weakness and selling the weak ones on strength.

Two Trades
Right now, we like long Ariba (NASDAQ:ARBA) while we believe that a company that looks like it has limited upside is Las Vegas Sands (NYSE:LVS). ARBA had great earnings with its last report that beat estimates and sparked a Stifel Nicolaus Buy rating with $45 target. The company outperformed the market today, and it broke above some key resistance. We believe the stock looks solid to continue higher on a breakout of the earnings high at 41.
A stock that seems to not be able to move much right now is LVS. Despite the fact that we thought the company had pretty solid earnings, any bids up have been backed down for LVS. We believe the company is going to continue to lag the market. They have not been able to break their earnings overhang despite analyst support and support from many traders. We believe the stock is stuck for now.
Trade #1: Long ARBA
Trade #2: LVS, Jun16, 60/62.50 Bear Call Spread
(Click to enlarge)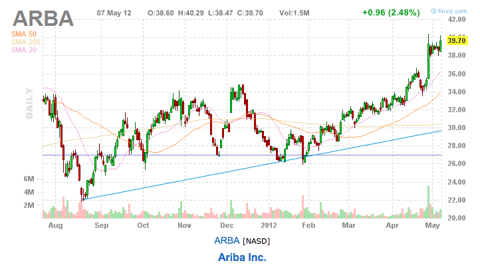 Tomorrow's Outlook
The market is going to once again be reactionary to a lot of news outside of our own country. We have no major economic data out tomorrow, but we do have some interesting earnings to watch tomorrow morning. DirecTV (DTV), Fossil (NASDAQ:FOSL) and Wendy's (NYSE:WEN) will all report earnings tomorrow morning. None are major market movers, and the market most likely will be watching closely the German Industrial Production data as well as movement in the dollar and euro. Europe is light tomorrow as well, and there are no major reports from Asia. We may be looking at a pretty quiet day tomorrow.
Our Moves
We had a quiet day with the closing of a Walgreen (WAG) bull put spread at 33/32 for a loss. Other than that, we added the long on ARBA in our Equity Portfolio. We added a reverse iron butterfly in Fossil for its earnings report at the 125/120 and 125/130 levels. We also added a bull put spread in Zynga (NASDAQ:ZNGA).
We have the following positions. In our Short-Term Equity Portfolio we are long Dick's Sporting Good (NYSE:DKS), short Johnson Controls (NYSE:JCI). In our Options Portfolio, we are long SPDR Goldshares (NYSEARCA:GLD), Panera (NASDAQ:PNRA), Coca-Cola (NYSE:KO), Dollar General (NYSE:DG), Visa (NYSE:V), Polaris Industries (NYSE:PII) and Nike (NYSE:NKE). We are short United States Oil (NYSEARCA:USO). We have a reverse iron condor in Direxion Financial 3x (NYSEARCA:FAS). In our Earnings Portfolio, we are long Wynn (NASDAQ:WYNN), Western Digital (NYSE:WDC), Ace Limited (NYSE:ACE) and Coinstar (NASDAQ:CSTR). We are short Amazon.com (NASDAQ:AMZN). We have reverse iron condor in Las Vegas Sands.
Chart courtesy of finviz.com.
Disclosure: I am long PII.