Three, maybe four, foreign and Hong Kong banks stand out as having a strong foothold in mainland China that should propel their growth there.
They are:
Bank of East Asia (Hong Kong) OTCPK:BKEAY
HSBC Holdings (U.K.) HBC
Standard Chartered (U.K.) OTCPK:SCBFF
Citigroup (U.S.A.) C
Note: We list the OTC symbols instead of the local market symbols here for those that are not domestic U.S. stocks or listed ADRs, merely for the names to be picked up by search engines. We do not recommend purchasing the OTC shares in this case due to low volumes and the probability of moving the market on the way in or out - better to by the local market shares which are identified in Figure 3.
On balance, we think that HSBC and Standard Chartered are the banks with the best long-term prospects in China, due to their larger footprints, better recognition, longer history of operations there, and their focus on emerging markets generally.
Of those four, only Standard Chartered has an attractive dividend payment history, and is also listed by Bloomberg as one of the 20 most financially strong banks in the world (see our article on that).
Standard Chartered is currently indicated to yield 3.28%, and has a nearly unbroken pattern of dividend increases over the last 10 years.
Price Waterhouse Coopers published a report in June of 2011, "Foreign Banks in China," identifying the best recognized foreign (that includes Hong Kong) banks in China by different sorts of banking activities. The four we have listed here had the most frequent mention. Some of the others may or may not make larger profits regularly or occasionally, but the four here seem to be fairly broad core level actors there.
Figure 1: Here is a tabulation from PwC of the three most recognized bank names in China by bank function:
(Click to enlarge)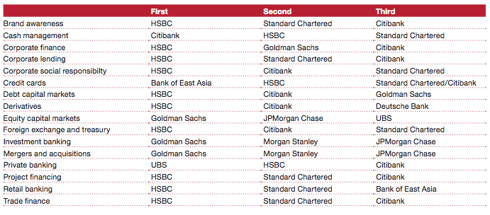 You can see how Bank of East Asia, HSBC and Standard Chartered appear repeatedly in several categories. Citi occurs a good deal too, which we think makes them the fourth.
Figure 2: PwC further identified the leading banks by office count: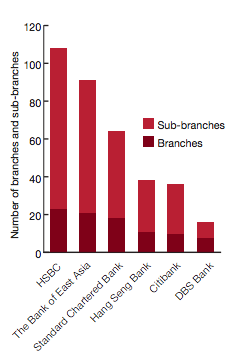 The four banks in our focus here are in the top five by office count, as well as being in the top three most recognized names in multiple categories.
Additionally, Reuters wrote on May 2, 2012, that the top three foreign banks in China are Bank of East Asia, HSBC and Standard Chartered.
Figure 3: Name, Symbols, Markets and Volumes:
These are the banks that most often appeared in the PwC name recognition study, but only the four in focus in this article have large enough geographic segment earnings from China, greater China or Asia Pacific to be mentioned other than as yield and valuation comparators.
(Click to enlarge)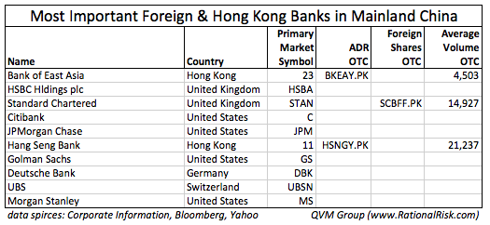 Figure 4: Ratings, Yield, Valuations:
(Click to enlarge)

Figure 5: 10-Year Annual Dividends in Reporting Currency: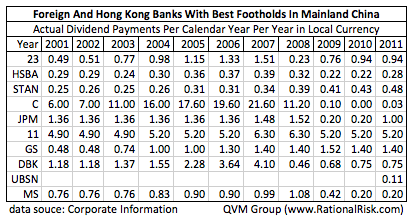 Figure 6: Dividend Charts for Best Two Payment Patterns:
Dividend payment patterns are indexed to a value of 1.00 for the first year of each chart for ease of comparison.
Only Standard Chartered and Goldman Sachs (NYSE:GS) had dividend payment patterns of potential interest. We would favor Standard Charted on that score.
10-Year Chart
5-Year Chart
Figure 7: Consensus Opinions and Credit Ratings: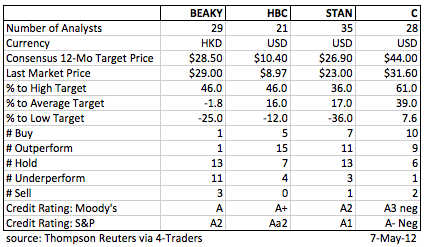 Business Descriptions and Company Websites:
The Bank of East Asia Limited, along with its subsidiaries, is engaged in the provision of banking and related financial services, and business, corporate and investor services. With more than 100 outlets on the Mainland, The Bank and its wholly owned subsidiary, The Bank of East Asia Limited, serve customers in Southeast Asia, the United Kingdom, and North America with more than 220 outlets. BEA delivers commercial and retail banking, financial, and insurance services through its Corporate Banking, Personal Banking, Wealth Management, Insurance and Retirement Benefits, Treasury Markets, China, and International divisions. Products and services include syndication loans, trade finance, deposit-taking, foreign currency savings, remittances, mortgage loans, consumer loans, credit cards, Cyberbanking, retail investment and wealth management services, foreign exchange margin trading, Mandatory Provident Fund services, and general and life insurance.
HSBC Holdings plc is a global banking and financial services organizations. As of December 31, 2010, it provided a range of financial services to around 95 million customers through two customer groups, Personal Financial Services, including consumer finance, and Commercial Banking, and two global businesses, Global Banking and Markets, and Global Private Banking. Its international network covers 87 countries and territories in six geographical regions: Europe, Hong Kong, Rest of Asia-Pacific, the Middle East, North America and Latin America. As of December 31, 2010, the Company had an international network of some 7,500 offices in 87 countries and territories in six geographical regions; Europe, Hong Kong, Rest of Asia-Pacific, the Middle East, North America and Latin America. PFS incorporates the Company's consumer finance businesses, which include HSBC Finance Corporation (HSBC Finance).
Standard Chartered PLC is the holding company. The company operates globally and is principally engaged in the business of retail and commercial banking and the provision of other financial services. The company operates in two business segments: Consumer Banking, which meets the needs of private, small and medium-sized enterprises, priority and personal banking customers across its franchise and Wholesale Banking, which includes lending and portfolio management; transaction banking, including trade and cash management and custody; global markets, including financial markets, asset and liability management, corporate finance and principal finance. As of December 31, 2011, it comprised a network of more than 1,500 branches and outlets in 71 markets. On April 8, 2011, the company acquired GE Money Pte Limited, a specialist in auto and unsecured personal loans in Singapore. On September 2, 2011, it acquired Gryphon Partners Advisory Pty Ltd and Gryphon Partners Canada Inc.
Citigroup Inc. (Citigroup) is a global diversified financial services holding company whose businesses provide consumers, corporations, governments and institutions with a broad range of financial products and services. Citigroup has approximately 200 million customer accounts and does business in more than 160 countries and jurisdictions. Citigroup operates in two segments: Citicorp, consisting of Citigroup's Global Consumer Banking businesses and Institutional Clients Group, and Citi Holdings, consisting of Brokerage and Asset Management, Local Consumer Lending and Special Asset Pool. Global Consumer Banking (which included retail banking and Citi-branded cards in four regions-North America, EMEA, Latin America and Asia) and Institutional Clients Group (which included Securities and Banking and Transaction Services). In February 2012, the company sold its 9.85% interest in Housing Development Finance Corporation Ltd. ("HDFC").
Figures 8a - 8d: Price Charts:
Bank of East Asia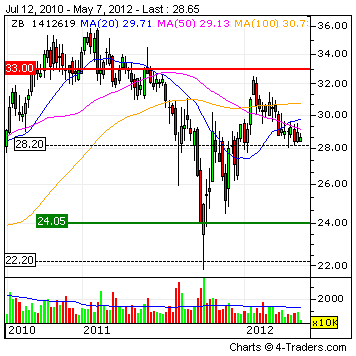 HSBC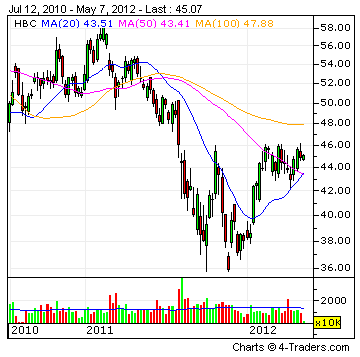 Standard Chartered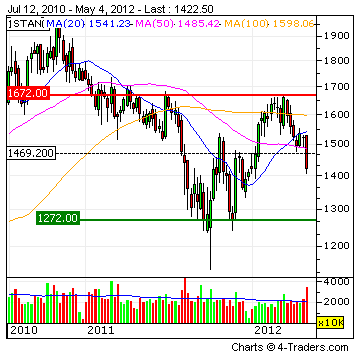 Citigroup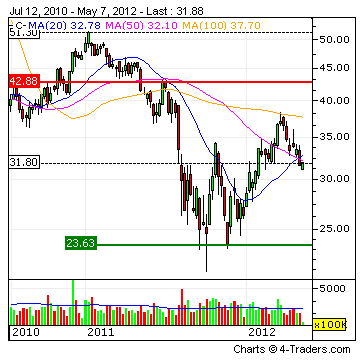 Figures 9a-9d: Price, Earnings and Dividends Charts:
Bank of East Asia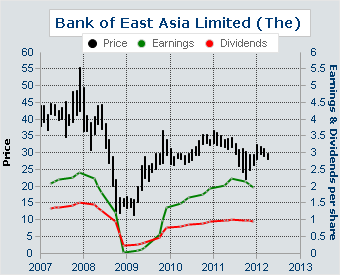 HSBC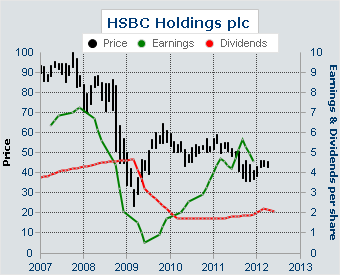 Standard Chartered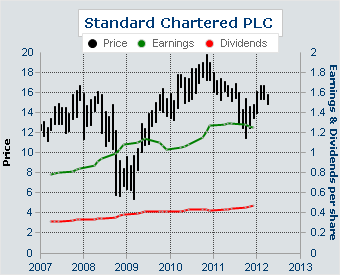 Citigroup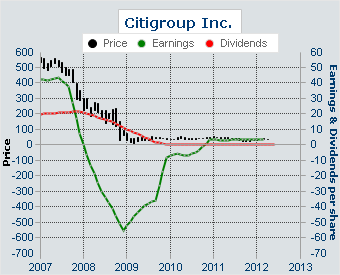 In another article reviewing a China financials sector ETF, we provided price, earnings and dividend charts for the largest domestic banks in China, which you may find of interest for comparison.
Disclosure: QVM has no positions in any mentioned security as of the creation date of this article (May 7, 2012).
General Disclaimer: This article provides opinions and information, but does not contain recommendations or personal investment advice to any specific person for any particular purpose. Do your own research or obtain suitable personal advice. You are responsible for your own investment decisions. This article is presented subject to our full disclaimer found on the QVM site available here.
Extra Risk on Non-U.S. Exchanges: If securities on non-U.S. exchanges were identified, this disclaimer applies to those securities.