Before the bell on Monday, 5/7/2012, Warren Buffett announced that he'd eagerly acquire shares in two major U.S. corporations. Yet tech standouts like Apple (NASDAQ:AAPL) and Google (NASDAQ:GOOG) aren't on his "buy list."
Maybe they should be.
According to Birinyi Associates, the current price-to-earnings ratio of the Dow Industrials is 14.5. For the Nasdaq 100? 11.8.
Mr. Buffett had good reason to mistrust "haven't-made-a-dime" dot-coms in the 90s. He may have an equally compelling reason to avoid Facebook shares at a P/E of 99. However, believers in fundamental value like Mr. Buffett should still recognize that the tech proxy is cheaper than the beloved blue chip gauge.
Not surprisingly, some are pointing to Facebook's $1 billion purchase of Instagram and the 75% run-up in LinkedIn shares (NYSE:LNKD) as evidence of another tech bubble. Yet even conservative estimates of future profitability put the current price of the Nasdaq 100 below the broader market's historical P/E of 16.4 (50 year).
Venture capitalist and founder of Netscape, Marc Andreessen, recently responded to "tech bubble" charges with two potent observations. First, tech shares trade at 30-year lows. Second, the Nasdaq itself has only marginal gains and is essentially flat over the last 15 calendar years.
Granted, PowerShares Nasdaq 100 (NASDAQ:QQQ) is currently below a near-term trendline (50-day). What's more, Europe's political uncertainty and economic predicament are causing many to ratchet back on risk taking.
That said, if the earnings yield for QQQ is roughly 8.5% at a time when the 10-year Treasury bond is 1.85%, how long would it take for investors to jump back in? Would they buy back in at 10% below current price levels?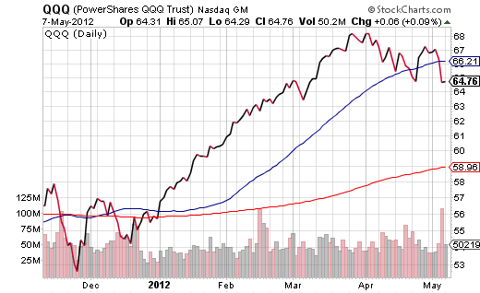 It is true that cheap stocks can always get cheaper. On the other hand, pullbacks may be briefer and less shallow than they were in 2011 or 2010. I would expect strong buying support at the 200-day moving average.
It should be noted that Apple accounts for 18% of PowerShares Nasdaq 100 (QQQ). If you're hesitant about single-company exposure, there are several Nasdaq 100 equal-weighting alternatives from First Trust to consider. There's the FT Nasdaq 100 Equal Weighted Index Fund (NASDAQ:QQEW) where Apple's weight will stay near 1%, and there's FT Nasdaq 100 Technology Sector (NASDAQ:QTEC), where Apple's weight should stay near 2.5%.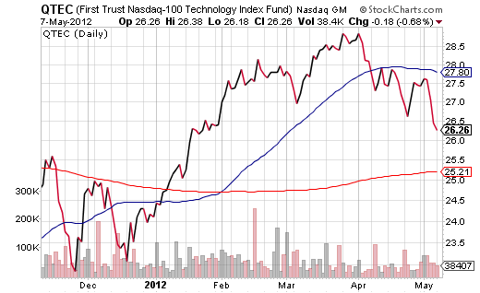 Disclosure: Gary Gordon, MS, CFP is the president of Pacific Park Financial, Inc., a Registered Investment Adviser with the SEC. Gary Gordon, Pacific Park Financial, Inc, and/or its clients may hold positions in the ETFs, mutual funds, and/or any investment asset mentioned above. The commentary does not constitute individualized investment advice. The opinions offered herein are not personalized recommendations to buy, sell or hold securities. At times, issuers of exchange-traded products compensate Pacific Park Financial, Inc. or its subsidiaries for advertising at the ETF Expert web site. ETF Expert content is created independently of any advertising relationships.