Gold may have been in a slump since the run up last fall but recent data show aggressive buying coming out of China. The latest data from the Hong Kong Census and Statistics Department (HKCSD) shows that China has aggressively been accumulating gold. According to this data gold imports were up almost 600% this January and February versus the same period last year.
The official data of gold purchases from China is unavailable as the government rarely releases it. Therefore, investors tend to look at gold shipments from Hong Kong to the mainland as an indicator of Chinese gold purchases. Imports from Hong Kong accounts for about half of China's total gold imports. So it's safe to assume that China is on a massive buying spree. These massive purchases of gold will likely make China the biggest importer of gold in 2012.
In an interview on King World News, Erick Sprott stated that China has been buying 45 tons more gold per month over the last eight months than the preceding eight months. This is an annualized increase of 500 tons per year. To put this into perspective; the gold mining industry produces about 2,700 tons per year, but if you exclude China and Russia, which don't add any supply to the market since their central bank buys it all, you are left with a market of 2,200 tons.
(Click to enlarge)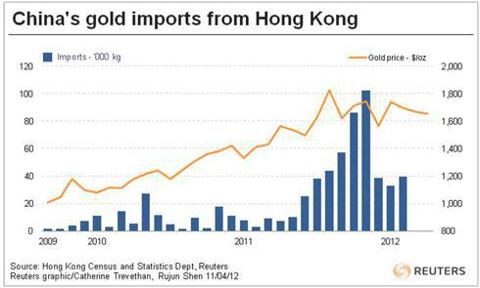 Given this information, the big question Erick Sprott asks is; "how can a buyer buy an additional 500 tons of gold in a 2,200 ton market, without significantly driving up the price?"... especially when other central banks have stepped up their purchases. The explanation for this, according to Sprott, may be that a lot of this inventory comes from G6 central banks that are leasing out gold to suppress the price. This allows them to keep it on their books without physical ownership.
The next chart shows the official gold supply and demand. The table shows that investment demand for physical gold has been increasing significantly while demand for EFTs is down.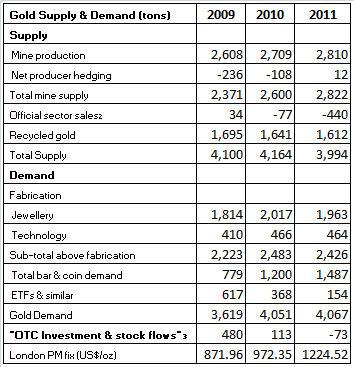 I recommend retail investors accumulate physical gold while the price is down. Paper alternative such as Sprott Physical Gold Trust (NYSEARCA:PHYS), SPDR Gold Trust (NYSEARCA:GLD), and the Central Fund of Canada (NYSEMKT:CEF) are other ways of diversifying your holdings.
The gold shares have been lagging behind the physical metal and next time gold makes a run there is a good chance that the shares will follow and outperform the metal. Companies like McEwen Mining (NYSE:MUX), Eurasian Minerals (NYSEMKT:EMXX), Yamana Gold (NYSE:AUY), Newmont Mining (NYSE:NEM), Goldcorp (NYSE:GG) and Barrick Gold (NYSE:ABX) look particularly attractive.