China leads the world in total Internet user-hours per day of approximately 10 million for the popular online game World of Warcraft® [WoW]. The China online game operator for WoW, The9 Limited (NASDAQ:NCTY), reported in its conference call on November 15 that WoW had achieved 900,000 Peak Concurrent Users [PCU] in November. Compared with the 680,000 PCU reported by The9 at the beginning of the year, WoW online game playing in China has increased over 32% this year.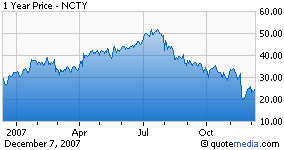 The ACU (Average Concurrent Users) to PCU ratio for WoW in China typically ranges from 45% to 51%. Applying an ACU to PCU conversion ratio of 48% to the reported 900,000 PCU for WoW, results in an ACU estimate of 432,000. Multiplying the ACU estimate by 24 hours, results in 10.4 million user-hours per day. Earlier this year, on January 11, Blizzard Entertainment (merging with ATVI as announced on Dec. 2) reported that World of Warcraft®, its subscription-based massively multiplayer online role-playing game [MMORPG], was played by more than 8 million gamers around the world. World of Warcraft had achieved new regional subscriber milestones, with more than 2 million players in North America, more than 1.5 million players in Europe, and more than 3.5 million players in China.
In addition to WoW, The9 also launched two new MMO games this year, employing a free-to-play item-sales business model: Soul of The Ultimate Nation TM [SUN] in Q2, and Granado Espada [GE] this quarter. SUN had 180,000 Active Paying Accounts [APA] in Q3, which on average generated RMB62 (US$8.27) per month.
By examining where people go to on Internet domain "the9.com", as reported by Alexa (www.alexa.com), 42% go to "ge.the9.com" (the official GE website), and 17% go to "sun.the9.com" (the official SUN website). Assuming that the SUN 180,000 APA for Q3 is unchanged this month, a projected 445,000 APA for GE is inferred.
Heading into 2008, $21.4 million of total monthly revenues are anticipated for these three MMO games operated by The9 in China: - WoW at $16.2 million per month using a subscription-based business model ($36.47 per ACU per month).- SUN at $1.5 million per month using a free-to-play item-sales business model ($8.27 per APA per month).- GE at $3.7 million per month using a free-to-play item-sales business model (assuming also $8.27 per APA per month).
Compared to Baidu (NASDAQ:BIDU), which generated $22.1 million of average monthly revenues in Q3, The9 is catching up quickly. However, unlike a search engine based business model, The9 has initial start-up expenses and monthly break-even expenses associated with each new MMO game launched. Once past the initial start-up expenses, operating income for each MMO game can be modeled by subtracting from monthly revenues, a monthly breakeven expense of $1 to $2 million, and then applying an operating margin of 30% to 40%.
The9's earnings per share have taken a significant hit this year, due in part to initial start-up costs for these new MMO games, and in part to a delayed release of the World of Warcraft: The Burning Crusade TM expansion pack in mainland China, which was launched in September. Earnings per share could increase by 60% or more in 2008 according to some analysts, with projected 20% or more of annual growth in WoW, SUN and GE revenue streams. The9 will likely launch at least two more MMO games in 2008, drawing from its repertoire of currently licensed games (Guild Wars, Hellgate: London, Ragnarok Online 2, Emil Chronicle Online, Huxley TM, FIFA Online 2, Audition 2 and Field of Honor).
The9's MMO suppliers include Blizzard Entertainment (now ATVI), Electronic Arts (ERTS), Webzen (WZEN), Hanbitsoft (in conjunction with Flagship Studios and IMC Games), Gravity Interactive (NASDAQ:GRVY), NCsoft (036570.KS), T3 Entertainment, and Beijing Gameworld Technology Company.
For the China Online Game Industry, the comparable ratios of market capitalization to Yahoo Finance-reported analysts-average estimated 2008 revenues are as follows, ranked in order of market share (U.S. listed ADRs):
#1 Shanda Interactive Entertainment (NASDAQ:SNDA): 7.2
#2 Netease (NASDAQ:NTES): 8.5
#3 Giant Interactive Group (NYSE:GA): 8.2
#4 The9 (NCTY): 2.9
#5 Perfect World (NASDAQ:PWRD): 10.8
Relative to its comparables, a low market capitalization for estimated 2008 revenues makes NCTY an intriguing value and growth play.
Disclosure: Author is long NCTY.