American Mortgage Acceptance Company (AMC-OLD) delivered a serious blow to shareholders late Friday when the company announced that $99.3 million in debt securities and CMBS were liquidated to meet margin calls and repay existing repurchase arrangements. The sale only brought in proceeds of $86.8 million, leaving AMAC with a whopping $12.5 million loss. Furthermore, of the $86.8 million, AMAC had to use $81.5 million to pay off the associated repurchase agreements, so the asset sales did little to bolster liquidity.
AMAC admitted that it has further exposure to more margin calls and that it may be forced to liquidate more assets. The company suspended its dividend, and vowed to explore "all strategic options to protect and maintain the value" of the company. Obviously, the forward-looking guidance was withdrawn. The announcement sent shares lower by more than 40% in after-hours trading.
While the announcement may have seemed shocking, a quick read of the 10-Q filed last month hinted at the problems ahead. The company's CMBS portfolio is comprised of BBB rated securities and fully funded with repurchase agreements. In fact, repurchase agreements comprised about half of AMAC's liabilities at September 30. Not exactly a stable balance sheet in this environment.
Things will only get worse for AMAC unless market conditions dramatically improve in the next few weeks, which seems unlikely. AMAC has entered into an agreement to terminate its Citigroup (NYSE:C) repurchase facility by 2/28/08. This facility had an outstanding balance of $290 million at 9/30/07. Refinancing these assets will be an expensive and potentially insurmountable obstacle for the company if the results are anything like AMAC's last refinancing. In November, AMAC refinanced about $62 million in CMBS holdings with Bear Stearns (NYSE:BSC) - and had to pay Bear $27 million for the pleasure of parking those assets, since the haircut on the repo was much greater than for the previous facilities.
With AMAC tanking, the heat is on for the company's manager and advisor, Centerline Holding (NYSE:CHC). Centerline owns about 13% of AMAC, and in the last few months, purchased an additional $1 million stake in the open market. Centerline does provide a limited amount of financing for AMAC, and may have to consider a complete buyout of AMAC, or face significant equity method losses and impairment charges.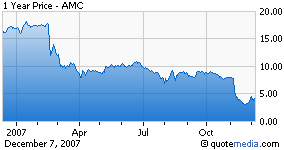 Disclosure: No position held in AMC.