Normally food stocks are pretty boring but the exception is Whole Foods Market (NASDAQ:WFM). Investors in this stock have seen a total return of over 90% over the last 5 years. Whole Foods now has 300+ locations but the company thinks there is room in the US for at least 1,000. Even now the stock has climbed an additional 7.28% in just the last month, as shown in these graphs provided by Barchart: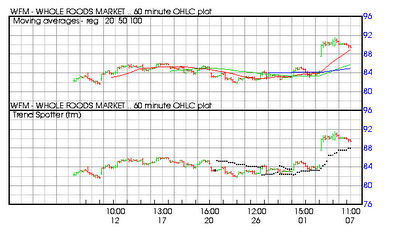 Even in this tough market this grocery store is outpacing the market. While the market as measured by the Value Line Index has been up 7 % in the last 6 months, WFM gained 28% in the same 6 month period: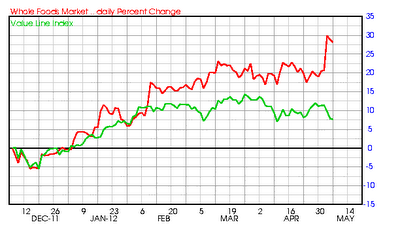 Whole Foods Market, Inc. engages in the ownership and operation of natural and organic food supermarkets. The company offers produce, seafood, grocery, meat and poultry, bakery, prepared foods and catering, coffee and tea, nutritional supplements, and vitamins. It also provides specialty products, such as beer, wine, and cheese; body care and educational products, such as books; and floral, pet, and household products. As of May 2, 2012, the company had 324 stores in the United States, Canada, and the United Kingdom. Whole Foods Market, Inc. was founded in 1978 and is headquartered in Austin, Texas. (Yahoo Finance profile)
Factors to consider:
Barchart technical indicators:
100% Barchart technical buy signal
Trend Spotter buy signal
Above its 20, 50 and 100 day moving averages
9 new highs and up 7.28% in the last month
Up 45.79% in the past year
Relative Strength Index 65.79%
Barchart computes a technical support level at 88.60
Recently traded at 89.90 with a 50 day moving average of 84.73
Fundamental factors:
18 Wall Street brokerage firms have assigned 24 analysts to follow this stock
Analysts predict sales will increase by 15.30% this year and another 11.90% next year
Earnings are estimated to increase by 26.40% this year, an additional 14.80% next year and continue to climb by 18.07% annually for the next 5 years
These consensus estimates resulted in firms issuing 7 strong buy, 7 buy, 10 hold and no under perform or sell recommendations
Analysts think investors at this level should get a 16% - 20% annual total return over the next 5 years
The 41.04 P/E ration is much higher than the 15.80 P/E ration of the market
The .62% dividend rate is about 20% of estimated earnings and is lower than the 2.20% dividend rate of the market
Growth in same store sales is about twice that of other grocery stores at about 8%
The company has an A financial strength rating
Management projects growth to 1,000 stores from its present level of over 300
General investor interest:
The individual investor as measured by the readership of Motley Fool has discovered this stock with over 4,719 having the stock on their watch lists
Those offering an opinion voted 88% that the stock will beat the market
The more savvy and experienced All Stars also voted 93% for the same result
Fool notes 94% of the reports they reviewed were positive
Firms with buy recommendations are Deutsche Securities, Goldman Sachs and Zach's. Columnists with positive comments are Jim Cramer and Wayne Rogers
Pundits have their opinions but the market has the final say on stocks. Over the past year while WFM is up over 41%, Sysco (NYSE:SYY) was down 8%, Kroger (NYSE:KR) down 6% and Safeway (NYSE:SWY) dropped 22%: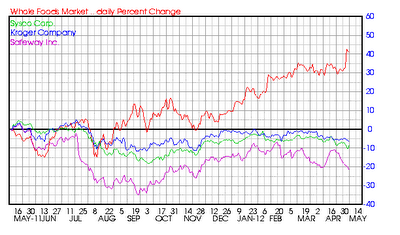 Summary: I always like to ride the whole wave till the end but the 41.04 P/E ratio is pretty high for a grocery stock. I'd advise investors looking for a buy to consider this a speculative issue at this price. Those holding shares should review this 14 day turtle channel graph and consider stop losses to protect your profits.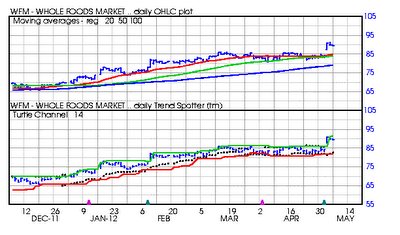 Disclosure: I am long WFM.