We are initiating coverage on Dick's Sporting Goods (NYSE:DKS) with a BUY rating and a $39 price target, reflecting 25% upside from current levels. We believe Dick's stock price will benefit from strong fundamentals, favorable industry trends, and a discounted valuation. Sharing honors with Costco (NYSE:COST), DKS remains our #1 idea in the specialty retail segment.
Current credit-driven crises have rolled down Wall Street like a live hand grenade, which has bombed the retail space given its dependence on discretionary spending. Currently trading at less than 19x our 2008 EPS estimate of $1.68 (above consensus estimates of $1.55), DKS shares are attractively priced and Wall Street seems to be over-discounting the current management team's ability to execute in even the toughest of conditions.
DKS is a compelling play on our retail expansion thesis and a market leader that's executing even as its competitors stumble. We estimate sustainable 12-15% top line growth over the next 5 years...
Investment Strengths
Sustainable same store sales, acquisitive/organic growth, & margin expansion via cost cuts and private label additions to the product mix (~14.1% of sales in 2007, a 7% increase YoY) positions DKS as a promising growth story in big box retail, proven by its sales/sq foot, inv turns (3x), & ROIC levels. The Street is overlooking the inherent operating leverage in DKS' business model, as well as the flawless integration management has shown with Golf Galaxy, whose closest competitor is behind by a factor of three. On the Q3 call, CEO Ed Stack stated that "Golf Galaxy's previous management did a heck of a job, it will remain a separate entity, and we will move it down south and towards California, where it is not as well known with golf enthusiasts."
DKS has defined its own niche ("core athlete" demographic) by focusing on local knowledge & regional tastes, which differentiates it from transitional retailers (like WMT), in addition to its "store within store" layout. We believe there is room for over 1000 stores in the US before hitting saturation, making DKS the potential Home Depot of athletic gear assuming it executes on its footprint expansion. Management is targeting 15% YoY sq. footage growth, achievable.
The company opened 40 new stores in 2006, up from about 25 new outlets the previous year. Dick's Sporting Goods is focusing its growth east of the Mississippi River, in large markets such as Atlanta, Chicago, and the corridor between New York and Washington, DC. Last month, DKS agreed to purchase Chick's Sporting Goods, a 15 store chain in Southern California that will instantly give Dick's a slice of the region's market share. The deal is valued at $71 million, which includes $40 million in cash and the assumption of some $31 million of debt. Given Dick's EBIT/interest expense ratio of 20x, we are not at all worried about the debt it has taken on. Even after adjusting for the cash outflow for Chick's, DKS still holds a ~1.5x current ratio. We read the Chick's acquisition as a very shrewd way for DKS management to "test the waters" within the outdoor sporting goods segment in California, where they currently have no stores. Given Dick's size, we expect the firm to leverage its economies and use Chick's as a platform through which they can expand their total addressable market. In effect, we think DKS is spending $71M (2% of its market cap) on a call option that could payoff immensely should California become a key market management wants to extract value out of.
On November 20th, DKS delivered Q3 results and crushed estimates. DKS reported 10c vs. cons of 6c. Revenues rose 18.4% YoY and issued in-line guidance for Q4 EPS of 59c. The results were fueled by private label sales, managing inventories, and generating infrastructure leverage. Mgmt provided 4Q07 EPS guidance of $0.59 and increased its 2007 EPS guidance to $1.29 from $1.24-1.25. The quarterly beat strengthened our confidence in DKS's management team to continue their expansion plans without sacrificing profits ("we have a ton more runway left in terms of margin expansion"). The quarter marked a company record in new store openings (25 units) and further solidified the management team's plan to expand aggressively in new markets. In Q3 alone, DKS entered 13 new markets, including a Tampa FL location and a 2 storied store in Dallas...
Investment Risks/Our Macro Call
The retail industry is notoriously competitive and margin-starved. As a retailer, DKS is susceptible to fickle consumer tastes, as well as off balance sheet leverage, long lead times, bloated inventories, & macroeconomic headwinds6. Oft the culprit on conference calls, weather plays a large role in how fast merchandise is moved on and off shelves. Because many DKS stores are located in regions with seasonably cold weather, unseasonably warm winter could impact performance. DKS is also not immune to powerful suppliers, like NKE (12% of sales) or inventory spoilage7. Lastly, aggressive expansion plans could negatively impact profitability. DKS competes with large format (TSA), specialty (NYSE:CAB), and mass merchandise retailers (NYSE:TGT). Besides facing the risk of price wars with these retail juggernauts, specialty retailers like DKS face the possibility of being unable to distinguish themselves within several sub- segments. Because specialty retailers are by definition undiversified, their narrowly focused opportunity sets put them at risk of unpredictable gyrations within the retail sphere. Lastly, we do not rule out the potential write off of goodwill (13% of total assets) on DKS' balance sheet, given its recent acquisition spree.
On the Under Armour (NYSE:UA) Q3 conference call held Oct 30th, CEO Kevin Plank announced that his company was ready to launch its own retail stores, calling them the "physical manifestation of our powerful brand." Although it is too early to tell what the impact will be on DKS, we will look cautiously to what degree UA's retail ventures "distract" shoppers away from DKS, even if just on the margin.
Merrill Lynch Chief economist David Rosenberg recently stated that he expects 2008 operating earnings per share for the S&P 500 will come in at $83, down 7.5% year-over-year and from $89 previously. As Rosenberg cited, "We did some sector work and found that if we are anywhere close to being on the mark, then the areas of the market with the greatest downside risk next year from an earnings surprise standpoint are consumer discretionary, financials and tech. In contrast, the areas where we see the least downside risk (or the greatest safety) would be in telecom, health care, and utilities." Although we believe DKS is relatively less vulnerable to a consumer shakeout, its dependence on US discretionary spending should influence the entry and exit points investors choose for DKS.
With consumer spending making up 70% of US GDP, it behooves anyone investing in a space like retail to look at the "Big Picture." To gauge the speed at which the US consumer moves, we looked at several economic measures.
Personal Income
What you buy is held in check by what's in your wallet. Since in early 2005, personal spending has grown faster than income growth, although the edges of this picture have recently deteriorated. The housing crash has engulfed Wall Street, although Main Street seems to be doing just fine. The recent GDP numbers reflect a reason to be more sanguine than the prevalent market sentiment would suggest: We haven't seen any dire erosion in personal spending though tightened bank lending has supplied the market with plenty of fear. With a low unemployment rate and healthy earnings, the outlook for income growth remains strong. In any event, time and time again, the US consumer has proved resilient against all odds – we feel there will be pockets of weakness throughout the next year, which should create buying opportunities in strong retail names, like DKS, rather than a meaningful reason to abort all positions in sectors tied to personal income levels. For those with strong stomachs, it will prove a fabulous time to pick up dollars for eighty cents.

Interest Rates
We think the Fed is positioning itself for another 50 bps cut when it meets mid December. Although we are unclear as to whether it will push stock prices higher (historically, rate cuts have pushed multiple expansion), we do think a rate cut will make Americans "feel wealthier" and thus more inclined to spend.
Energy Prices
Pressure at the pump also impacts consumer spending, obviously, since expensive gasoline crowds out the available income shoppers have for retail goods. The chart below makes a clear cut case for the inverse relationship between gas prices and consumer spending.

Housing Values We are coming off a multi-year housing boom that put homeowner's equity on steroids. With home prices skyrocketing, spending ran ahead of personal income growth, much like the Road Runner cartoons, in which the disaster is always looming, but somehow deferred to the next episode. Today, America is waking up into a pricing meltdown as the real estate landscape gets stormed by defaults, collapsing home prices, and bloated inventories. For instance, homebuilder Toll Brothers (NYSE:TOL) recently reported its first quarterly loss in 21 years, which troubles us, frankly: a reduced spendable cash from one's home can seriously impinge on consumer spending habits.
Net-net, there is cause for concern, but not a cause for abandoning ship and moving to safer asset classes. The recent dip in the 10Y yield insinuates the risk is the market is much higher than we'd like to see, but that only tells us one thing: equity investors who have done their homework should buy stocks when others are capitulating and crowding into safer instruments. Housing concerns notwithstanding, our diagnosis is that the US Economy is looking at a sprain, not a full bone fracture. The US economy grew ~4.5% in the last 6 months, and that's with the housing bust.
Hybrid Valuation Model Calls for ~25% Upside
Currently trading at less than 19x our 2008 EPS estimate of $1.68 (above consensus estimates of $1.55), DKS swaps hands at a 20% discount to our blended DCF and multiple-driven target price of $39/share.
To arrive at our $39 price target, we blended a discounted cash flow (DCF) and PE-driven approach. Our DCF model, in which Dick's free cash flow over the next 5 year period was discounted at a 10.3% cost of equity (attained via CAPM), yielded a $30 price target, just about where the stock is currently trading.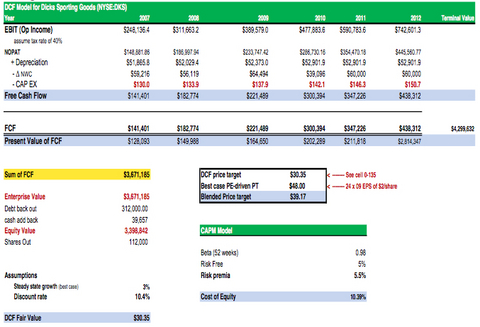 Our multiples based approach, in which we took a best case 24x forward multiple on our 2009 EPS estimate of $2/share, generated a $48 price target. We use 24 times forward since we believe DKS should trade at the higher end of its peer group due to its improving product mix, consistent earnings history, and overall best execution story in the space.
Investment Conclusion
Averaging the two approaches, we arrived at a $39 price target. Even after jacking up the discount rate and pulling management's market share expectations in a bit, we landed at a $35 stock price, which reflects 12% upside and a low risk to reward ratio.
In conclusion, we believe DKS is attractively priced and investors looking for an entry point face a short-term buying opportunity at current levels.