Every month 21 retailers report comparable store sales. Miss expectations and you're toast. Beat and you're a hero for a month. It can get tough out there: Witness American Eagle (NYSE:AEO), Aeropostale (NYSE:ARO), and Abercrombie & Fitch (NYSE:ANF), all of which dropped the monthly reports. So did Wal-Mart (NYSE:WMT).
Indeed, it's tough. Brutal. This month was especially miserable. April same store sails were largely a wash-out. Kohl's (NYSE:KSS), The Gap (NYSE:GPS), and Walgreen (WAG) posted dismal numbers.
Wouldn't it be nice to see one retailer trounce each month estimates each and every time? Post double digit gains every time?
There is only one retailer that could do it. Easily. Without a doubt. That retailer is none other than the 363 stores in Apple's retail division.
In my fantasy, Apple (NASDAQ:AAPL) reports its brick-and-mortar monthly same store sales. (We know from the last 10Q the stores increased average store revenue 33% over the last 6 months and 23% over the last 3 months.)
So just for whimsy's sake, indulge me and check out April same store sales (plus Apple retail stores quarter comparable sales.)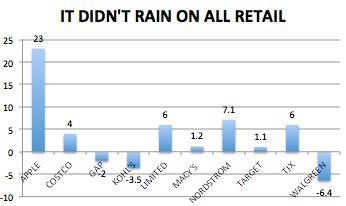 Hey, why can't you play fantasy retail with Apple. Just another reason to own Apple.
Disclosure: I am long AAPL.