Obesity is fast becoming America's number one healthcare issue, eating up an increasingly gluttonous percentage of both the Medicare and Medicaid pie. Americans of every age, socio-economic and ethnic background suffer from the malady. Between 1987 and 2002 the number of obese Medicare recipients doubled and the cost of their treatment almost tripled.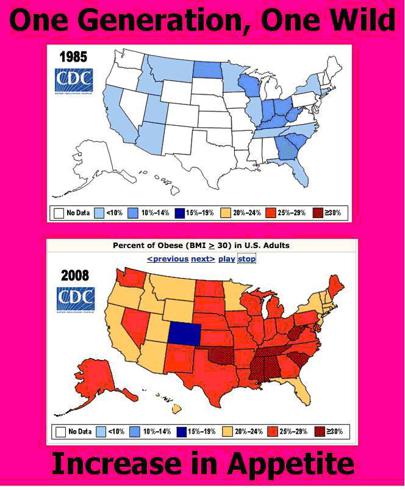 Recognizing just how dire the situation has become, legislators decided last November to pass a measure that would give free screening and intensive behavioral counseling for obesity, a move that Washington expects will soon be copied by private insurers.
Research conducted by the Center for Disease Control (CDC) shows that states are currently spending as much as $75 billion on obesity related expenditures every year. In 2002 the CDC figured those costs at $93 billion when both overweight and obese individuals were tallied together. Note, too, that health care costs for overweight and obese individuals are 56% higher than normal weight adults.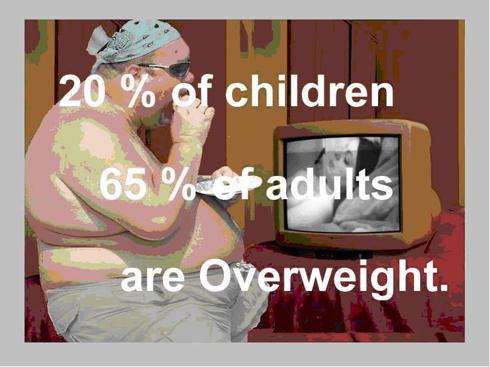 As the affliction reaches 'epidemic' proportions, researchers expect those numbers to ramp up exponentially.
Several major bio-pharm players have been quick to run the aid of both dieticians and policy makers, eager to cash in on a market that is estimated to offer $2 billion in revenue annually to those with a product that works. Yet a quick survey of just a few companies in the obesity-beating game shows that we've still got a workout or two ahead of us before the scales tip favorably in the direction of a cure.
Let's take a look at some of the lead players in the obesity treatment race to understand who's ahead in securing a majority share of this ever-swelling market.
They are, in no particular order:
Shares of Prolor have risen of late, for a number of reasons which we'll address below, but first, have a quick look at this $300 million company (by market cap) and see what they've accomplished just two years after attaining a listing on the American Stock Exchange.
Drugs and Technology
In addition to promoting its own, unique set of drug candidates, Prolor has also developed technologies that assist in creating longer-acting versions of existing drugs. They're actively seeking licensing agreements for these technologies with the largest global biopharm players to add to revenues.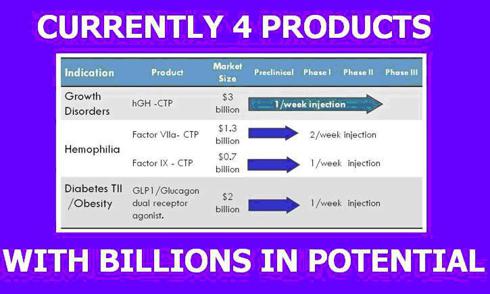 Prolor's current roster includes four drug candidates at different stages of development for the treatment of a number of growth disorders, hemophilia, type II diabetes and obesity. Their human growth hormone treatment, hGH-CTP, now nearing completion of the FDA approval process, will allow patients once weekly or bi-monthly injections instead of the current daily regimen mandated by existing treatments.
Prolor also holds three key patents to the technology that allows it to develop its specially focused, longer-lasting drug alternatives, giving it a marked advantage over competitors seeking to copy its products.
Now a look at PBTH's stock performance for the last six months.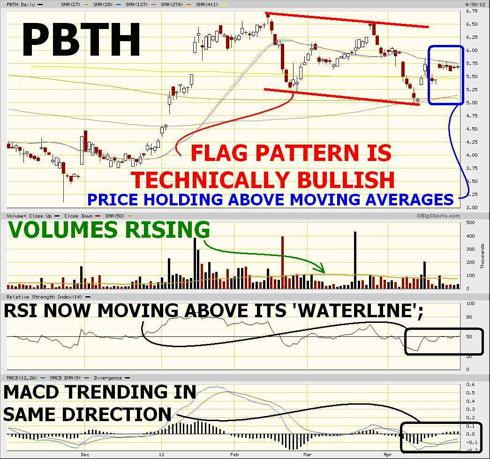 There are a number of technically constructive aspects to Prolor's price action, as shown on the chart above.
The near 80% leap in price that occurred between December and February was in anticipation of positive results from clinical studies of hGH-CTP. Progress in the obesity therapy could produce similar spikes.
Better still, current price action is trending well above all the long term moving averages (highlighted in blue, right). Any rise above resistance at $5.75 would be viewed as a 'buy trigger' by most technical analysts.
The flag formation (highlighted in red) that has developed over the last two and a half months is considered by market technicians to be a continuation pattern. A break above the upper edge would be considered a buy signal, and we'd expect significantly higher prices were that to happen.
After plunging toward oversold levels in mid-April, daily RSI readings have rebounded and are now peeking above their midway 'waterline' level, a development that speaks of a potential bullish move in the making. MACD indicators are also trending toward their 'waterline.'
Finally, average daily volume figures for the stock are manifestly higher than they have been at any point in the last year, leading us to speculate that Prolor is garnering increased media and market attention.
We expect that the development of Prolor's anti-obesity therapy will add significantly to its current valuation, given that even large drug developers like Novo Nordisk have gone virtually unnoticed in the race to secure market share for weight-loss drugs. Morgan Joseph has a $16 price target on Prolor, which implies potential for a tremendous risk-adjusted return.
Considering the safety profiles and delivery options of the current candidates, Prolor stands out, in our opinion, as potentially the best long term bet for investors seeking exposure to a realistic remedy for obesity.
Disclosure: I have no positions in any stocks mentioned, and no plans to initiate any positions within the next 72 hours.