The joy of finding a hidden , unknown, undervalued treasure is universal in human nature. Whether one is in search of an antique, or a work of art, or a small Bio/Pharma company that is just turning the corner to large profitability, that search can be a long and tedious one. But, in each case, when finally discovered, the rewards can be tremendous!!

One such hidden, unknown, undervalued Bio/Pharma company that has made an amazing transformation in its model of operation, and that is now leading to a dramatic profit story, is Questcor (Amex: QSC).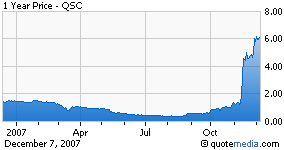 Questcor Pharmaceuticals, Inc., (QSC) is a specialty pharmaceutical company, and focuses on novel therapeutics for the treatment of diseases and disorders of the central nervous system. It owns and markets two products in the United States, H.P. Acthar Gel and Doral.

H.P. Acthar Gel is a source of adrenocorticotropic hormone and is used in various conditions, including the treatment of periodic flares associated with multiple sclerosis, infantile spasm [IS], opsocus myoclonus syndrome [OMS],and various forms of arthritis. Acthar also has various other labeled indications and uses in certain endocrine disorders, rheumatic disorders, collagen diseases, allergic states, ophthalmic diseases, respiratory diseases, hematologic disorders, neoplastic diseases, edematous states, and gastrointestinal diseases.

Doral is a product indicated for the treatment of insomnia, characterized by difficulty in falling asleep, frequent nocturnal awakenings, and/or early morning awakenings.

The basis of the companies new business model centers around Acthar and the Company has a registered trademark on H.P. Acthar Gel.

For years, the company was hemorrhaging money at a rate of $1 million per month and ran quarterly losses. Starting in May of this year, three impressive changes to the business model, changed all that and transformed the company going forward. Questcor is now very profitable and generating large positive cash flows!

On May 25, 2007, the Company completed the reduction in its field organization from 45 sales representatives to 10 product service consultants and 3 medical science liaisons. The Company expects this reduction to generate annual cash savings between $4.0 million and $5.0 million. In addition, other cost reductions are expected to increase the annual cash savings to a range of $5.0 million to $6.0 million.

During July 2007, the Company began utilizing CuraScript, a third party specialty distributor, to store and distribute Acthar. Effective August 1, 2007, the Company no longer sells Acthar to wholesalers and all of the Company's proceeds from sales of Acthar in the United States are received from CuraScript. The Company sells Acthar to CuraScript at a discount from the Company's list price. CuraScript sells Acthar primarily to hospitals and specialty pharmacies. Product sales are recognized net of this discount upon receipt of the product by CuraScript. CuraScript has 60 days from when product is received to pay the Company for their purchases of Acthar.

In August 2007, the company announced a new strategy and business model for Acthar, and initiated a new pricing level for Acthar. Under this new orphan-drug-style pricing model strategy, the sales price to CuraScript, increased to $22,222 per vial based on a list price of $23,269 per vial. The list price prior to the new pricing level was $1,650 per vial.

Results were explosive in the third quarter ended September 30, 2007. Net sales of Acthar for the three month period ended September 30, 2007 totaled $14.6 million as compared to $3.8 million during the same period in 2006. The increase in net sales resulted from the initial success in the implementation of the new strategy and business model for Acthar. Total net sales were $14.8 million for the three month period, as compared to $4.0 million for the same period in 2006. In addition, the gross profit margin percent increased to 90 percent for the quarter ended September 30, 2007 as compared to 77 percent for the same period in 2006. Further, SG&A expenses have decreased due to the reduction in its field organization and other cost reductions outlined above. Net income applicable to common shareholders totaled $8.4 million, or $0.12 per fully diluted share, for the third quarter of 2007, compared to a net loss applicable to common shareholders of $(1.5) million, or $(0.03) per share, for the third quarter of 2006. As of September 30, 2007, Questcor has 69,296,099 million fully diluted common shares outstanding.

During the quarter ended September 30, 2007, Medicaid rebates and government chargebacks, related primarily to activity prior to the implementation of the new Acthar strategy and thus resulted in a one time increase in net sales and net income by $4.5 million, or $0.07 per fully diluted share. Future sales may comprise of about 30% Medicaid cases and we have thus factored in recognition of minimal, if any net sales on these units within our revenue forecasts.

Since the close of the third quarter, the viability of this new pricing model has been further confirmed by sales data for October and November, which shows a consistent level of ordering and insurance reimbursement experienced since the implementation of the new strategy. Indeed, data suggests that sales may have even accelerated from the initial September period with unexpected sales beyond the IS and OMS markets.

Although no drug is approved in the United States for the treatment of IS, Acthar is not indicated for, but is used in treating patients with infantile spasms ("IS"), a rare form of refractory childhood epilepsy. Despite lack of indication, Acthar is the "gold-standard" for use in such cases by many Neurologists, with company holding an estimated 40%-45% of the IS market. No generic competition is ever likely due to high barriers to entry. A complex, multi-step manufacturing process involves extensive proprietary knowledge and thus is tremendously difficult to reproduce. With minimal Doctor and patient education initiatives, company may be able to expand usage within IS to the 50% level.

Additional future growth prospects are very promising:

In June 2006, the Company submitted a Supplemental New Drug Application ("sNDA") to the FDA and is currently pursuing formal agency approval for Acthar in the treatment of IS. On November 9, 2007, the Company met with the FDA to further discuss its sNDA. At the meeting, the FDA concurred with the Company's suggested pathway to preparing a complete application for FDA review, which will involve submission of additional gathered data on past trial information to the FDA. No drug is approved in the United States for the treatment of IS. Currently, no additional clinical trials are needed and due to the long safety and efficacy record of Acthar, we expect possible FDA labeling for IS use in the first quarter of 2009. Under such labeling, penetration of the IS market in the United States could approach 90%-95% over time.

Company should also be able to pass along smaller incremental price increases over time, adding to future growth rates.

Additionally, growth prospects internationally may be available in the future due to the lack of a completely safe alternatives worldwide.

Further, Acthars anti-inflammatory properties may lead to future further indications.

Next, the Company is also developing new medications, including QSC-001, a unique orally disintegrating "fast-melt" tablet formulation of hydrocodone bitartrate and acetaminophen for the treatment of moderate to moderately severe pain, to be used with patents that have swallowing difficulties (30-40% of ALL pain patients). This is currently the largest prescription market in the United States, with 113 million prescriptions annually. The product is being formulated by EURAND N.V. using proprietary delivery technology. QSC owns worldwide commercialization rights on this product, and are pursuing a 505b2 regulatory pathway to market. This is a relatively fast to market program, and we anticipate meaningful results to hit in the second half of 2009.

Lastly, the Company is in early stages of developing additional new medications using strategies that generally require lower capital investment when compared to traditional development programs.


Our earnings and revenues estimates follow:
EARNINGS PROJECTION

2006 2007 2008 2009


Q1 MAR A (0.06) A (0.05) E 0.24 E 0.38


Q2 JUN A (0.04) A (0.03) E 0.27 E 0.49


Q3 SEP A (0.02) A 0.12 E 0.30 E 0.58


Q4 DEC A (0.06) E 0.22 E 0.33 E 0.66
---------- -------- -------- ---------

YEAR A (0.28) E 0.26 E 1.14 E 2.11

REVENUE PROJECTION (in millions)

2006 2007 2008 2009


Q1 MAR A 2.01 A 3.70 E 26.10 E 42.50


Q2 JUN A 3.33 A 4.14 E 29.40 E 54.80


Q3 SEP A 4.05 A 14.81 E 32.70 E 64.80


Q4 DEC A 3.40 E 23.95 E 36.90 E 73.70
--------- --------- --------- ----------

YEAR A 12.79 E 46.60 E 125.10 E 235.80
At the close of the third quarter on September 30 2007, the Company's cash, cash equivalents and short-term investments were approximately $10,592,000 and its accounts receivable balance was $14,149,000. Current assets to current liabilities ratio was 5.86 to one and is growing stronger at a fast rate in the forth quarter. Company has no LTD. As of November 30, 2007, the Company's cash, cash equivalents and short-term investments have grown to approximately $20 million and its accounts receivable balance was approximately $24 million. Remember, the Company provides 60 day payment terms to the distributor of the Company's products in the United States and thus we expect Cash amounts to build substantially by the end of the fourth quarter.
Given a very favorable balance Sheet, and favorable valuation levels, based on our above analysis and earnings estimates, A BUY rating is indicated on the stock of QSC, which had a closing price of $6.00 on Friday December 7, 2007. Based on the Bio/Pharma industry average PE of 27 for the universe of only those PROFITABLE Bio/Pharma firms (on a trailing 12 month basis), our price target on QSC for year-end 2008 is $31 per share. For the year-end 2009, our QSC target price is $57 per share.
Disclaimer: Author's financial firm, Independent Financial Consultants [IFC] is long QSC.