Lower Growth Expectations To Lead To Reduced Mining Capex
In an article published in Monday's Financial Times ("Miners set to reduce spending amid fears on growth"), Helen Thomas noted that mining majors BHP Billiton (NYSE:BHP) and Rio Tinto (NYSE:RIO) had announced last week that they were reconsidering tens of billions of dollars worth of development projects as China's growth rate slows, and that this could have knock-on effects for their suppliers:
The cuts could spell the end of a buoyant period for suppliers to the industry, such as Caterpillar, Joy Global of the US, and Sweden's Atlas Copco, which have benefited as demand for trucks, excavators, belts systems and draglines picked up to feed China's rapacious appetite for raw materials.
Given these headwinds for mining suppliers, I wanted to take a snapshot of their current hedging costs. I've done that below with BHP Billiton and Rio Tinto , but Atlas Copco (OTCPK:ATLKY) is traded on the Pink Sheets in the US, so it has no options traded on it here and can't be hedged directly. In its place I have substituted another European industrial that supplies the mining industry, CNH Global, NV (NYSE:CNH). The table below shows the costs, as of Monday's close, of hedging BHP Billiton, Rio Tinto, and CNH Global NV against greater-than-20% declines over the next several months, using optimal puts.
Comparisons
For comparison purposes, I've added the two mining majors mentioned in the article, BHP Billiton and Rio Tinto, to the table. First, a reminder about what optimal puts are, and a note about decline thresholds; then, a screen capture showing the optimal put option contract to hedge the comparison BHP.
About Optimal Puts
Optimal puts are the ones that will give you the level of protection you want at the lowest possible cost. Portfolio Armor uses an algorithm developed by a finance Ph.D. to sort through and analyze all of the available puts for your position, scanning for the optimal ones.
Decline Thresholds
In this context, "threshold" refers to the maximum decline you are willing to risk in the value of your position in a security. You can enter any percentage you like for a decline threshold when scanning for optimal puts (the higher the percentage though, the greater the chance you will find optimal puts for your position). I've used 20% decline thresholds for all of the names in the table below.
The Optimal Puts for BHP
Below is a screen capture showing the optimal put option contract to buy to hedge 100 shares of BHP against a greater-than-20% drop between now and November 16th. A note about this optimal put and its cost: To be conservative, the app calculated the cost based on the ask price of the optimal put. In practice, an investor can often purchase puts for a lower price, i.e., some price between the bid and the ask (the same is true of the other names in the table below).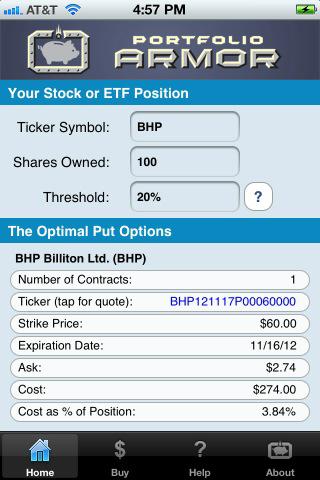 Hedging Costs as of Monday's Close
The hedging costs below are as of Monday's close, and are presented as percentages of position values. Of these, CNH Global, NV in particularly is quite expensive to hedge. If you own it as part of a diversified portfolio, and are content to let that diversification ameliorate your stock-specific risk, but are still concerned about market risk, you may want to consider buying optimal puts on an index-tracking ETF instead, as a way to hedge your market risk.
| | | |
| --- | --- | --- |
| Symbol | Name | Hedging Cost |
| JOY | Joy Global, Inc. | 7.80%* |
| CAT | Caterpillar, Inc. | 4.84%** |
| CNH | CNH Global, NV | 13.2%*** |
| BHP | BHP Billiton | 3.84%** |
| RIO | Rio Tinto, plc | 5.67%* |
*Based on optimal puts expiring in October
**Based on optimal puts expiring in November
***Based on optimal puts expiring in December
Disclosure: I have no positions in any stocks mentioned, and no plans to initiate any positions within the next 72 hours.