PetroQuest Energy Inc. (NYSE:PQ) reported Q1 EPS of $(0.30), recurring earnings (net of the ceiling test write-down) were $0.03 EPS versus consensus estimates of $0.00 to $0.01 EPS (though the high end of the range was $0.05). Q1 2012 revenues of $36 Million exceeded consensus estimates of $35.3 Million (a surprise to the upside of 2%), but dropped 13.5% from $41.6 Million in the year-ago period, and 5.5% from Q4 2011 revenues of $38.1 Million. However, considering the current pricing environment, investors who are willing to risk parking their cash in risky small-cap exploration and production stocks should remain somewhat forgiving of top line figures and focus more on margins and prudent management of expenses. When revenue drivers face tight constrictions, the only way to produce positive bottom line results is by reducing costs. For example, lease operating costs in the first quarter of 2012 were $1.18/Mcfe versus $1.29/Mcfe in the year-ago period, representing a drop of 8.5%. However, margins naturally deteriorated from prior period results.
2012 production guidance of 90-95 Mmcfe/d was up significantly from 88-90 Mmcfe/d guidance from Q1, due in part to the Thibodeaux #1 well at PQ's La Cantera prospect (the single largest discovery in the Company's history), NRI-17%, which recently came online and is now flowing at 600 bbls/d Oil, 900 bbls/d NGL, and 27 Mmcfe/d Gas (PQ is currently casing a nearby well with expected completion in Q3; management expects production capability to approximate the first well). That along with 2 recently completed horizontal wells in Cotton Valley, NRI-39%, total IP around 700 bbls/d NGL, 10.8 Mmcfe/d Gas, in addition to 3 wells completed in 2011 with average estimated recovery 950 MBOE. Two additional Eagle Ford wells are expected to come online during Q2.
2012 drilling plans increased from 20-25 to 25-30 wells in the Woodford, and 12-15 to 15-18 in PQ's Mississippian Lime acreage. Recently, reduced fracking (hydraulic fracturing) costs in the Cotton Valley play are allowing faster and more efficient well completion, so we should expect to see higher level of activity there as well. Pending success at the La Cantera prospect and the greater Gulf region, bolstered by favorable natural gas price movements, PQ is likely to divert further resources to both the Thunder Bayou and Pelican Point high-impact prospects.
Management was clear on the call that all current activity is results-driven and there are few or no remaining JV lease maintenance requirements, so PQ has a good amount of 'wiggle-room' as to where and how to place their bets. Management has also informally expressed to prospective buyers and/or competitors that they might consider selling assets in Niobrara and Fayetteville shale plays if offer prices were sweet enough, or if PQ decides to free up cash and shift CAPEX to more productive plays.
PQ's Mid-stream partner recently completed pipeline to connect the liquids-rich area of PQ's Woodford acreage with processing facilities, which should yield significant upside pricing potential as NGL distribution grows. Also, front month natural gas is on the rise (July NYMEX contract - NGN12 - 5-day performance +~6%), plus PQ has secured solid average floor prices on hedged volumes for the year, including entrance into their first NGL swap.
Overall report seems mixed but optimistic about future prospects.
EPS Net of One-Time Events: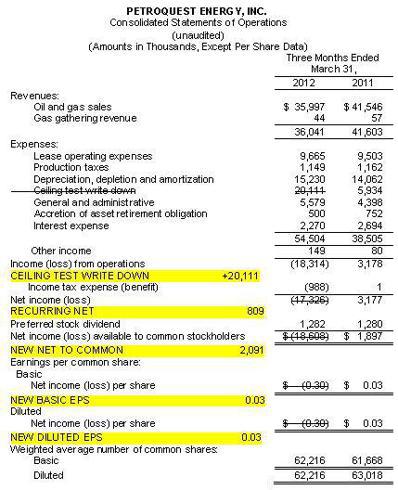 Click to enlarge
The front page of the Wall Street Journal last Thursday includes an article providing a potentially positive outlook for Nat Gas prices (which recently hit all-time lows), an especially important driver for the performance of a highly levered gas producer like PQ versus competitors with more liquids-rich production mixes. See ranking chart below.
Exploration and Production Companies Ranking by Gas Production: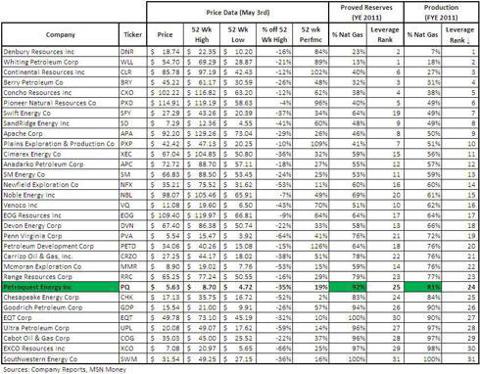 Click to enlarge
PQ stock is currently off about 25% YTD and has been trending slightly downward for several months. Sell-off of this stock is usually due to some large block risk-off trades, also it's an under-covered small-cap in a highly fragmented industry, but most importantly the public has always viewed PQ's asset base as very high-risk; the company started out as a Gulf Coast oil and gas driller, but has employed a relatively aggressive program over the past decade to move its focus to longer-life and lower risk onshore basins and shale plays - though investors still seem hesitant. The rise last October 11' did not appear to result from any clear conviction towards exploration and production companies with lower oil-weighted production mixes (natural gas remained a laggard throughout), as investors were pouring back into equities in general.
Examining the more macro-themed catalysts for PQ and indeed the rest of the independents with 100% domestic operations (particularly those spanning the southeastern states): Hurricane season is right around the corner, and supply shortages due to potential outages in the vast network of pipelines lying directly in Mother Nature's path can place a noticeable (although typically short-lived) upward pressure on prices. Also of note were the record warm temperatures this past winter; though ideal for recreation and travel, these contributed to depressed natural gas prices, as the need for heating both in private and commercial residences and in industrial and business facilities contracted significantly. However this is not a trend we should expect to continue, in fact some meteorologists predict colder winters ahead, which ultimately adds support for prices. A particularly insightful article by AccuWeather.com's Kirstie Hettinga "Winters of 2012, 2013, 2014 Could be Frigid," gives some chilly details.
Last, the large-scale expansion of natural gas inventories in the US should not necessarily concern investors when considering the commodity's pricing. For years now, natural gas has been used in powering a variety of household appliances, however the build-out of pipelines across the US and the increasing focus on cleaner fuel usage (along with municipal subsidies and other various perks in exchange for 'going green'), should steadily begin to offset the excess supply and increase prices both in the domestic market and abroad. According to the EIA's 2012 Annual Energy Outlook, "the United States is projected to become a net exporter of liquefied natural gas (LNG) in 2016, a net pipeline exporter in 2025, and an overall net exporter of natural gas in 2021." So in the long-run, oil and gas producers stand to benefit from prices, though this will require patient investors.
Looking specifically at US producers who are making plans now to ramp up NGL production facilities and build out connectivity to pipeline infrastructure in the US, I think this is a great opportunity to get in on the ground floor. PQ has been hit hard by sell-offs in recent months but its assets appear to be vastly undervalued in my opinion. Look for further guidance from management regarding activity in the Mississippian Lime formation during the second quarter, as this play has the potential to be one of PQ's larger catalysts in the coming quarters.
Disclosure: I am long PQ.