Petrobras (NYSE:PBR) is a multinational energy giant headquartered in Rio de Janeiro, Brazil. Founded in 1953, Petrobras over the years has grown into the largest company by market cap and revenue in the Southern Hemisphere. Petrobras produces over 2.7 million barrels of oil equivalents per day, and looks to double output over the next decade. Current profit margins sit at 14% with a debt credit rating of BBB. Timing, growth, and valuation are key reasons to begin building a position in PBR.A shares, currently trading around $21.28 per share.
Catching a falling knife as the saying goes often results in cuts, and this applies to PBR.A shares; down 10.25% over the last month alone. The 52 week high was hit last May at $31.67, and the 2012 high was reached in February, at $29.74. The shares have seen a significant pullback for a multitude of reasons to be listed below, and are currently trading over 25% off their February highs.
Petrobras Problems: Investors tend to discount what they see as corrupt equities in corrupt countries; 54% state ownership, total control. Again remember Brazil is not the USA, and PBR is subject to Brazilian politics and government strong-arming of prices (to fight inflation they say). Other risks PBR faces are a "slow down in China" (temporary at best), falling crude prices (temporary at best), and challenges reaching massive ultra deep-water reserves off the coast (temporary at best, international help coming).
Reasons to Invest: Petrobras shares have been in decline for almost 2 years now, trading at $42 at the beginning of 2010. The broader Brazilian market has been flat/down for almost 2 years; for a fast growing BRIC country this under-performance will not last forever. I often use PBR.A and CNOOC (NYSE:CEO) to play the EMs (Emerging Markets). If the Bovespa and Hong Kong (HSI) markets head higher these shares will surely benefit greatly, often outperforming and paying a sizable dividend after international taxes.
For all the current macro uncertainty, a global recovery will greatly help both the Bovespa and PBR.A shares. Even as oil prices get crushed, down -4% today, at 98$ a barrel Petrobras will still make a lot of money, and look for prices and demand to rebound long-term to the upside. Demand from India, China, South America, and Africa will grow +10% for decades to come. Now PBR.A is not easy to invest in, just ask the buyer a year ago, but timing now looks good; valuation is low at less than 7x earnings, and the tax adjusted dividend is near 4.6%. Other longer term catalysts include the coming 2014 FIFA World Cup and 2016 Olympics - these global events should clean up Brazil's act substantially, improve its global PR image, and be a gain for its economy and market.
PBR.A 1-year chart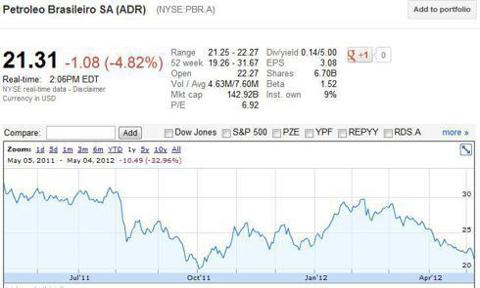 Click to enlarge
In Conclusion: the hidden value (for the long-term investor) will lie years from now when production rises rapidly as many of PBR.A's assets lie deep below in the pre-salt of Santos Basin. New finds in the area, even as recent as two months ago, continue to add shareholder value longer-term. I am in no way saying $21 is the bottom for PBR.A, but I will play a little catch today and buy a 25% position at the close, the share value short-term and long-term is compelling at these prices. If you believe in the Emerging Markets, and long term energy demand, this could be the time to start building a position.
Always do your homework.
Disclosure: I am long PBR.A.