Angie's List (NASDAQ:ANGI) is an $800 million market cap company that owns a website (www.angieslist.com) in which members rate services such as doctors, plumbers etc. Income is generated by 1) subscribers 2) advertisers. The Unique Selling Point of the company is that advertisers cannot pay to be on the list. Only companies which receive high rankings can put ads on the site.
ANGI's strategy is to invest heavily in marketing and attract new members in order to generate income which will offset the high client acquisition cost. In addition, the high number of members on the site should lead to higher service income from advertisers.
Since 2008 the company almost tripled its revenues from $33 million to $90 million and in the same time almost tripled its loss from $20 million to $49 million. The following is the company's P&L:
(click to enlarge images)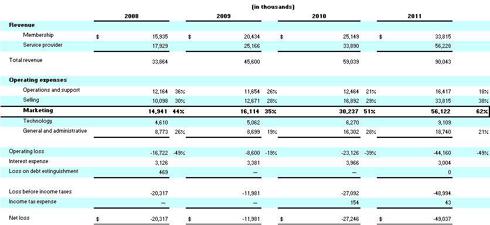 It is obvious that the company is not making any money from its business, although revenues have been growing quickly. We believe there are two problems with the business model which means basically that the company's future is doomed:
1. The company relies heavily on marketing expenses to grow its revenues. The economic question for ANGI is how much future benefits these marketing expenses will contribute in the form of income.
2. Its ad sales part of the business ("service" according to ANGI) relies on sales people that call up plumbers and doctors to sell them ads. Not really a scalable internet business.
Let's focus on the marketing expenses:
The company is currently expensing all its marketing costs when incurred. One could argue that these expenses create future value to the company, as a dollar spent on marketing which added a new subscribers or advertiser, will create also income in the future accounting period. Looking at ANGI's cost structure this way provides for a better view of the company's financials and enables us to understand the business model and to see whether it is sustainable.
In this line of business, the "stickiness" of the service is crucial, as the client acquisition costs are high. Based on the following analysis (derived from ANGI's financial statements), about 33% of the members cancel their membership each year (ANGI does not provide this information):

So we adjusted ANGI's financial statements and presented them as if ANGI had capitalized its marketing expenses when incurred, and expensed them over a period of three years: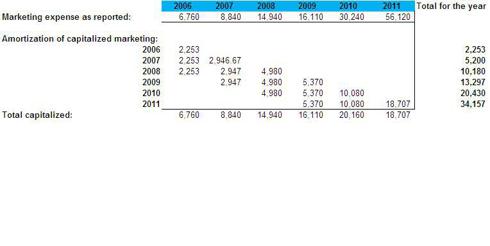 Then to finalize the exercise we adjusted the P&L of the company to reflect this: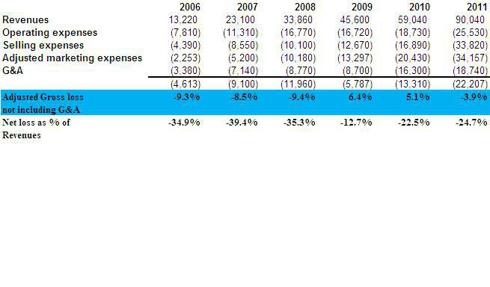 It is obvious that even after adjusting the P&L of the company and presenting the real economic P&L, the company is still not able to generate profits, moreover, it losses between 20-30% on each dollar of sales. Some would argue that G&A expenses will be reduced as percentage of revenues as the company grows, however, even disregarding G&A in whole, the company is not able to grow and turn a profit.
When looking at the 2011 quarters on a stand alone basis, it is visible that the company tried to reduce its marketing expenses in Q4 after heavy expenses in Q2 and 3 (before the IPO). The company was probably trying to increase revenues before the IPO to push the valuation and to cater to investors that are focused on internet growth companies (regardless of the profitability).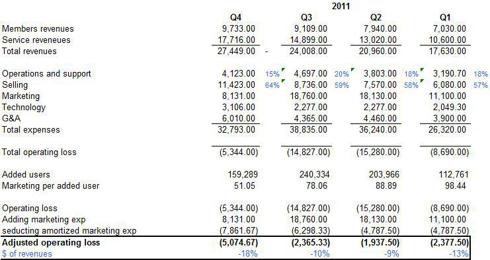 We have adjusted the quarterly figures to reflect the capitalization and depreciation of the marketing expenses, but still, also on a quarterly basis, the company is not able to execute its strategy and generate profits. It is clearly focused on growth, but is not able to translate this growth into profits.
From the cash side, the company has about $88m of cash as of December 2011 and it burned about $37 million is 2011. Clearly it will need more cash soon and will probably issue more shares to fund the growth of the company. Since we started looking at the stock, ANGI announced that insiders will sell $65 million of its shares while it will sell $10 million. Not a really good sign for current holders.
To finalize, ANGI is an $800 million company that is not able to translate its business model and growth story into profits and will not be able to do so in the future as its business relies heavily on marketing and sales people and the service is just not "sticky" as evidenced in the cancellation rate.
We believe ANGI's management will continue to grow revenues and continue to issue stocks to fund this growth until investors realize this growth is not being translated to profits and the company is losing about 20 cents on each dollar of income.
As a result, we are short this stock and believe it will finally go into insolvency.
Disclosure: I am short ANGI.