With Intel (NASDAQ:INTC) raising its dividend by 7%, there are some new yield levels to watch if you're tracking the stock.
Intel has certainly been rewarding investors on the dividend front. Normally, I'd expect increases once per year. But in the past two years, we've seen the company boost its payout three times.
Next quarter, the expected annual payout will be 90 cents per share. That's double the dividend paid in 2007 and 50% higher than the payments made in 2009.
Right now with the current payment of 84 cents per share, the stock yields about 3%, but that 3% level will, of course, be rising.
This chart shows Intel against a few yield levels over the past four years or so.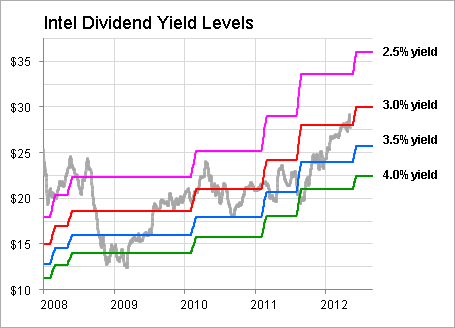 As you can see when the overall market pulls back, Intel sometimes give you an opportunity to get a 3.5% or perhaps even a 4% yield.
Back in late 2011 and into this year, that 3.5% level was $24. Now it's about $25.71. For the 4% yield level, the target price moves from $21 to $22.50.
Can the company afford the dividend? Well the payout ratio seems reasonable. Here's a chart showing the dividend and its percentage of earnings going back to 2004: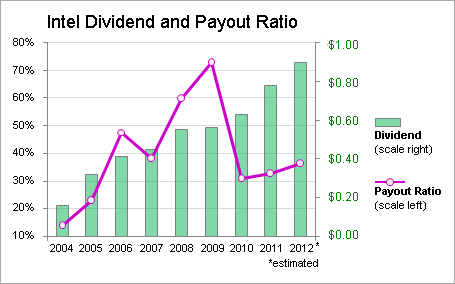 The payout ratio did soar in 2008 and 2009. Certainly the economic downturn impacted Intel's business, but the ratio has now returned to more sustainable levels.
A 5%+ yielder?
Intel is not known for being a "high flying" stock, yet it's been rewarding its investors quite well lately. On a total return basis, it's done significantly better than the S&P 500 ETF (NYSEARCA:SPY) over the past five years.
Here's a chart showing the performance of a hypothetical $10,000 investment in both INTC and SPY in January 2007 if you'd reinvested dividends.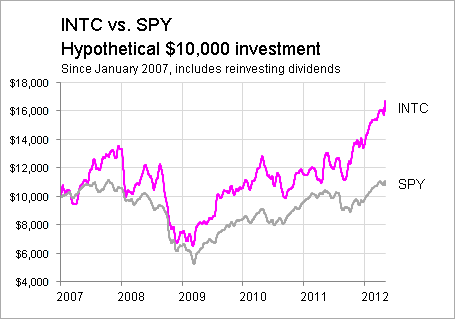 Yes, the stock fell sharply during the financial crisis, but you'd have picked up a lot more shares on Intel if you reinvested dividends.
Initially, in 2007, the stock would have provided you a yield of 2.2%.
But next year, you'd be collecting $519 - or a yield of 5.19% on your original investment - and you could probably expect that to continue to grow well into the future.
Disclosure: I am long INTC.