Here are a few lesser-known high-flying stocks that have racked up impressive gains. Is it too late to get in, or are there other interesting trading positions possible?
Entertainment Gaming Asia Inc. (NYSEMKT:EGT)
With almost a fivefold increase in its stock price since the beginning of the year and an RSI at the red hot level of 88, clearly there are some major improvements in business being priced in. Is that warranted? Let's see. First, what do they do?
Entertainment Gaming Asia Inc. engages in the ownership and leasing of electronic gaming machines (EGMs) in resorts, hotels, and other venues primarily in Cambodia and the Philippines. It also designs, manufactures, and distributes table game products consisting of RFID casino chips that enable casinos to identify counterfeit casino chips and track table play; traditional casino chips for various table games that include a range of American-style gaming chips; and RFID casino plaques. In addition, the company engages in the design, manufacture, and distribution other plastic products. [Yahoo]
Some metrics [Yahoo]:
Market cap $140M with 120M shares outstanding, 47% held by insiders
Revenues are rather paltry at $27.13M
Cash of $12.76M with 6.53M in debt ($6.2M according to the Q4 CC transcript the promissory note will be paid off in full at the end of this year)
They do generate roughly $2.5M in cash flow from operations per quarter
There are ample reasons to expect the growth to continue:
Revenues per slot machine and gaming table (net win per unit) are increasing by 14%, and the number of seats will also increase this year (see below)
They have a strongly growing gaming (chips) and auto parts business (Dolphin) with similar machines and required skills, producing mostly plastic stuff. The plants will be automated further. They're already the second biggest gaming chips producer in the world. This business grew 47% YoY in Q4 and makes up roughly 40% of total revenues
They have an agreement with Soca Hotel and Resort to place 250 electronic gaming machines with opportunities for similar development in other locations
They will open two new casinos in Cambodja, Pailin and Kampot. The construction of the first commenced in December last year and the casino will be opened on May 9. Construction of Kampot will begin this month and it will open in Q3 (these are not big casinos, obviously)
Revenues will be shared with the land owners and the gaming operators
Against all that is the undoubted fact that a lot has already been priced in. The meteoric rise in the share price has to do with the turn-around, the company is finally making a (still very modest) profit. The RSI is off the charts and the volume has been declining the last couple of days, so we expect some consolidation.
Click to enlarge.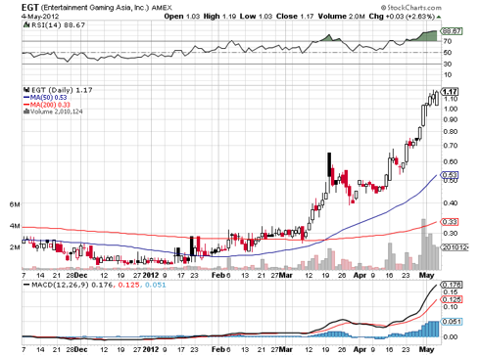 The shares aren't optionable, so outright shorting is the only way. There is only a very small short position, so a squeeze is less likely. If you would like to wait for Q1 earnings, these will be presented on May 15. Shorting on any further spike in the shares looks like a good risk-reward strategy, albeit not risk-free.
Aware, Inc. (NASDAQ:AWRE)
Another company with shares on a tear is Aware. It provides biometrics software and DSL service assurance products. Though they're not going to offer the latter for much longer:
The decrease in hardware revenue was mainly attributable to our decision in January 2012 to shutdown our DSL service assurance hardware product line. [Q1 PR]
The biometrics and imaging software did have a good quarter though, albeit the total result was still disappointing with total revenues falling 10% (YoY) to $5.7M.
Some metrics [Yahoo]:
Market cap $143.6M on 20.72M shares
Revenue $24M
Cash $49M with zero debt
They generate cash ($6.6M last year, albeit almost half of that by running down inventories and accounts receivables)
So, what we have is a company that is shrinking, shredding its shrinking business, sitting on a huge pile of cash while generating some more. It's all about what they're going to do with that cash. But there is more. On April 27, they announced the following:
Aware, Inc. announced today that it has signed an agreement for the sale of selected patents and patent applications to Intel Corporation for approximately US $75,000,000.00, subject to customary closing conditions and any required regulatory approvals. The patents and patent applications relate to WiFi (802.11n/ac), LTE and Wireline Home Networking. The sale is part of our patent management operation's efforts to sell and/or license portions of our patent portfolio.
And this might not even be all, as they're looking to monetize other patents they have.
We assume that the cash figures from Yahoo do not yet include any of this, which yields a total cash position of $125M, almost the entire market cap of $143M. What are they going to do with all that cash seems the overriding issue here. Well, $24M of it will be dealt out in a special dividend, amounting to $1.15 per share which will be paid on May 25 (to shareholders of record on May 11).
So until May 11, the shares will likely hold up quite well. But after that there seems to be room for some downdraft. However, for the longer term, the biometrics and imaging business they have isn't at all bad. In the last quarter, this generated $3.67M in revenue and $1.7M in profit, up from $2.9M and $1M in Q1 2011, respectively [10-Q May 3].
So their business could do $8M in profits this year, on top of $100M in cash, the present market cap of $143M that seems very reasonable. But, of course, it depends what they're going to do with that booty.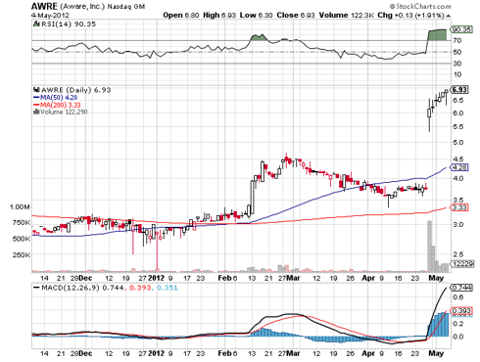 As you can see, the shares have had quite a run. Although that isn't at all surprising (on the $75M sales of patents), we expect the shares to calm down after the relevant ownership date of the shares for the $1.15 special dividend has passed on May 11.
Ellie Mae, Inc. (NYSEMKT:ELLI)
Another high flyer, the shares almost tripled this year in a near straight line. What's going on? Well, first, what do they do?
Ellie Mae, Inc. and its subsidiaries host electronic mortgage origination network in the United States. Its network and technology-enabled solutions help streamline and automate the mortgage origination process facilitating regulatory compliance and reducing documentation errors for its network participants. The company's network electronically connects mortgage professionals to the mortgage lenders, investors, and service providers integral to the origination and funding of residential mortgages.
Some metrics (fiscal year 2011):
Revenue $55.5M on 21M shares
Net income (GAAP) $3.6M ($0.18 per share)
They have something that could be compared to an electronic patient dossier in healthcare, applications that consolidate and automate information that comes from different sources and thereby reduces the possibility of errors and unnecessary duplication, automating and streamlining the whole process. Some of the functions they consolidate and automate [investor presentation]
Electronic Document Management
Customer and Partner Websites
Compliance Management
Product and Pricing
Fraud Detection
Income Verification
Disclosures and Closing Documents
Commission Management
And despite one of the worst mortgage market in recent history, they've been able to double revenue since 2008: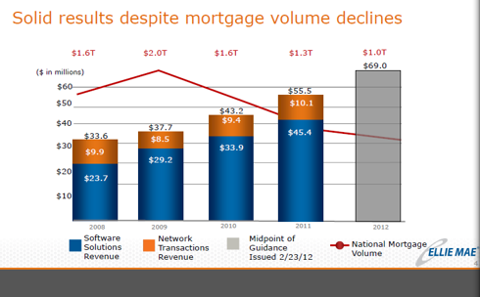 And plenty of drivers for growth: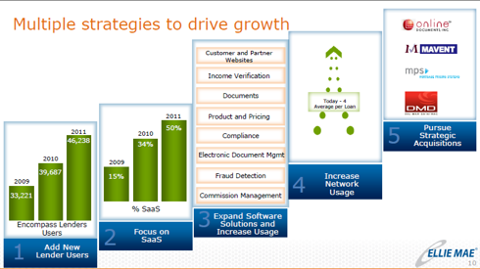 Just consider this, from IPOdesktop:
It is estimated that electronic processing of mortgages would reduce origination costs by $700 per loan. In 2009, less than 1% of residential mortgage originations were processed completely electronically.
We absolutely love situations like this. A large market with plenty of opportunity left, clear cost savings involved, combined with the largely fixed cost nature of software, together this should drive bottom line growth nicely.
And they started 2012 in cracking fashion, with YoY Q1 revenues up 97% to $20.9M and net income rising from a loss of $0.8M ($0.22 per share) to a profit of $3.6M ($0.16 per share), that's almost as much as in the whole of last year. No wonder they raised the full year guidance. They expect revenue to be between $78-79M and net income $9.6-$10.1M ($0.42-$0.45 per share).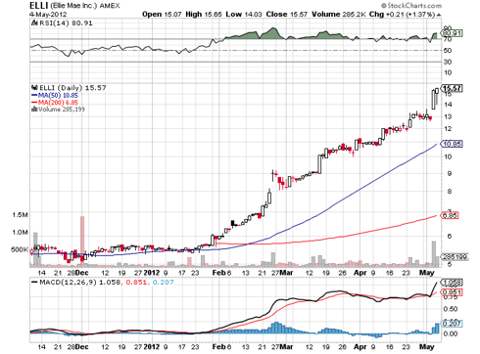 The only negative things that can be said about the company is that it has had a great run already and the shares are quite expensive. But shorting these on the overbought condition doesn't seem a worthwhile strategy. We would buy on weakness.
Disclosure: I have no positions in any stocks mentioned, but may initiate a long position in ELLI over the next 72 hours.
Additional disclosure: long and short ideas..