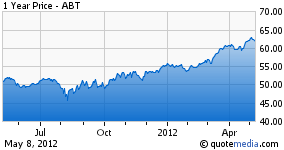 Abbott Laboratories (NYSE:ABT) has announced that it will split in two by the end of 2012. One half will be a diversified medical products company, while the other will be a research-based pharmaceutical companies. Are the two halves worth more than the whole to investors? And if you buy the company, what is the strategy after the division? Do you keep one half and sell the other?
When a company spins off one of its parts, it is sometimes to capture a perceived market value in the spin-out that was not being realized when it was part of the whole, for example, when some pearl of a high-tech company is locked into a stodgy oyster of a consumer products company. Other times, it is because management has decided that one part of the company no longer fits into the company's overall strategic direction. Or maybe it's because one half of the management can't get along with the other. In the case of Abbott, the reason for the schism is not all that clear, but it is going be a pretty even split. One of the two will be a diversified medical products company that will keep the Abbott name and about $22 in annual revenue ,and the other will be $18 billion pharmaceutical business, to be called Abbvie. Hopefully the company will think of a better name before the final separation.
The split will take place via a tax-free distribution to Abbott shareholders of publicly-tradable stock in the new company. The combined dividends of the two companies will approximate the dividend (over 3%) currently paid by Abbott.
Abbott Labs
Abbott Labs, the medical products company, will keep the nutritional products, the vascular products business, the laboratory diagnostic products, the diabetes and vision care products, and the branded generics pharmaceuticals outside the U.S. The company will have about 40% of its sales in emerging markets.
The branded generics business is included under the Established Pharmaceuticals division, and includes drugs like the seasonal flu vaccine Influvac, a hypothyroid treatment called Synthroid, cholesterol drugS Lypanthyl and Tricor, and Teveten, for hypertension.
The diagnostic division includes an instrument that extracts DNA and RNA and tests for viruses, like HIV and the various hepatitis viruses. It also includes various assay systems used in diagnostic blood tests.
Nutritional products includes well-known brands like Similac formulas for infants, Ensure for adults, and products used for enteral feeding in hospitals.
The vascular products vision includes stents and vascular scaffolds, sold under brand names like Xience, Acculink, and Absorb. Competitors include companies like Boston Scientific (NYSE:BSX), Medtronic (NYSE:MDT), and St. Jude Medical (NYSE:STJ).
Abbvie
Abbvie, the pharmaceutical business, will have the high profile drugs like Humira, Kaletra, Lupron, Synagis, Androgel and others, along with a substantial pipeline of drugs in development, of which 20 are in Phase II or Phase III trials. Humira is used to treat auto-immune diseases like rheumatoid arthritis, Crohn's disease, and psoriasis. Kaletra is a protease inhibitor used to treat HIV infection. Lupron is a palliative treatment for advanced prostate cancer. Synagis is a treatment for respiratory syncytial virus, which usually infects newborns. Androgel is a treatment used to treat low testosterone.
Humira is the largest selling product with sales of $1.9 billion in the last quarter alone, with sales growth of 17.4% from the year ago quarter. Fenofibrate, sold as Trilipix and Tricor, is the next biggest product, with sales of $329 million, but sales have fallen by 11%, year over year. Androgel is the newest high flyer, with "low-T" being the latest over-hyped bugaboo to bedevil aging baby boomers. Sales of Androgel are up 24%.
Abbvie's major drug, Humira is a monoclonal antibody to an inflammatory cytokine called tumor necrosis factor. Similar, competitive drugs are Remicade and Symponi, marketed by Johnson & Johnson (NYSE:JNJ) and Cimzia, developed and sold by UCB SA (OTCPK:UCBJF), a Belgian pharmaceutical company. In the future, all of these expensive protein drugs will face competition from small molecule inhibitors of TNF. For instance, 2,5-Dimethoxy-4-iodoamphetamine, which is actually a recreational psychedelic drug, has TNF inhibitory activity at doses an order of magnitude below its activity as a hallucinogen.
Does the break-up make sense?
The pharmaceutical business is high risk and high reward. Corporate evolution is punctuated by FDA approvals and patent expirations, which have large and fairly immediate effects on revenues and stock prices. Large companies, like Johnson & Johnson and GlaxoSmithKline (NYSE:GSK) are able to spread out the risk over time by having large pipelines and by having the financial wherewithal to buy out an occasional biotech. They also have stable consumer products divisions that smooth out revenues over time. With $18 billion in revenue, Abbvie will be a medium sized pharmaceutical company on revenues, but 40% of that comes from one drug, Humira, which has lots of competition, plus the patent will expire in 2016.
The medical products company, Abbott, will have a mixture of businesses that are rather stable, like infant formula, and businesses that share some of the properties of proprietary pharmaceuticals. Drug eluting stents, for example, require clinical trials and approval before they can be sold to the public.
When one company acquires another, the management touts synergies that are supposed to arise from the combination. Generally this means that redundant employees will be laid off. You only need one accounting department, one IT department, etc. When a company splits in two, it follows that there are dis-synergies from the breakup. There will be some unrecoverable expenses. Some will be one-off charges, but some will be ongoing.
Frankly, the break-up does not make sense to me. The two halves work well together. For instance, this year's blockbuster will be a branded generic at some time in the future. But branded generics will be the province of Abbott, not Abbvie. On the other hand, a drug-eluting stent, sold by Abbott, usually requires a proprietary drug, which could come from Abbvie.
Most analysts rate the company as a hold. The company's stock price has increased about 20% since the break-up was announced, so maybe the market is applauding the idea. I say take the money and run. I would sell the company now.
Disclosure: I have no positions in any stocks mentioned, and no plans to initiate any positions within the next 72 hours.