With the release of earnings this week and recent news, there are three biotechs that are on my radar. Two of the three are playing for the home run and will not likely blow away the market with earnings reports but will garner attention in coming weeks. The other offers a solid play in the arena of pharmaceutical support and manufacturing.
Orexigen Therapeutics (NASDAQ:OREX) - $231 million market cap Orexigen will release earnings May 9th amidst the anti-obesity drug volatility wave created by Arena (NASDAQ:ARNA) and Vivus (NASDAQ:VVUS) earlier this year. Orexigen's drug, Contrave, was rejected by the FDA in early 2011. In February 2012, the company received a Special Protocol Assessment from the FDA in what may be an atmosphere of shifting medical priorities away from the focus on potential cardiovascular complications to the medical benefit of weight loss drugs. Whereas VVUS has seen over a 200% increase YTD and ARNA over a 100% increase YTD, OREX has seen a 16% rise. With only one other drug in the pipeline, Empatic, also for the treatment of obesity, OREX certainly has all its eggs in the billions-of-dollars obesity basket. An earnings release report isn't likely to generate excitement, with EPS estimates of -$0.12, but its position in the anti-obesity race makes it one to watch. Volatility and attention will not wane from OREX in the coming weeks, as ARNA's May 10th FDA Advisory Committee meeting over Locaserin may shed more light onto the FDA's (and the market's) opinion of drugs in this class. Stay tuned.
(Click to enlarge)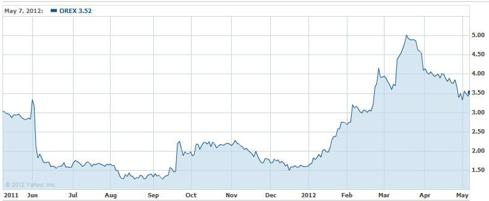 WuXi PharmaTech (Cayman) (NYSE:WX) - This laboratory manufacturing and services company has seen some momentum moving into May. The $1.03 billion market cap WuXi releases earnings on May 10th. With a solid double digit beat of estimates for Q4 2011, it looks to continue its trajectory. Estimates have Q1 2012 at $112 million and an average EPS of $0.26.
The company, which provides contract research to a majority of the large pharma players, operates facilities in both the U.S. and China. With laboratory segments providing a majority of its revenue, it has a stable bottom line. The company also has a boon with its manufacturing of the Hepatitis C drug Incivek for Vertex Pharmaceuticals (NASDAQ:VRTX). With Vertex's recent rise in profile, the positive association with WuXi could rub off. Trading at $14.40 as of press time and just having crossed its 50 day moving average, this company has room to grow.
(Click to enlarge)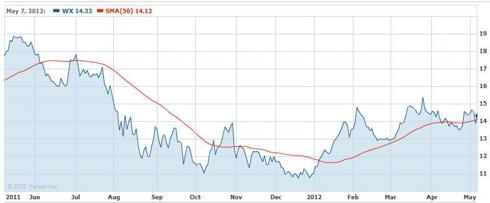 AVI BioPharma Inc (AVII) - Moving into earnings May 10th, the RNA-based therapeutics discovery and development company received a little good news last week to offset recent losses in share price. The U.S. Patent System's shift from "First to Invent" to "First to File" under the America Invents Act will offer smaller cap biotechs more benefit in attracting investors to discovery focused efforts. With over 200 current patents and nearly as many pending, this group offers attractive IP. Recent positive phase IIb data for its Esteplirsen drug for the treatment of Duchenne Muscular Dystrophy wasn't met with blockbuster excitement, but does show progress toward finding the first effective treatment for the disease.
Financially, AVII has a history of triple digit surprises, though it is not yet profitable. While a beat of its Q1 2012 EPS estimate of -$0.07 is nothing to get too excited about, the focus is on the future. AVII's BioDefense partnership with the U.S. Department of Defense offers more stability than many discovery stage developers. The quality and wide range applications of its platform may warrant AVII looks from investors and larger pharmas alike. This stock may see more attention moving into 2013 if it can ride out its recent share raise and resignation of its Chief Scientific Officer. An attractive share price under a dollar and recent positive nods from JMP Securities, Piper Jaffray and Wedbush, this stock offers a speculative play with long term potential.
(Click to enlarge)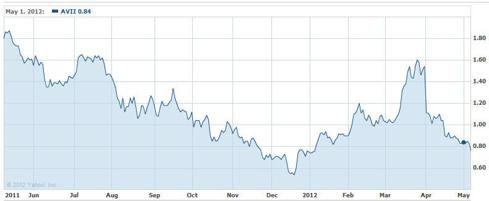 Disclosure: I have no positions in any stocks mentioned, but may initiate a long position in AVII, WX over the next 72 hours.