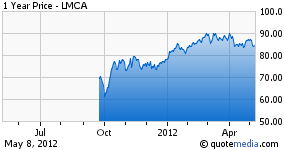 Liberty Media (LMCA) has announced Q1 2012 financial results. The company announced several positive highlights that include:
Increased STARZ and ENCORE subscriptions by 7% and 2%, respectively
Concluded season two of Spartacus: Vengeance, the STARZ Original series, on March 30, with strong, sustained viewership throughout the season
Debuted Magic City, the STARZ Original series, with the first three episodes available for sampling on multiple linear and digital platforms
Extended Starz affiliation agreements with DirecTV and Cox Communications
Barnes & Noble announced a strategic investment by Microsoft (NASDAQ:MSFT) in its digital and college businesses
Entered into a forward purchase contract for 302 million shares of Sirius XM (NASDAQ:SIRI), with a forward price of $2.15 per share for a total notional amount of $650 million. If physically settled, will increase Liberty's ownership to 45.2% on an as-converted basis
Repurchased $120 million of Liberty Media stock from February 1 through April 30, 2012
Perhaps the biggest surprise to many was the swiftness and price point that Liberty Media was able to cut a deal for additional shares of Sirius XM. Essentially the company has an agreement in place to purchase 302 million shares of Sirius XM at a price point of $2.15. This is a major victory for Liberty and its shareholders, as many analysts were expecting that Liberty would have to pay as much as $2.50 to acquire a stake this significant. Once the deal closes in Q3 of this year the Liberty stake in the satellite radio provider will be about 45.2%.
Liberty Media reported a good quarter, but some of the metrics may seem scary at first glance. Liberty Media's revenue decreased 55% to $440 million in the first quarter, adjusted OIBDA decreased 77% to $110 million and operating income decreased 81% to $89 million. What happened here? These decreases were a direct result of a significant recognition of deferred revenue and costs in the previous year at the Liberty media subsidiary TruePosition, Inc. Much of the Liberty Media news actually seems quite positive.
Liberty Media has also been aggressive in repurchasing its own stock. During the quarter the company bought back 1.4 million shares of Series A Liberty Capital common stock at an average cost per share of $86.53. Liberty Media still has approximately $1.0 billion remaining under its current stock repurchase authorization. Do not look for stock buybacks to stop any time soon.
Look for Liberty to trade up on earnings like these.
Disclosure: I am long SIRI.
Additional disclosure: I have no position in LMCA.