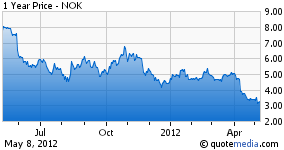 The news for Nokia (NYSE:NOK) is not so bright these days, looking at the broad picture of things. This is not to say that the industry is in dire straits, because the market is actually emerging. Nokia was the leader in mobile phone sales for 14 years, until it was taken over in that title by Korea's Samsung in the first quarter of this year. This occurs after Apple (NASDAQ:AAPL), as well as Samsung, overtook Nokia in smartphone sales last year. Nokia saw a dramatic drop, falling 16% in basic phone sales in the first three months of 2012. To top that off, basic phone sales have dropped in four of the last five quarters.
This comes as competitors like China's ZTE (OTCPK:ZTCOF) and Huawei have been growing fast. These companies are especially moving ahead of Nokia in places like India. India has the world's second-biggest mobile phone market, with more than 900 million subscribers. In 2011, Nokia's share of this market was 31% of the total 183 million handsets sold. This has been cut in half since then. This drag on sales for Nokia has been widespread, with its share of the Chinese market, the world's largest cellphone market, falling 62% from a year ago. Nokia controlled 39% of the market in 2009, but only controlled a mere 24% last year. Nokia cannot afford this drag on its sales right now.
Why is it that Nokia is having so much trouble keeping up with the booming market? Well, most analysts think that the reason is because it has failed to keep up with the changing tastes of the middle class, which is growing rapidly. To make this even more important, the middle class is becoming an even larger part of the phone industry, as more and more middle class people are becoming able to purchase smartphones. One store owner said that his store is having trouble getting dummy phones from the company as well, which will create great havoc for sales when people are unable to see and hold what they are considering for purchase.
Nokia is continuing to invest to attract customers in these markets, it says. Mary McDowell, EVP of Mobile Phones, said "Our mobile phones portfolio continues to be strong, especially in key markets like India, Nigeria, Brazil and Mexico where the Asha products are receiving record high scores from consumers." This seems somewhat optimistic to me, but I suppose that it's his job to remain optimistic about the future of sales. The company announced recently its data plans for the new Asha 202 basic phone model with five operators in India, but I really don't think that the company is doing enough to keep up.
There is something to be said for the importance of Nokia in India's market, even without it being number one in sales at the moment. Nokia entered the market in India in 1995 and immediately took over the vast majority of the handset market for the better part of a decade. It played a very strong role in India's mobile revolution. It is somewhat odd to see it not on top in markets such as India's, simply because of the huge role that it played in recent memory. Unfortunately for Nokia, it can't live in the past. It must move forward into the future, which means pleasing an ever-changing crowd. If it is not ready to make the changes that the market requires of it, then it will continue to be overtaken by companies that are willing to do so.
The industry, at large, will be shaken soon, too, by the move of Apple to offer its own mobile service. Already successful in sales of hits phones, Apple's entrance into the mobile provider's industry may strike down those providers already struggling. Nokia may be one of them. If Apple can find the success in offering mobile services as it has in offering phones, it could completely re-shape the industry. The news is especially hard on providers like AT&T (NYSE:T) and Sprint Nextel (NYSE:S) who carry the phone. Consumers may very easily choose to include all of their iPhone purchases under Apple, cutting out these former providers.
Needless to say, companies need to protect themselves. Nokia is trying to get on the right path now. A part of the discussion of how to do that has come in the form of talks of selling Vertu, its U.K. luxury subsidiary. Vertu hand makes some of the world's most expensive mobile phones. This subsidiary has been deemed by Nokia as a "non-core asset" and therefore it could be a candidate for sale in order to bring the company back up. One the world's most dominant mobile phone provider, Nokia recently received a credit rating of "junk" status by Standard & Poor's recently. This must have prompted some extra thought about these "non-core assets".
This potential sale of Vertu would raise about 200 million euros ($265.19 million), a well needed boost for Nokia. These numbers are preliminary, as is the plan itself, but this would be a very welcomed jolt for the company. It is being reported by some people who are close to the dealings that Goldman Sachs (NYSE:GS) has been advising to oversee the sale. The plan to sell first arose in the public eye last December, but the plan is still in the primitive stage.
I was talking earlier about the middle class and, more specifically, how Nokia was keeping up with it. This sale of Vertu would be a great step in the right direction, because Vertu is not at all a supplier for the middle class. This is not to say that it is not a valuable asset, but it certainly is not as important as the production and sales of more affordable phones. The devices that Vertu creates retail from anywhere around $5,000 to $40,000, and sometimes even higher. These devises are dazzling. They have jewels and diamonds on the casing, for instance.
These devices are quite neat and certainly have a place in the industry. However, they do not sell to the masses. I am of the opinion that the middle class will continue to determine the future of the phone industry. This is something that Nokia must keep up with in order to succeed going forward. It's wise to sell Vertu and use the money for proper investments, but it still may not be enough. Nokia may be resigned to become a relic of the past if it can't make any big moves soon.
Disclosure: I have no positions in any stocks mentioned, and no plans to initiate any positions within the next 72 hours.