Union Pacific (NYSE:UNP) is a $54.11 billion large-cap Omaha, Nebraska,-based railroad company. It is the largest publicly-traded railroad in North America with 8,200 locomotives running on 31,900 miles of track through 23 states in the United States. The original Union Pacific was created 150 years ago when Abraham Lincoln signed the Pacific Railway Act on July 1, 1862.
Union Pacific is the largest hauler of chemicals and one of the largest intermodal carriers with truck trailers and marine containers. It handles the western coal reserves, the world's most productive cropland, the Gulf coast chemical industry, and the rock quarries of Texas.
(Click to enlarge)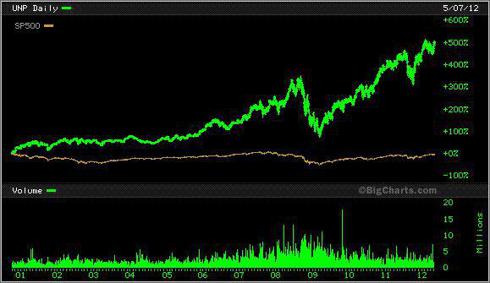 Although the demand for coal transportation has dropped due to the low price of natural gas and a mild winter, Union Pacific received the biggest boost in Q1 2012 from the automotive industry. Automotive volume growth increased 15%. This was followed by a 10% increase in industrial products, an 8% boost in chemicals, and a 1% rise in intermodal. Energy decreased by 8% for the quarter due to the lowered coal demand.
The boost in the automotive volume contributed to a 13.9% increase in revenue and a 35.1% increase in earnings growth for Q1 2012 over Q1 2011.
UNP is still undervalued with a forward PE ratio of 12.24, a PEG of 0.90, and a price to book ratio of 2.89. This makes for an attractive entry point for an investment in Union Pacific.
The company sports a profit margin of 17.42% and an operating margin of 30.22%. It has operating cash flow of $5.98 billion and free cash flow of $1.99 billion.
Above average earnings have allowed the stock to more than recover from the market dip in 2008. The company has grown earnings annually at 18.23% in the past five years and it is expected to grow earnings annually at 15.63% for the next five years. When the dividend of 2.1% is reinvested, a $1,000 investment in the stock has the realistic potential to grow to be worth $2,260 in five years for a total gain of 126%.
The company thinks that the decline in coal volume will be offset by continued growth in domestic intermodal and energy related shale transportation of crude oil, frac sand and pipe. Also strong automotive and chemical shipments will continue to offset the decline in coal.
Union Pacific should prove to be a strong long-term investment that continues to outperform the S&P 500.
Disclosure: I have no positions in any stocks mentioned, and no plans to initiate any positions within the next 72 hours.