By David Russell

Call volume surged in Talbots (NYSE:TLB) on Monday, but it was anything but bullish.
The activity in the struggling retailer began with the August 3 contracts, which traded about 2,000 times for $0.28. Less than 20 minutes later, a similar number of June 3 calls were sold for $0.10, according to optionMONSTER's systems. Volume was more than 4 times open interest in both strikes.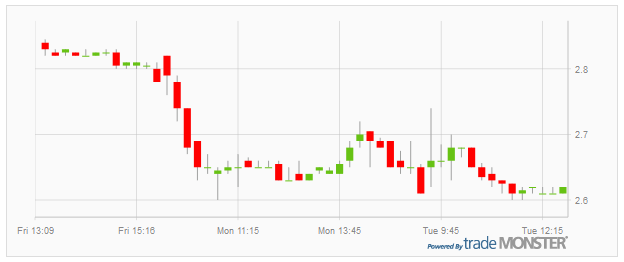 It's not clear whether the August calls were bought or sold, so there are two possible explanations for the trading. If they were sold, then the investor simply wrote upside calls at two different expiration months, betting that the stock won't go much above $3 into the foreseeable future. That trade would benefit from Talbots' 88% implied volatility, which pushes up the value of the calls.
The other possibility is that the August contracts were bought to open a calendar spread. That strategy also looks for the stock to remain below $3 for the next two months, and profits from the different rates of time decay. (See our Education section.)
Sycamore Partners has offered to buy the struggling retailer for $3.05 a share, but its board has yet to respond to the overture. Talbots fell 6.12% to close at $2.61 on Monday, and is down almost 50% in the last year.
Management has been closing stores and sacrificing margins to clear inventory. Red lights are also flashing on the balance sheet as current liabilities surge and book value dwindles.
Overall option volume was 14 times greater than average in the session.