I StockTalked the following this morning:

Seeking Alpha's Spencer Obsborne nicely summarized what caused Sirius XM (NASDAQ:SIRI) to pop and swoon Tuesday morning:
Liberty Media (NASDAQ:LMCA) announced today it has entered into an agreement that when settled will net an additional 302 million shares of Sirius XM and raise its percentage of ownership to approximately 45.2%. The purchase price will be $2.15 per share, just below current trading levels ...

For Sirius XM investors this news is likely bittersweet. It is great to finally see the Liberty situation addressed in some way, but the price point has to be a disappointment. Certainly the fact that 302 million shares will change hands in Q3 of 2012 will establish a price point precedent somewhere along the way that may be substantially lower than most would like to see.
That certainly makes me wish I had held onto the short stock position and long puts I owned in the simulated $100,000 portfolio. Sadly, I sold out of my real-life short position as well prior to this latest disappointment. I will never take myself to task, however, for being disciplined.
For the record, a short sale of 5,000 SIRI shares initiated at $2.28 now sports a gain of roughly $900. That's 8% in less than a month.
But, I am not here to discuss what has become obvious: Sirius XM has been, as a buy-and-hold stock, dead money over the last year (see the chart). If you're a trader, you can play the suckers who buy this stock on a whiff of what is not even good news and make a killing. As a long-term investor, needless to say, it's been a frustrating year, particularly if you did not hit the penny stock lottery on this thing.
(courtesy of Yahoo Finance)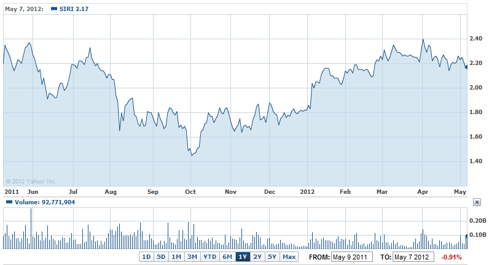 (Click to enlarge)
So, what to do? How do you walk a dog like SIRI?
I like looking at the options market to play most stocks, but, honestly, it's time to move on. SIRI has been a nice trading stock over the last year. The recent trend, however, is a dead money one after a pop from the stock's October 2011 lows. With the Liberty offer coming in at $2.15, expect SIRI to hang around that level, give or take a dime, until the other shoe drops.
Sure you can write some calls on the stock, but to generate considerable income and justify the risk in a naked situation, you need to be able to trade meaningful size. If you own the stock and stubbornly refuse to sell (think Charlton Heston and his "cold dead hands"), no doubt, write some covered calls, but there's little worth in any other strategy, at this point, unless you are a heavy hitter.
At day's end, maybe SIRI permabulls are right and the rest of the world, including John Malone at Liberty Media, is all wrong. Maybe only the chronic commenters (i.e. in Web lingo, "trolls") on message boards understand the real value of what Sirius XM beams from the bird.
Obviously, I beg to differ. Given the wide array of choices for both consumers and investors in the broad audio entertainment space, there's a reason why SIRI will remain dead money. And it's probably the reason that informed Malone's decision to only offer $2.15 a share.
Disclosure: I have no positions in any stocks mentioned, and no plans to initiate any positions within the next 72 hours.