In today's volatile market environment, investors are often in search of ways to diversify their portfolios. In the past, diversification simply meant having a solid mix of both stocks and bonds. However, because of the advent of index investing, the correlation between different stocks has risen substantially. Meanwhile, due in part to actions by the Federal Reserve, bonds have not maintained the strong inverse relationship to the stock market that they always have had in the past.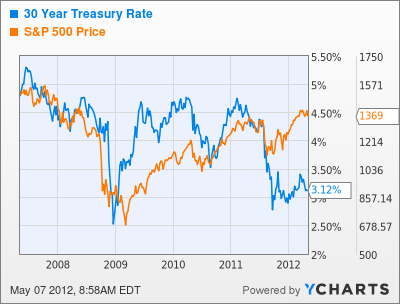 As you can see, yields on the 30-Year Treasury bond are close to record lows while the stock market is far off its lows.
The quest for diversification has sent investors into new products such as volatility futures products such as iPath S&P 500 VIX Short-term Futures ETN (NYSEARCA:VXX) and Velocity Shares Daily 2x VIX Short-term ETN (NASDAQ:TVIX). However, these products have significant flaws that have led to massive loses for investors. Investors have also turned to the commodity markets in search of diversification. This strategy has played out somewhat better as Gold (NYSEARCA:GLD) and Oil (NYSEARCA:USO) have shown the ability to trade independently of the stock and bond markets.
Investors should consider buying Annaly Capital (NYSE:NLY) because it has a low correlation with almost all other investments.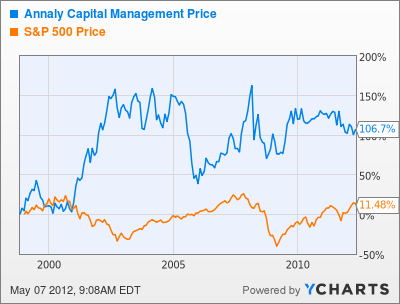 As you can see, at times NLY has moved with the stock market and at times NLY has moved inversely from the stock market. During the stock market sell-off in early 2000s, NLY traded inversely from the stock market, while in the sell-off in 2008, NLY also sold off. At the very least, the correlation between NLY and the stock market in general is much weaker than other stocks.
It is also important to look at NLY versus Treasury bonds. As you can see in the chart below, at times NLY has moved inversely with bonds and at times NLY has moved in the same direction as bonds. This chart proves that, similar to stocks, NLY's correlation with bonds is limited.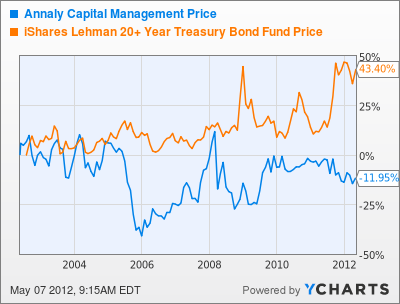 While NLY's diversifying property is important, it is not the only reason to buy.
Dividend
Arguably the most important thing to consider when evaluating NLY is the dividend. Currently, NLY pays a massive dividend of $2.20 per share or 13.5%. While this yield seems "to good to be true," NLY has proven that it can pay a dividend of this level.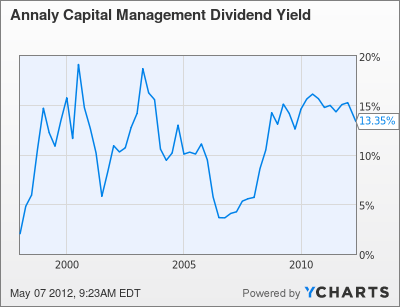 While the rate of the dividend has varied because of earnings, NLY has always paid a solid dividend.
Valuation
Because of NLY owns liquid securities, the best way to value NLY is book value. As you can see in the chart below, NLY is trading at an all time price/book ratio of 1.01.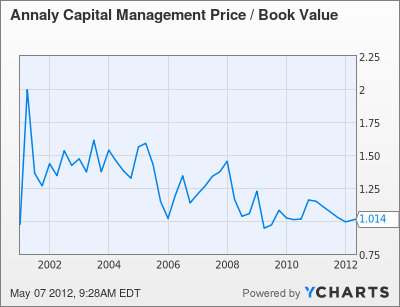 Risks
Like all investments, NLY does have its fair share of risks. The greatest risk that the company faces would be an inversion of the yield curve. However, because of the Federal Reserve's commitment to low interest rates through 2014, the risk of a yield curve inversion is very low. Other Seeking Alpha contributors have outlined some of the other risks facing NLY. However, I tend to agree with the more bullish thesis as stated here.
Conclusion
I believe investors should consider buying NLY because of its diversification properties. While NLY does face its own unique risks, these risks are very different from the risks facing other securities in investor's portfolios.
Disclosure: I have no positions in any stocks mentioned, but may initiate a long position in NLY over the next 72 hours.